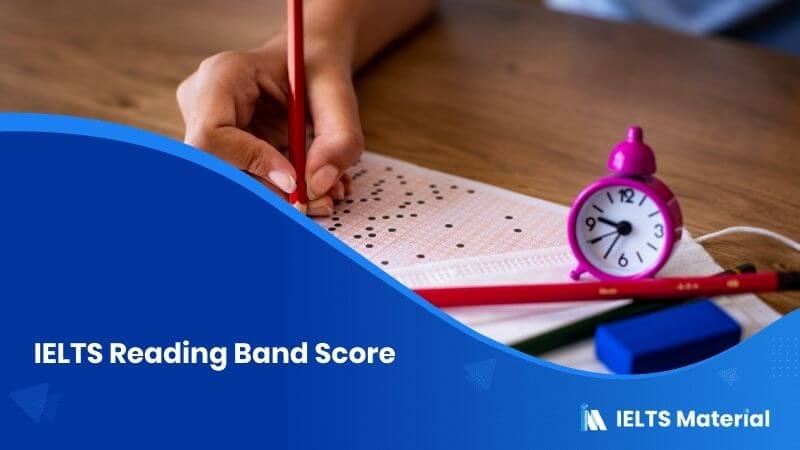 IELTS Reading Band Score
For the IELTS Reading Test, you'll have an hour and 3 paragraphs will be given to you. Naturally, to be able to complete the paper on time, you should make sure not to spend more than 20 minutes on each passage.
Overall Band Score
The overall band score is calculated as the average of the four component scores, for each section of the IELTS test, rounded to the nearest whole or half band, i.e you could get a 6 or a 6.5 or a 7 depending on the marks you got for each skill. The scoring is done out of 9.
Process of calculating the Overall Band Score
While calculating the average for the overall score, your score will be rounded off to the nearest 0.5 or whole number.
If your overall average is 7.1, then your score will be marked as 7
If your overall average is 7.25, then your score will be marked as 7.5
If your overall average is 5.75, then your score will be marked as 6
Reading Band score
The IELTS Reading test contains 40 questions where each correct answer will be awarded one mark and there is no negative marking for incorrect answers. During the marking process, your total Reading test score out of 40, will be converted to the IELTS 9-band scale
The Academic and General Training Reading tests are graded on the same scale and the marking process is the same. You can practise the Reading sample tests to get an idea of the marks you could get in your exam.
The number of correct answers will determine your score out of 40, then the percentage value can show how much it'll finally be on a 9-band scale.
For example –
| Raw score | Band score |
| --- | --- |
| 39-40 | 9 |
| 37-38 | 8.5 |
| 35-36 | 8 |
| 32-34 | 7.5 |
| 30-31 | 7 |
| 26-29 | 6.5 |
| 23-25 | 6 |
| 18-22 | 5.5 |
| 16-17 | 5 |
| 13-15 | 4.5 |
| 11-12 | 4 |
To prepare for the test
To get a high band score for the Reading test, you'll have to prepare for it by practising on sample test papers and reading English newspapers, books or blogs on a regular basis. This will strengthen your grammar and vocabulary. The more you practise reading on a regular basis, the more confident you'll be during the exam.
Also check :