IELTS Reading Recent Actual Tests Vol 6 (Ebook download)
Courtney Miller,
Updated On


Limited-Time Offer : Access a FREE 10-Day IELTS Study Plan!
The Reading Module of the IELTS can be the top-scoring category, with diligent practice. To achieve the best results in this section, you must understand how to approach and answer the different Question types in the Reading Module. By solving and reviewing Sample Reading Questions from past IELTS papers, you can ensure that your Reading skills are up to the mark.
"IELTS Reading Actual Test Vol 6″ is a must-have book for all IELTS learners. It includes six authentic IELTS reading tests from IDP and British Council from 2016 to 2018.
Content
Test 1
The Concept of Childhood in Western Countries
Best.com – Considerate Computing
Can Hurricanes Be Moderated or Diverted?

Test 2
The Innovation of Grocery Stores
The Study of Chimpanzee Culture
Quantitative Research in Education
Test 3
Timekeeper: Invention of Marine Chronometer
The Evolutionary Mystery: Crocodile Survives
Company Innovation
Test 4
Education Philosophy
How deserts are formed
The Olympic Torch
Test 5
The Pearl
The History of Automobile
Elephant Communication
Test 6
History of Refrigeration
Ancient People in Sahara
Texting the Television
Sample Unit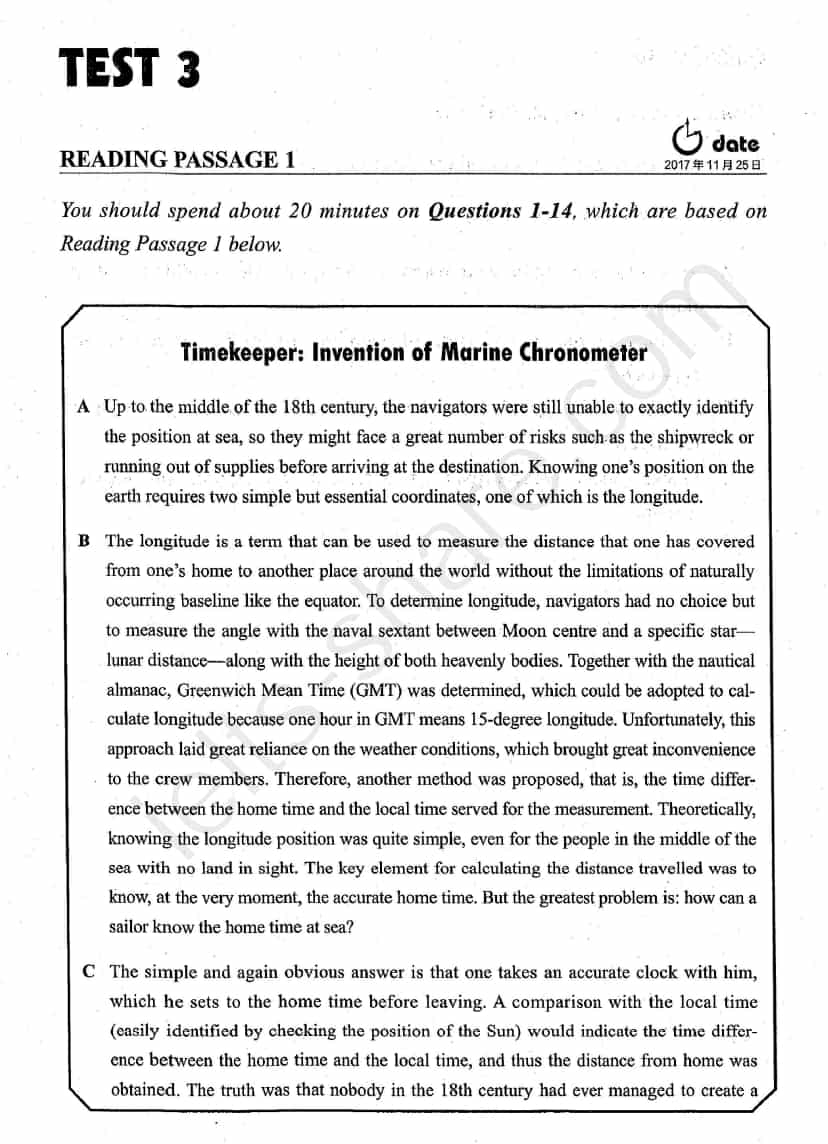 Download IELTS Reading Recent Actual Tests Vol 6
IELTS Reading Actual Tests Vol 6
I hope you found the IELTS Reading Recent Actual Tests useful. You can also download IELTS Reading Actual Test Volume 1, IELTS Reading Recent Actual Tests Volume 2, Volume 3, Volume 4, Volume 5, to practice at home before attempting the IELTS test.
Also Check:
Frequently Asked Questions
What are the possible question types in IELTS Reading?
The possible question types are : ->Matching heading questions ->TRUE/FALSE/NOT GIVEN or YES/NO/NOT GIVEN questions ->Matching paragraph information questions ->Summary completion questions ->Sentence completion questions ->Multiple choice questions ->List selection ->Choosing a title ->Categorisation questions ->Matching sentence endings ->Table completion ->flowchart completion ->diagram completion
Do I need to understand the passage completely, inorder to answer the questions?
No. A complete understanding is not required. You should know how to locate your answers by skimming and scanning the passage. You can also look for keywords in the question to locate answers.
What if I cannot find an answer to a particular question?
Move on to the next question. You can come back to it, later. Don't waste too much time on a particular question.
Are there specific tips and techniques to find answers for each question type?
Yes. There are specific tips and techniques to locate answers for every question type.
Will the questions contain the same words, as in the Reading passage?
Not all times though. They may be paraphrased.