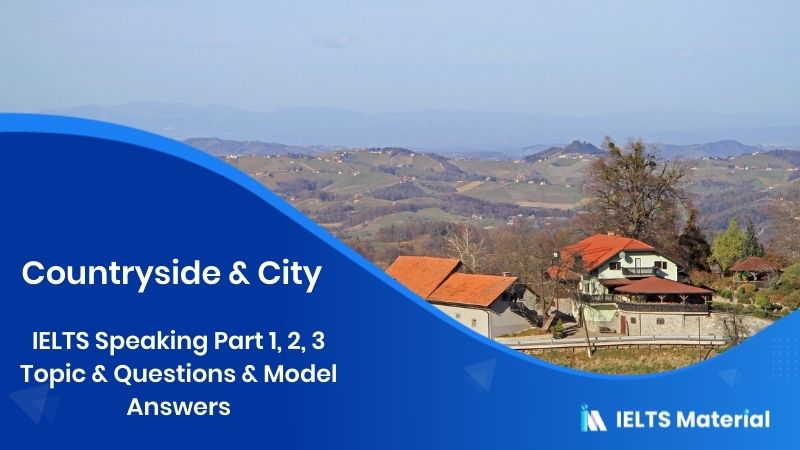 Countryside & City – IELTS Speaking Part 1, 2, 3 Topic & Questions & Model Answers
IELTS Speaking Part 1 Questions :
Do you often visit the countryside?
Yes, I usually head out on a day trip to lots of pleasant countryside regions on the weekend to recharge my energy after a busy week.
If so, who do you visit in the countryside?
I like to visit my grandmother in the countryside. I usually get there on a train. Whenever I get the chance to see her & enjoy the great fruit, spending some time getting back to nature, I find myself restored & relaxed.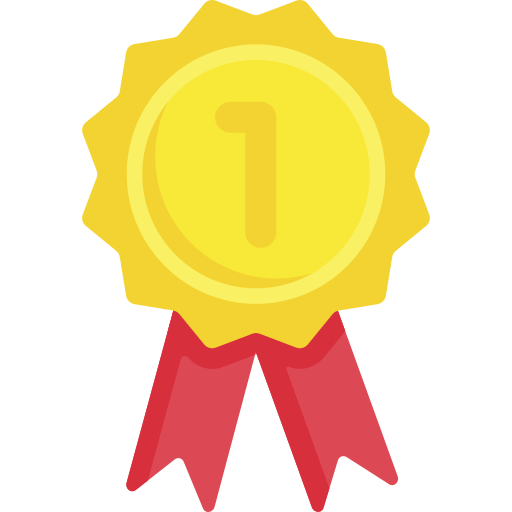 Ranked #1 Online Program
IeltsMaterial 7+ Band Guaranteed Self Learning Program
$70 $150
100+ Video Lectures
5-in-1 ebook combo worth $185
5 Full Length Timed Mock Tests

4.5 rated (7224 Reviews)
Buy Now
Do you have family or friends living in the countryside?
Yes, my grandmother still lives in the countryside. She is a farmer & she really enjoys the tranquillity & the beauty of the countryside, so she decided to stay there for the rest of her life.
Would you like to live in the countryside in the future?
Absolutely! I'm a huge fan of the forest. The environment there is just superb. Now and then I would visit a forest just because there isn't that much pollution and I could smell the fresh air. The animals there are also quite cute – especially some colourful birds.
IELTS Actual Tests Questions (January - April 2021) with Answers
Have areas of countryside in your country changed since you were a child?
There is a massive change in the countryside, primarily because of industrialisation. The lush green fields are converted to mills and industries. Young people no longer stay there.
Do you think that visits to the countryside should be something that schools offer to their children?
Yes. It is an excellent idea for schools to arrange excursions to take their children to the countryside. Nowadays, most children spend their time on video games. So the excursions would be an excellent opportunity for them to appreciate nature.
IELTS Speaking Part 2 Topics :
Describe an enjoyable/unforgettable experience you had in the countryside
You should say :
what the activity was
when you did it
who you did with it
why it was enjoyable

Sample Answer
It was two years ago when I had my very first motorbike trip with my friends to the first and most ancient village which is located in the Southern [our country]. It is an unforgettable trip that I've ever had.
Our group had three people, Jack, Jenny and me. We chose to visit that village because we wanted to get away from the hustle and bustle of the city and get off the beaten track. Moreover, the village is also the birthplace of my grandparent, and I felt excited to visit the village and get a closer insight into the lifestyle of local people as well as my grandparent.
We set out for a day trip to date back to the tradition of our country very early. I'm always a night owl, not an early bird, so leaving the city at 5 a.m made me feel like I was deprived of sleep. However, I was deliriously happy shortly after embarking on the trip to the village. It was because on the way to get there we admired the breathtaking landscapes which is different from the city we are currently living in. After an hour's drive, we got to the picturesque village, which made me feel over the moon. We rented some bikes to cycle around the village with a lot of small alleyways filled with green grass. After riding a bike to the paddy field to get the vibes of the village, we visited some 400-year-old ancient house which made of mud and laterite and had a look at communal houses where the local people gathered for festival celebration or public meeting. After that, we had lunch with much scrumptious food which is locally and organically grown. In the afternoon, we joined a cooking class with the villagers who were extremely friendly and talented at making traditional cakes. The highlight of the trip to the village was going to the paddy fields to help the farmers harvest the crop. It was such a once-in-a-lifetime experience which I enjoyed.
That was our first motorbike trip to the outskirt of the city, and the first time in the countryside so we enjoyed every single moment there. Jenny was like a dog with two tails while Jack and I were also on cloud nine. We relished everything in the village from the fresh air, cosy ambience to beautiful landscapes such as small houses or paddy fields. We were very much hope that we can embark on a more extended trip to the countryside down the road if we have more spare time.
Vocabulary
Hustle and bustle (phrase) Noisy and confusing activity.
Example: He goes to the park regularly to be away from the hustle and bustle of the city.
Off the beaten track (phrase) far away from the places that people usually visit.
Example: Kim's family planned to go somewhere off the beaten track during the summer vacation
Get insight into (phrase) gain an accurate and deep understanding of the subject.
Example: The book gave a deep insight into the plight of workers in coffee plantations.
Night owl (phrase) someone who enjoys going out at night or does not go to bed until it is late.
Example: He was at the party till 4:00 AM in the morning. He's such a night owl.
Early bird (phrase) someone who gets up early in the morning.
Example: Oliver was always an early bird.
Deliriously happy (collocation) very very happy.
Example: Jack was deliriously happy when he heard the news.
Embark on (verb) to start a new project or activity, usually one that will be difficult and will take time.
Example: ABC Company decided to embark on overseas expansion.
Breathtaking (adj) extremely impressive or beautiful.
Example: The landscape in Scotland was breathtaking.
Picturesque (adj) a picturesque place or scene is attractive, especially because it is old and interesting.
Example: It was a picturesque lake.
Over the moon (idiom) very happy.
Example: Juilet was over the moon when Romeo proposed to her.
Alleyway (noun) a narrow street or passage. 
Examples: There are two big cars parked in this tiny alleyway.
Feel the vibe (phrase) a general feeling that you get from a person or place.
Example: I could feel positive vibes in the house.
Laterite (noun) a kind of brick.
Example: The soil is composed of laterite and hence is not very suitable for cultivation.
Have/take a look at (phrase) look at with attention.
Example: The Engineer sent three assistants to take a look at the bridge.
Communal (adj) relating to a particular community.
Example: It was a communal riot.
Scrumptious (adj) very delicious.
Example: Scrumptious food was served at the party.
Once-in-a-lifetime experience (collocation) very special experience because you will probably only have it once.
Example: Travelling to the Himalayas is a once-in-a-lifetime experience.
Other Topics :
1. Describe an area of countryside you know and like.
You should say:
Where it is
What its special features are
What you and other people do in this area
And explain why you like it
2. Describe a village or urban area you have visited
where it is
when & how you went there
who live there
And explain what you liked/disliked about this village or urban area.
3. Describe a relative's house you have visited.
4. Describe a place you like to visit
5. Describe a place you often go to.
6. Describe a naturally beautiful place.
7. Describe a place where you went with your parents.
Also check :
IELTS Speaking Part 3 Questions :
What are the advantages of living in the countryside?
Living in the countryside can benefit people in a wide range of ways. Living in the countryside is better for one's health condition, thanks to significantly lower levels of air pollution. It is undeniable that air quality in big cities is so bad that long-term exposure to it may cause respiratory diseases and other health problems. Besides, the cost of living in rural areas is likely to be lower than that in cities. Although people in the city tend to make more money than people in the countryside do, they have to spend more on food, accommodation and transportation. Therefore, one can save more money by living in the countryside without working as hard.
What are the disadvantages of living in the countryside?
Although living in the countryside can do wonders for your wellbeing, it is undeniable that there are still some drawbacks of living in the countryside. To be more specific, not having good transport on your doorstep, will make it inconvenient to travel to a far-away place, which also means you will squander more time on commuting. Another disadvantage is that country-dwellers also have fewer job opportunities compared to those in the cities, thereby resulting in a lower standard of living.
What kinds of people live in the countryside?
To the best of my knowledge, many people decide to live in the countryside because they want to downshift to a less stressful life. Although people who live in the countryside can still lead hectic lives, the peace of their surroundings helps to bring them to a gentle halt and remind them not to rush life away.
What do people living in the countryside like to do?
I reckon that when living in the countryside, people can enjoy a myriad of activities that they hardly have in cities such as going out at night without fear of street criminals, doing exercise in the early morning to enjoy the fresh air.
How has life changed over time in the countryside?
The countryside has experienced specific changes for the last few decades. Firstly, people, especially farmers, have applied modern technologies in their work. Therefore, productivity has significantly improved while people don't have sweat as much as they used to. Moreover, young people in the countryside tend to move to town to seek job opportunities. As a result, the population in the countryside is reducing and ageing.
Do you think it is better to live in the countryside or in the city?
As often as this question is raised, I believe it remains a tough decision to make when it comes to choosing between living in the countryside and living in the city. Many people have been attracted to live and work in big cities because of better employment opportunities and higher living standards. This massive rural-to-urban migration has, however, led to an increase in environmental pollution, traffic and social issues in urban areas. It would be a better idea for people to live in the suburb and travel into the city to work every day so that they can enjoy the best of both worlds.
How is the countryside different from town?
There are many things which differ in the countryside from town. It is much less crowded in the country than in cities. Besides, the pace of life in the countryside is slow while people living in big cities always seem to be in a hurry. Also, it is much more healthy to live out of big cities because the air in the country is fresher and there is not as much noise.
Do youngsters prefer living in rural areas? Why or why not?
Youngsters prefer to live in the cities. It is mainly because of the innumerous job opportunities that a city offers. Apart from this, a city offers good healthcare and educational facilities.
FAQs
How do Native English Speakers talk?
Most Native English speakers use contractions while speaking.
Example: I + will = I'll.
Examples include but not limited to:
bush, scenic drive, change of atmosphere, sense of appreciation etc.
I make a lot of pauses while Speaking? How do I handle this?
Try filling the pauses with words like "Well", "I suppose" etc.
While answering questions, should I start with "I" or "We"?
If the question is related to you, use "I". If it is regarding people in your area, country, use "We".
In Speaking test, is the candidate marked based on the subject or language?
The examiner marks the candidate based on the language, vocabulary and grammar.