IELTS Suggestion Letter: Structure, Useful Phrases & Samples
Kasturika Samanta,
Updated On


Limited-Time Offer : Access a FREE 10-Day IELTS Study Plan!
It is commonly known among candidates that Task 1 of IELTS General is to write a letter, which can be formal, informal or semi-formal in tone.
In spite of the fact that each of these letters has different tones and vocabulary, the major topics can be the same. For example, an IELTS suggestion letter can be written for an informal topic as well as a formal one.
Therefore, in this article for IELTS suggestion letter, we will see the general structure of the letter, some useful phrases that candidates can use in the letter and some samples to help you understand better.
Overview of IELTS Letters
Since the first task of the IELTS General Writing exam is letter writing, let us look through the pointers on the IELTS letter and Task 1.
Candidates have to write the letter in 150 words or more. In case the word limit is less than 150 words, they might not get more than a Band 5 for Task Achievement.
Although the duration of the Writing exam is 60 minutes, candidates have around 20 minutes to plan and write the letter and use the rest for essay writing.
Task 1 accounts for half the marks of Task 2 towards your final Writing band score. Therefore, Task 1 accounts for 33% of the Writing test's overall score.
Candidates usually get seven topics for writing letters – a request, a letter of complaint, an apology, a letter of explanation, an application or resignation letter, an invitation and a letter to make an arrangement.
What is an IELTS Suggestion Letter?
A suggestion letter is prepared to make a suggestion, to share your opinions, or to provide your point of view on a certain issue.
It can be broadly divided into two types: those that ask for suggestions and those that ask for suggestions, points of view, or opinions on a certain subject.
Suggestion letters can address everything, from improvements in workplace environments to personal difficulties.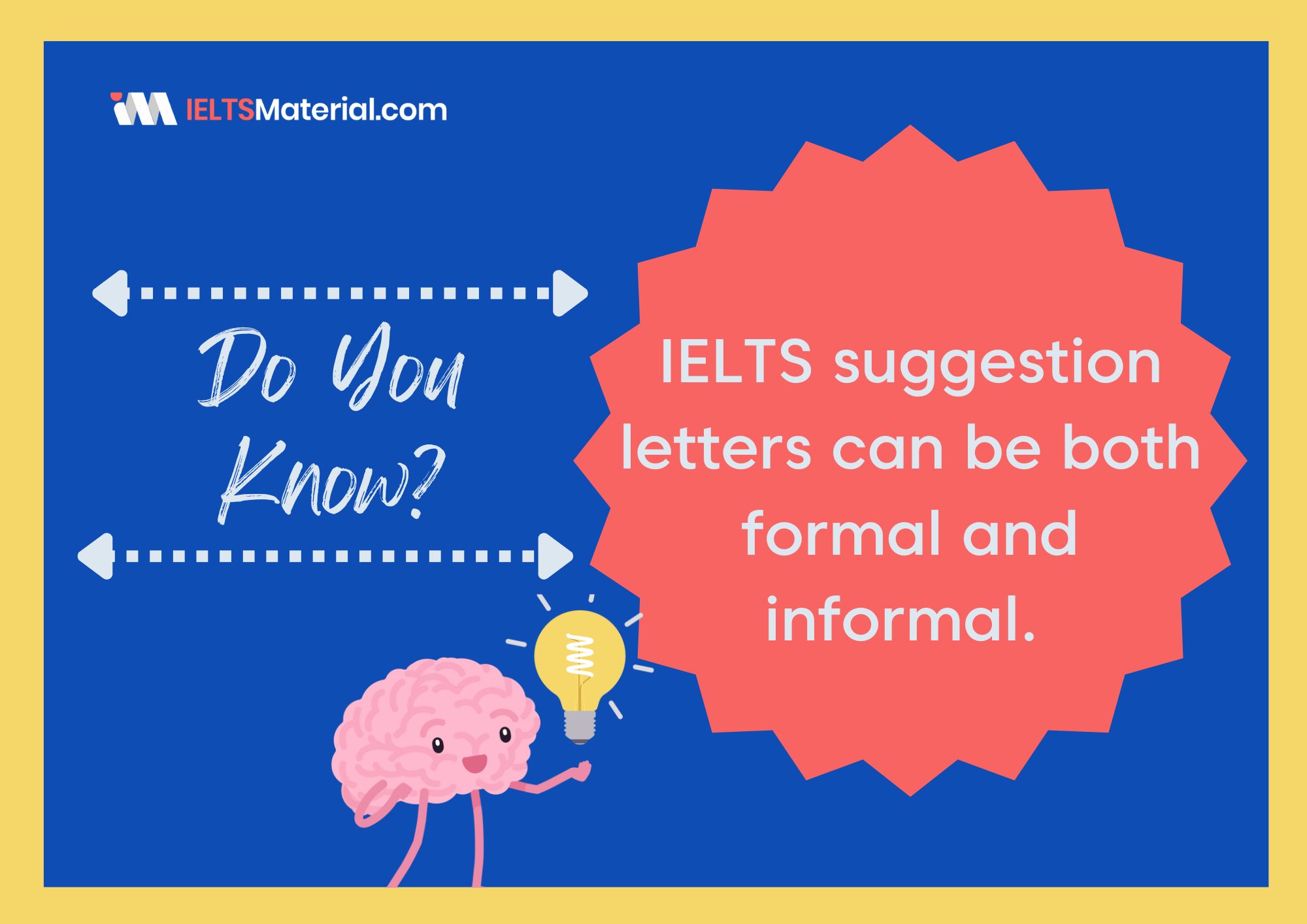 How to Identify whether the IELTS Suggestion letter topic is formal or informal?
An IELTS suggestion letter can be a formal or informal one, depending on the topic and the receiver of the letter. You have to understand to identify the type of letter the question asks you to write because you will need to use different language to set a distinct tone for each form of letter.
A formal letter needs to be brief and straight to the point. While composing it, the writer should keep a formal tone. For an informal letter, the suggestion letter may be written casually and in the first person.
The easiest way to understand the type of letter you have to write is by confirming the person to whom you sent the letter. For example, if the addressee of the letter is a friend or a close family member, the tone should be informal or friendly. On the other hand, if you have to write a letter to someone in a company or someone you don't know very well, the tone will be formal.
Moreover, semi-formal letters can also be letters of suggestions, e.g., letters to someone you are acquainted with but do not have a close relationship with. But, these letters are not common.
Do you find semi-formal letters very confusing? 
To learn more specific structures or ways to write a semi-formal letter, check out the video below.
How to Write an IELTS Suggestion Letter?
Now, we have come to the most important part – the structure and the answer to how to write a suggestion letter. Let's find out!
 Structure of a Suggestion Letter
The structure of the suggestion or IELTS advice letter is nothing special as it follows the same pattern as any formal and informal letter. It is as follows:
Salutation: The greeting you use to address the letter's addressee is known as the salutation. The name of the intended recipient usually comes next. For example, Dear John (Informal) or Respected Sir/Madam (Formal)
Body: The main portion of your letter's information should be written in the body. It contains the main purpose for which you are writing, in this case, a suggestion letter. The body comprises a maximum 2-3 paragraphs.
Closing: It serves as the final closure to your letter, followed by your signature.
Let us check out a sample to understand the breakdown of the structure of the IELTS suggestion letter.
Dear Sir/Madam, (Opening Salutation – It should be according to the type of letter.)

Since I've used your services for the past four years, I'm writing to you to suggest some adjustments to your offerings. I've noticed that the products you have been sending for a while are not of the highest quality. Additionally, there has been a delay in delivery, which is affecting the delivered goods as most of them are perishable items. (First Body Paragraph – The main purpose of the letter should be mentioned here.)

I would like to suggest you to enhance your services by offering high-quality resources. Firstly, try to keep track of the supplies and commodities that have been supplied and have not yet been delivered. Secondly, you can hire new staff to streamline the delivery process and make it on time. More importantly, focus on the sources from where you are getting the products as they determine the quality. I wanted to mention a few crucial points, so here they are. (Second Body Paragraph – Provide suggestions in this paragraph.)

If you improve all these areas, I'm confident that not even the best company that provides raw materials could compete with you on the market. I hope you take these recommendations positively and begin marketing your business right now. (Third Body Paragraph – Offer your sincere remarks about how the suggestions might affect them.)

Thanking You, (Concluding the letter)

Yours Sincerely, (Closing Salutation with Name)

Madhu Mistry
A Guide to Write the Suggestion Letter
By now, you have got an idea of the format of an IELTS suggestion letter, or any suggestion letter for that matter. Now, let us discuss some pointers that will help you write the letter, especially the main body.
Understand the intent and the recipient of the letter– Before writing the letter, you should get an idea of the objective of writing this letter – attempting to enhance a particular procedure, offer a fresh perspective, or solve a current issue. Also, identify the addressee and how your advice will help them.
Follow the format of the letter – It would be hassle-free for you if you follow the format (given above) and maintain the flow of the letter.
Explain the problems or situation that has prompted you to give suggestions – In the second body paragraph, it is ideal that you explain the problem first. It will help the recipient to understand what areas he/she needs to improve.
Give well-researched or proven suggestions – Once you have shared the problem areas, it will be easy for both of you to comprehend the solutions and how they will positively affect the current situation. Moreover, make sure the advice you offer is either proven or relevant to the situation.
Use a positive tone – Do not criticize the person or the situation he/she is in. Rather, end the letter on a positive note to encourage the person to consider and apply your suggestions.
Useful Phrases to use for IELTS Suggestion Letter
Like all the other modules, candidates must learn to balance their vocabulary and grammar for the IELTS General exam. Unlike essays, where one can use lofty words for scoring a high band score, letters use simpler diction. The trick is to match it with the tone of the letter one is writing.
As a result, for the IELTS suggestion letter, two separate lists of useful phrases have been provided below that candidates will find useful while composing formal as well as informal letters.
Type of Letter
Formal
Informal
Phrases to be used

l am writing in reply/response to your letter requesting advice about…

Thank you for your letter requesting advice about…
It might/would be useful/to your advantage (if you were) to…
I hope that these suggestions will (prove to) be of some assistance.
I would be pleased/happy to offer any additional advice you may require.
Please do not hesitate to contact me should you have any further questions/ queries/problems.

I was sorry to hear about your problem…
I just got your letter and I think I can help you…
 I would (strongly) suggest/recommend/ing (that)…
 You should / ought to… / could…
 If I were you, …
You'd better (not)..
 I hope my advice/suggestions will be helpful.
I hope you will find my advice/ suggestions helpful.
If you feel you need a detailed lesson on such letter formats, feel free to book a 
free session
 with IELTSMaterial experts.
Tips to Write an IELTS Suggestion Letter
Even though you have the structure and process of writing an IELTS Suggestion letter, it is always helpful to know some tips that can enhance your letter.
Here are some tips that you can keep in mind while you are giving advice to someone in your suggestion letter:
Always convey your sincere gratitude and appreciation for the chance given to you to share your insights.
You might also think back on previous advice that worked well.
Before sending your suggestions, carefully consider all the factors and do a thorough analysis. Let the reader know that you have done your research and have examined the situation thoroughly before offering your perspective.
You can mention any advantages that your suggestion might have for the reader in the future.
Given below are some tips to consider when you are the one asking for suggestions:
If you are asking for a suggestion, you should sound polite and show your gratitude to the person.
Express that you will be obliged and benefit from the suggestions from them.
Make sure you clearly explain the topic or matter and the reason why a suggestion is required from your reader.
Sample Answer for IELTS Suggestion Letter
Now check the samples of IELTS suggestion letter topics given below and learn how they are written and practise to enhance your letter-writing skills.
Formal Letter
Given below are formal IELTS General Letter Topics With Answers for Suggestion.
Question 1:
You have recently finished a course and would like to give some feedback to the course organiser. Write a letter to the college where you took the course. 
In your letter
explain what the course was
say what you enjoyed about the course
suggest how the course could be improved
Sample Answer:
Dear Sir / Madam,
I am writing this letter to inform you that I recently took part in the HTML course that was organised by you and your team. This letter is a feedback to the course. To begin with, I would like to inform you that I am a huge tech enthusiast. Thus, I scrutinised every part of this course thoroughly.
To help you rewind what the course was about, it was the fundamentals of HTML for both beginners and professionals. The course helped teach everything from scratch. It taught me how to create website layouts, add tasteful animations to the site, support any device size with responsiveness, and also have a common vocabulary. Overall, I liked the comprehensiveness of the course.
Talking about what I liked the most, then it would be how the trainer taught. It seemed like the trainer was experienced and had enough knowledge to share the same with the candidates of the course. He took an adequate amount of time to teach every concept. And he moved ahead only when he was sure that everybody understood the concept clearly.
Now, coming to the things that could be improved in this course, I felt that the course for advanced professionals lagged behind a bit. While the course seemed perfect for beginners, it did not match the requirements for professionals. So, I would like it if you could pay some more attention to the same.
Looking forward to your thoughts on my feedback, and let me know if my suggestion could be implemented.
Warm Regards,
Bhavya
Question 2:
You have discovered a lot of rubbish in a lake near where you live. In the past, the lake had always been clean. Write a letter to the local council.
In the letter:
describe the type of rubbish that you saw in the lake
explain where you think the waste has come from
suggest what the council should do about the problem
Sample Answer:
Dear Sir/Madam,
The purpose of writing this letter is to divert your attention towards the rising levels of pollution in Yamuna Lake, near which I reside.
I have been residing in the nearby street for the past 20 years and have never come across this much accumulation of litter. Right from plastic wastes, such as carry bags, bottles, and more, to broken glasses, we can evidently see a lot of garbage floating on the water's surface, making it stagnate toward the residential area.
Talking about the source of this gigantic garbage, I would say the blame goes into the pocket of the temporary camp that was set up a week ago toward the west side of the lake. It is quite discernible that the attendees are throwing litter directly towards the lake or sometimes inside it, making the condition even worse.
I would like to propose that you consider relocating the camp somewhere else. Considering that the camp is going to be active for a couple of months more, their presence for a longer duration will further aggravate the situation. If relocating is not a possibility, you can penalize those who throw garbage in the river. While at it, it would be appreciated if you could take the necessary steps to get the lake cleaned and restore its serenity.
I look forward to hearing a positive reply from you.
Yours faithfully,
Leena
Informal Letter
Here, we have two IELTS General Letter Topics With Answers for suggestions in an informal setting.
Question 3:
You are going to another country to study. You would like to do a part-time job while you are studying, so you want to ask a friend who lives there for some help. Write a letter to this friend.
In your letter:
Give details of your study plans
Explain why you want to get a part-time job
Suggest how your friend could help you find a job
Sample Answer:
Dear Riddhi,
Long time no see! I hope you're doing well and that this letter finds you in good health. I'm happy to share that I'm going to move to Canada for higher studies. I'll travel next week. Now, since you're already living the Canadian life, you'd be familiar with how we've to work hard to sufficiently manage our expenses. Hence, I'm looking forward to your guidance regarding a part-time job.
I'll be coming to Quebec city to pursue a Masters in Arts at Laval University. It's supposed to be a four-trimester course. I intend to finish it in two years. I'd like to take up a part-time job to gain work experience, which will be advantageous for my career. This part-time job will also make me familiar with the Canadian work environment and will give me a chance to network with people.
Since you've been residing in Canada for the last 5 years, I'm sure you must have some connections in my desired industry. Hence, I think you'll be an adequate mentor for me as you can guide me to find a job.
I'd love to hear back from you and gain insights into the Canadian job market and scenarios. I'm also looking forward to catching up with you. Once I reach Canada, I'd like to visit and meet everybody in your family.
Give my warm regards to them.
Warm wishes,
Liharika
Question 4:
Your friend is planning to go on a business trip to a city you know well. Write a letter to your friend. 
In your letter
 tell him/her about some attractions to go sightseeing
 recommend a restaurant to eat
 give some advice on transportation
Sample Answer:
Dear Mary,
I hope this letter finds you happy and hearty. I was excited when I received your letter saying that you're travelling to Atlanta for a business trip. As I have been there for a year, I would like to put my two cents on how to spend your time there.
There are plenty of museums in the place. As you're a history geek, I would suggest you pay a visit to the Fernbank Museum of Natural History, the Michael C. Carlos Museum, and the David J. Spencer Museum. Don't forget to visit the Atlanta Zoo. You can go shopping at the Buford Highway International Corridor, Northlake Mall, and the Mall at Stonecrest.
Regarding your stay, I would advise you to stick to your company's accommodation. Alternatively, you can consider the Star suites in the IT corridor, which is very economical. When I stayed there, I dined at Doraville Delights. They serve good food.
For travel, you may use Atlanta's public transportation system, MARTA. Their buses ply all over. Besides, there are rail lines too, which you can try.
I hope you will find this information useful. Do give me a call once you reach there.
With lots of love,
Amy
Sometimes, candidates are unable to get enough practice due to the unavailability of authentic reference materials or updated sample papers and answers. Keeping that problem in mind, IELTSMaterial, one of the top providers of IELTS training, has prepared a General Writing combo. It consists of two ebooks for Task 1 and Task 2 and covers multiple topics with Band 8 sample answers prepared by IELTS experts, a simple breakdown of each answer, space for student notes, and lots more.
Get a hold of the Complete Edition of IELTS General Writing and start preparing for IELTS!
Also Check