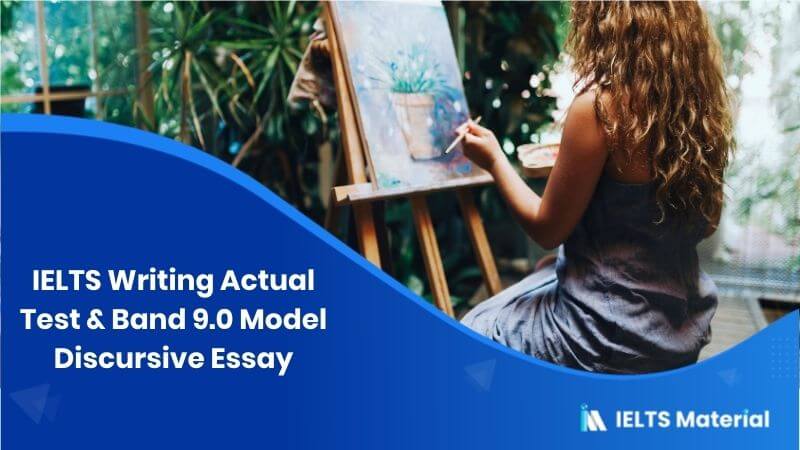 IELTS Writing Actual Test in March, 2016 – Band 9.0 Model Discursive Essay
IELTS Writing Task 2 Topic:
Some people say that anyone can create art such as painting, poetry, music and so on. Others think that a person should have special abilities to create art. Discuss both views and give your opinion. OR
Some people say that art (e.g. painting, music, poetry) can be made by everyone whereas others believe that it can be only made by those with special abilities. Discuss both views and give your opinion. OR
Some think that quality art can be made by anyone while others think that it requires special talent and ability. Discuss both views and give your opinion.
Band 9 Model Essay:
Art is a diverse range of creative activities that express the creator's imaginations. Naturally, one can assume, to create art, all you need is a good imagination. However, some others believe that you need to learn special skills to become an artist. This essay shall discuss both the views in detail.
Any person with a creative vision and ingenuity can create art forms such as writing poetry, painting or composing a song or two. Drawing up a mental picture of your feelings and expressing them effectively on paper will make you an artist. For example, some people are sometimes driven by longing or grief for someone, which makes them spill their feelings out in a song or a painting. This is why people feel that creating art is not that hard and can be attempted easily.
IELTS Actual Tests Questions (February - May 2021) with Answers
On the contrary, there are people who firmly opine that without learning how to express creatively, imagination alone cannot help one become an artist. It requires years of training for people to become great artists. To become a musician, for instance, one needs to learn all the fundamentals of rhythms and melodies; to play the guitar, one needs to learn all the right chords. It doesn't help if your imagination is vivid; you need to know the correct technique of expressing the same to distinguish your creation from the ordinary mediocrities.
To conclude, I'd like to say that as easy as it sounds, creating art is definitely not a piece of cake. Sure, one might be innate in some art forms, but enhancing that skill is very important to create masterpieces.
Also check :