IELTS Writing Recent Actual Test (Task 1 & 2) in March 2017 & Sample Answers – topic : marriage and age
Zuhana,
Updated On


Limited-Time Offer : Access a FREE 10-Day IELTS Study Plan!
The charts below give information on the ages of people when they got married in one particular country in 1996 and 2008.
Summarise the information by selecting and repairing the main features, and make comparisons where relevant.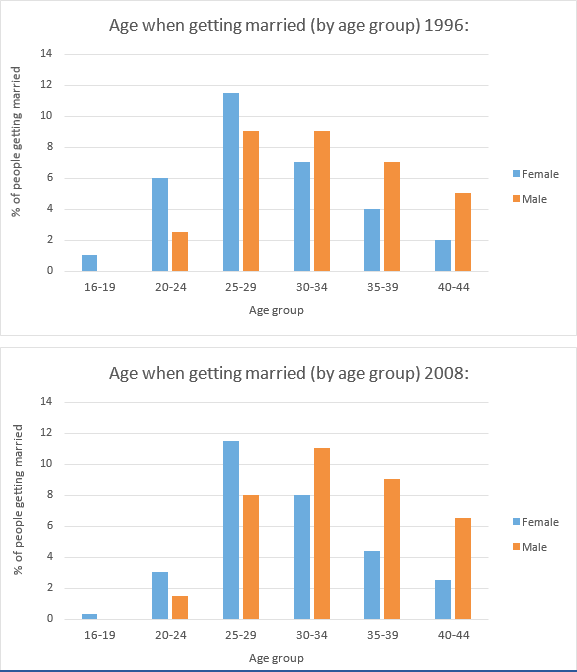 Report Plan
Paraphrase: give information>compare; on the ages of people when they got married >percentage of men and women getting married
Overview: The bar charts compare the disparity of the percentage of men and women getting married in 1998 and 2008.
Paragraph 2: (1) compare the number of men and women getting married in different age-groups. Give figures.
Paragraph 3: (1) compare the number of men and women getting married in the remaining age-groups. Give figures.
Sample Answer
The given bar charts compare the disparity in the percentage of men and women getting married in 1998 and 2008. Overall, the proportion of married people of both genders experienced a trivial reduction for those who are less than 30 years of age. A perceptible surge for the other age groups in the specified period can be seen. The age from 25 to 29 years old was the most idyllic to get married. It is also understandable that the marriage age for men is usually higher than the women.
As presented in the chart, there was an inconsequential decline in the percentage of women getting married under the age of 24, especially the percentage of early 20-year-old married females was half in 2008 compared to that in 1998. Markedly, no male got married during the age of 16 to 19. The rate of 25-29-year-old married women remained unaffected, which was at approximately 11.5% over a 10–year period, while men's figures observed a small drop to 8% in 2008.
When it comes to the older age groups, a considerable intensification was perceived in the proportion of 30-37 years old married people in both genders which accounted for 8% for females and 11% for males in 2008, in comparison with 7% and 9% respectively in 1998. For people aged above 35, the proportion of married men surged significantly to 9% and nearly 7%, which is twofold figures of women over 35 years old.
IELTS Writing Task 2
Society would benefit from a complete ban on all forms of advertisement. To what extent do you agree or disagree?
Concerns about the prevalence of advertisements and their effects have reached a fever pitch nowadays. While there exists an initiative that the government should impose a strict prohibition on all channels of adverts, I strongly refute such an act since advertising does offer indispensable benefits to modern society.
It appears completely unreasonable to ban all genres of advertisements. Advocates of banning adverts may argue that advertisers employ manipulative techniques to provoke customers' desires to purchase products that they do not actually need, making people waste their money ceaselessly. Besides, even more serious consequences would hit the consumers in cases when they buy poor-quality and fake products whose functions are overstated in adverts. However, such reasoning is an invalid exaggeration since purchasers nowadays have become more alert to advertising than ever before due to their constant exposure on a daily basis. As a result, consumers tend to ponder and research more heedfully before coming to a buying decision. In short, the proposal of placing a ban on all types of advertising based on assumed yet faulty negatives of adverts is irrational.
On the contrary, I am strongly convinced that advertisements are extremely beneficial to society in several ways. The most obvious advantage is that many customers could gain insights of new products or services thanks to daily exposure to a wide range of advertisements. For example, visual adverts can provide parents with updated information about different milk products, helping them to have better purchase choices for their children. Another noticeable benefit is that advertising could maximize consumer's gains by creating fiercer competition between companies. Specifically, the availability of advertising, followed by consumers' better opportunities to compare products, would compel companies to constantly refine their products and offer goods with higher quality yet more reasonable prices, which in turn could financially benefit buyers.
In conclusion, I am of the belief that the advertisement brings people enormous advantages and thus the suggestion of imposing a total prohibition on all forms of advertising should be neglected.
By IPP IELTS – Conquer the IELTS test
Also check :