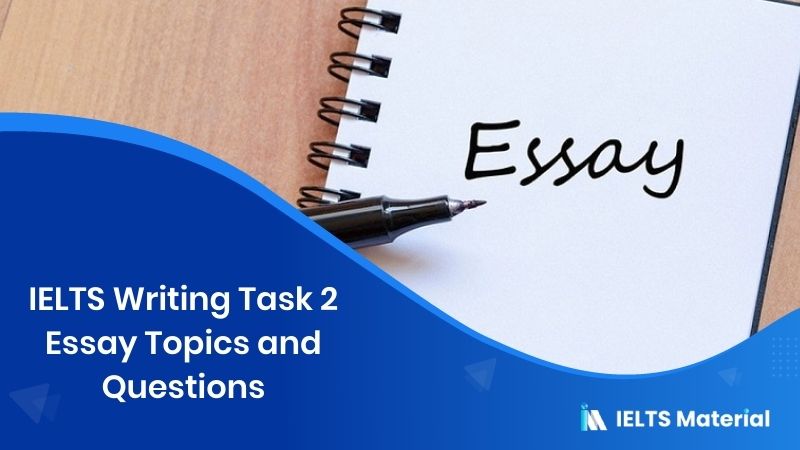 IELTS Writing Task 2 Essay Topics and Questions 2021
The IELTS Writing tests consists of task 1 and task 2, you'll be given an hour to complete it. For task 1, you'll be required to write a minimum of 150 words while for task 2 a minimum of 250 words. And since task 2 has a higher score weightage compared to task 1, it'll be best not to spend more than 20 minutes for the latter so that you can have enough time in hand to complete task 2. The marking for the writing tests will be done on factors including vocabulary, grammar, number of words used, and so on. 
For writing task 2, the examiner will give you a topic for which you'll have to write an essay about, of at least 250 words. So to help you prepare for this, below are the types of essays along with some of the writing task 2 essay topics you could use to practice on.
Types of IELTS Essays
There are different types of essays that could be given to you. IELTS writing ideas, and possible IELTS essay topics with sample answers for each type are mentioned below:
1. Opinion Essay
An opinion essay is an essay in which you have to explain the topic based on the opinion that you have regarding that topic. They are also called Agree/disagree essays or argumentative essays. 
2. Discussion Essay
In a discussion essay, you'll have to discuss for and against the given topic.
3. Advantage or Disadvantage Essay
For this type of essay, you have to write about the positive and negative aspects of the given topic.
4. Solution Essay
In solution essays, the topic will be a problem and you'll have to give a solution to the particular issue. Sometimes the question may also be posed as to why this particular issue happened, and you'll have to present your opinions based on the issue.
5. Direct Question Essay
For this type of essay, the topic will be a question for which you'll have to answer based on your thoughts and experiences.
Our ebook
You can also consider purchasing the ebook on IELTS Writing Task2 from our online store. It contains latest essay questions/topics (2020) with answers.
FAQs
Is the essay structure based on the essay topic (Eg: Education) or essay type (Eg: Opinion essay)?
They are based on the essay type.
What should I do to write an effective essay?
The topics will be based on simple day-to-day life activities like news, sports, environment, traffic etc. Reading English newspapers daily and watching English news will help a great deal in writing a good essay. You can also use practice tests.
I fear to give my opinion on controversial issues? How do I deal with this?
IELTS does not give controversial topics (Generally). But you need not fear to give an opinion. Your language matters and not your choice of opinion.
Will you be marked for the subject? What if I try to present great ideas with weak grammar?
You are marked for organisation of paragraphs, logical flow of thoughts, grammar and collocations. Great ideas with poor grammar will definitely lead to poor scores.
How will the words be counted in IELTS exam ?
Some examples on how words are counted :
1. Aren't – This will be counted as one word though it represents two words "Are not".
2. day-to-day – This will be counted as one word.