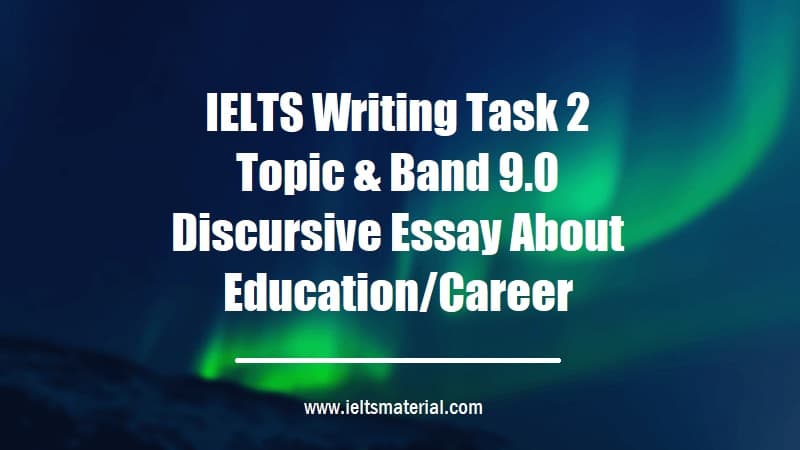 IELTS Writing Task 2 Topic & Band 9.0 Discursive Essay about Education/Career
IELTS Writing Task 2
Some people believe that studying at university or college is the best route to a successful career, while others believe that it is better to get a job straight after school. Discuss both views and give your opinion.
When teenagers finish school, they have to make up their mind about whether they continue their studies with the aim to obtaining Bachelor Degree or they seek a job. While getting a job right after graduating from high school can bring us a rich variety of benefits, I would suggest that teenagers should go to college or university.
Getting down to working straight after finishing school is attractive for various reasons. The first reason is that teenagers can be more independent when they dedicate their time to earning money. As a result, they will be able to settle down, start a family or having enough money to travel. Another reason is that starting to work as soon as possible can help them escalate up the career ladder much more easily. This is because they will have a greater opportunity to embark on widening their horizon, gaining real experience and learning practical skills related to their chosen profession, thereby resulting in a successful career.
On the other hand, I would argue that that it is far more beneficial for students to keep studying to get a Bachelor Degree, rather than pursue a career. Firstly, without any qualifications acknowledged by a college or university, the young people will find it more competitive to successfully get a job which they have a burning desire for. Secondly, academic qualifications are required in many professions. In other words, there are hundreds of positions in a company which requires a relevant qualification to get into, such as doctor, lawyer. As a consequence, while lack of academic qualifications exerts a negative effect on the career path of the young people, university graduates can seize more and better job opportunities, earn higher salaries.
For the reasons mentioned above, it seems to me that it is highly likely for students to have a better career in later life if they have a university or college degree.
( 317 words, band 9)
To download Docx file, click here:
Free Download Discussion essay band 9
Also check :