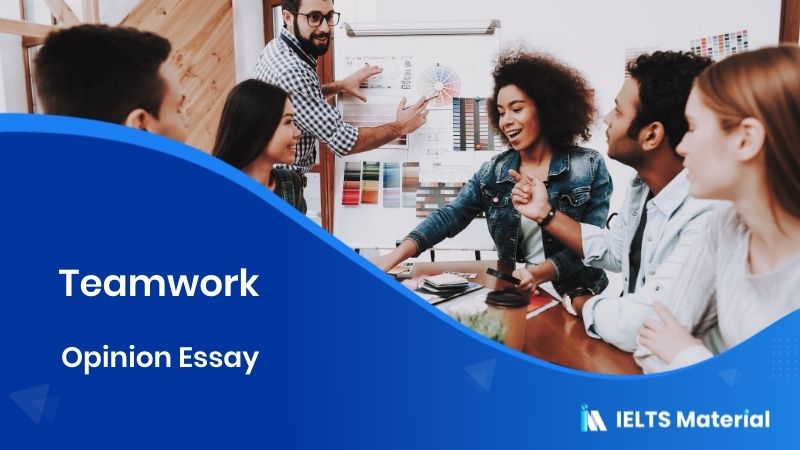 Teamwork – Opinion Essay
Teamwork offers a lot of benefits in modern society. To what extent do you agree or disagree?
Of late, teamwork is gaining a lot of significance. On a closer observation of the job postings by leading companies, we find that they require talented individuals who are also team players. Many people support this new norm. I also welcome this idea. In the following paragraphs, I shall put forth the explanations in support of my opinion.
Brainstorming is essential for the generation of new ideas. Scientists generally arrive at a conclusion after deep debates and conversations. The problem that had been very difficult to solve in isolation may become easier to solve with the assistance of others. People with a different perspective induce revolutionary thinking. Teamwork boosts the morale of an individual. Recent studies show that people were much happier to solve problems as a team. Also, collaboration fosters a learning spirit. It reduces the burden of work. Research has shown that herculean tasks are accomplished when two people work together rather than a competent individual working on it alone.
A single person cannot have all the prowess needed to complete a task. For example, person A may be having exceptional coding skills in area A but may lack expertise in area B. So, person A needs to be complemented by another person skilled in area B. In the process, person A acquires knowledge of area B and vice-versa. So teamwork helps in skill-building. They may start feeling more worthy of their competencies while they educate each other. Also, they may become courageous to explore new zones by the encouragement provided by their teammates.
Properly managed teams can be remarkably productive, albeit the argument that teamwork might relax ownership on a task. 
In conclusion, teamwork promotes individual growth and achieves goals of the organisation. Under the right supervision, teams can accomplish tenfold more than what is expected out of them.