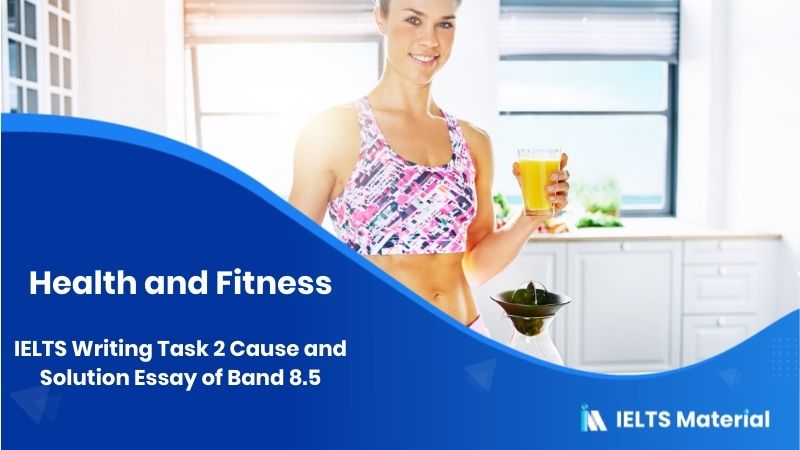 IELTS Writing Task 2 Cause and Solution Essay of Band 8.5 – topic : Health and Fitness
In some countries the average weight of people is increasing and their levels of health and fitness are decreasing.  What do you think are the causes of these problems and what measures could be taken to solve them?
Although this century has seen tremendous developments in health care services, millions of people worldwide are now overweighted. The aim of this essay is to investigate the factors that lead to these problems and propose some possible methods to deal with it.
One of the most contingent reasons for the increase in people's average weight is clearly the unhealthy eating diet they live on. Traditional food using natural ingredients is now being painfully ignored by the masses. Instead, nowadays, the mass-produced one, fast-food, high in cholesterol and chemical additives, seems to be a more appealing option because it saves people time. This tendency has a corrosive effect on people's health, especially when eaten excessively. Additionally, this problem could be attributed to the sedentary lifestyle of people. Idleness is alluring and modern people are too busy with their work to set aside a reasonable amount of time to work out or do physical exercises. The outcome of such idleness is getting out of shape and even losing some cognitive vitality.
Measures against this are, in effect, abundant. First and foremost, people need to be better informed of nutrition and its implications. With a better understanding of the malign influence of junk-foods, they may have a second thought about what to eat. Moreover, decisive is the role the government plays in increasing its population's level of fitness. Banning the advertising of unhealthy foods and tightening up on foods of unclear origin could also have far-reaching effects. What's more, obese people need to incorporate more physical exercises into their everyday life, making it a must to complete before the end of the day.
In conclusion, unhealthy diets and the sedentary lifestyle are held most responsible for the worsening in people's health. There are, however, a number of ways that can be used to ease the severity of this problem modern people have to face.

(IELTS Writing Task 2 Band 8.5 Essay by Pham Bao Thanh Huyen, IELTS Teacher)
Useful Expressions :
Contingent reasons: convincing reasons
Have corrosive effect: have negative effect.
Sedentary lifestyle: a lifestyle that involves little exercise.
Idleness is alluring: People tend to become idle.
Set aside: save.
Get out of shape: become unfit.
Lose cognitive vitality: become less intelligent.
In effect: in fact.
Implications: consequences, influences.
To increase the population's level of fitness: make people healthier.
To tighten up on foods of unclear origin: to limit the spread of food whose origin is unknown.
Incorporate more physical exercises: do more exercises.
Also check :