Latest Overall Band Calculator for IELTS 2023
Janice Thompson,
Updated On
Are you looking for the most reliable overall band calculator for IELTS? Not sure how the raw IELTS scores in each module correspond to the band scores? Take a look at this article to find out:
How is the overall band score calculated?
Examples of overall band score calculations.
Raw score requirements for each band in the 4 modules.
Haven't started your IELTS preparation yet? Don't worry! Learn How to get band 8 in IELTS?
Overall Band Calculation in the IELTS
You will receive a score ranging from 1 to 9 for the four components of the IELTS test – Listening, Reading, Writing, and Speaking. The overall band score is determined by the average of these four scores taken together.
In each module of the IELTS, you can either receive a whole band score such as 5.0, 6.0, 7.0, or a half band score – that is, 5.5, 6.5, 7.5, etc.
The average is calculated by adding the four individual band scores together and dividing the sum by four.
The overall band score is rounded to the previous whole band if the average of the four modules ends in less than 0.25 and to the next whole band if it ends in more than 0.75. For example, the final score will decrease to 6 if the average is 6.1. The final score will be band 7 if the average is 6.85.
If your average is exactly 6.25, you will receive a band of 6.5. If the average is 6.5, you will receive a band 7.
Check out the sample IELTS scorecard below to understand more about overall band calculations.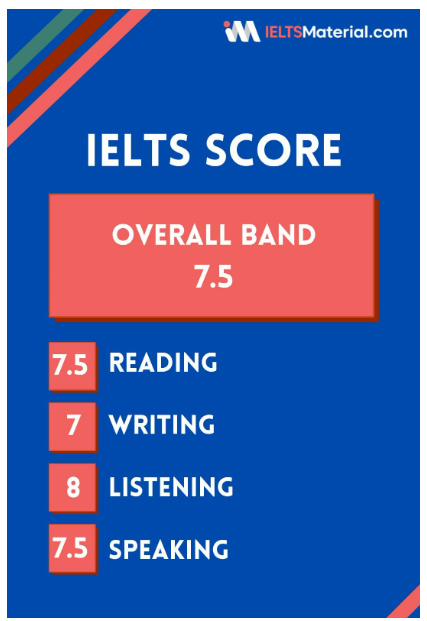 Here, the sum total of the four module band scores is 7.5 + 7 + 8 + 7.5 = 30.
Thus, the average score is 30 ÷ 4 = 7.5.
Not sure what your individual score is in each module? Read on to find out how to calculate the band score in each module according to the number of questions you have answered correctly.
Module Band Score Calculation
The band score for each module is determined by the number of correct answers you have provided. Let us take a look at the raw score requirements for different bands in each module, one by one.
Reading Module
The reading band score is determined by how many of the total 40 questions you have answered correctly. For wrong responses, there is no negative marking or deduction of points. The distribution of band scores for the two IELTS types – Academic and General are as follows:
Number of correct answers

(Academic)

Number of correct answers

(General)

Band Score
39-40
40
9
37-38
39
8.5
35-36
37-38
8
33-34
36
7.5
30-32
34-35
7
27-29
32-33
6.5
23-26
30-31
6
19-22
27-29
5.5
15-18
23-26
5
13-14
19-22
4.5
10-12
15-18
4
8-9
12-14
3.5
6-7
9-11
3
4-5
6-8
2.5
Listening Module 
Similarly, the Listening test will also contain 40 questions, which will be marked as follows:
| Number of correct answers | Band Score |
| --- | --- |
| 39-40 | 9 |
| 37-38 | 8.5 |
| 35-36 | 8 |
| 32-34 | 7.5 |
| 30-31 | 7 |
| 26-29 | 6.5 |
| 23-25 | 6 |
| 18-22 | 5.5 |
| 16-17 | 5 |
| 13-15 | 4.5 |
| 11-12 | 4 |
Writing Module
The Writing module consists of two tasks. The examiner will evaluate each of your IELTS writing tasks individually using the 4 criteria listed below:
Task Response
Coherence and Cohesion
Lexical Resource (Vocabulary)
Grammatical Range & Accuracy
Each criterion will be assigned a band score, and the average will be taken to assign the final task score. Task 1 and task 2 will be given a combined score, which will be your final Writing band.
Speaking Module
Examiners evaluate your overall performance for this module in light of four criteria, which are:
Pronunciation
Lexical range
Grammatical range
Fluency and Coherence.
A score of 0 to 9 is assigned to each of these criteria. The module's overall score is then calculated using the arithmetic average.
Conclusion
Success in the IELTS depends on your ability to grasp the requirements for attaining your goal score. It is vital for IELTS aspirants to understand what is the overall band calculator and how it works. The IELTS test measures English-language proficiency for students who want to study abroad. Thus, a strong result is crucial and provides many advantages. Sign up with IELTSMaterial to begin your IELTS preparation today!