Most Common IELTS Graph Synonyms to Use in 2023
Janice Thompson,
Updated On
Have you encountered a word called synonym and needed clarification on what it means or how to use it in IELTS writing? Check the most used IELTS graph synonyms for a band 8+ score!
25% of the IELTS Writing score is based on the range of vocabulary you employ. In the IELTS assessment criteria, this is known as Lexical Resource. You can improve your Writing score through the use of
Collocations
Unique vocabulary and expressions
Paraphrasing
Synonyms
Therefore, it is crucial to examine and learn IELTS graph synonyms as part of your preparation for Writing task 1. Check out this IELTS vocabulary guide to get started.
You might also benefit from taking a look at IELTS Academic Writing Task 1: Useful Tips and Vocabulary to Describe a Graph or Chart!
Think about it, you can definitely come up with loads of synonyms. The objective of learning synonyms is to help you recognise and use them where necessary in IELTS Writing.
Synonyms will enhance your writing by extending the vocabulary and overall thought processes. Additionally, there may be instances in which one synonym is preferable to another because it is either more accurate or better captures the emotion you are trying to communicate.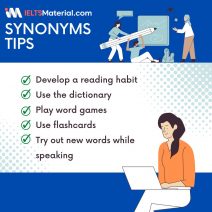 Use of Synonyms in Writing Task 1
For the IELTS Writing Task 1, you will be required to compose a summary of at least 150 words for an item of visual data, typically in the form of a graph or chart. You must identify the key characteristics of the graph, describe them, and draw conclusions by comparing and contrasting the provided data.
Given below is a list of terms and phrases you should employ in your work to achieve high marks in the lexical resource category as well as a high Writing band score overall. You'll score higher on the task with the strong use of IELTS graph synonyms.
The use of the same words repeatedly in writing can make it boring or uninteresting. It can help your writing if you swap out one term for an equivalent or, in certain cases, a more precise one. By using synonyms, you can enhance the reader's experience of your writing by making it more vivid and engaging.
IELTS Graph Synonyms List
Introduction Phrases
You may start your answer with the common phrase "The graph shows…"
However, here you can use synonyms for the word "show" to create a more engaging answer, such as:
The graph illustrates…
The graph reveals…
The graph conveys…
The graph presents…
The graph indicates…
Etc.
Appropriate Adverbs
Adverbs are used to modify verbs, phrases, and other parts of sentences in order to provide additional information. An adverb modifies by often stating how, when, where, why, in what circumstances, or to what extent. You can use adverbs as follows:
Time
Previously, [x] days/weeks/years ago, before, after, following hours/days/weeks, never, soon, lately…
Frequency
Always, as per usual, generally, often, occasionally, once…
Place
Here, there, everywhere, near, far, downwards, backwards, upwards…
Degree
Approximately, dramatically, erratically, gradually, noticeably, significantly, importantly, slightly, slowly, steadily…
Affirmative
Certainly, apparently, surely, obviously, undoubtedly…
Synonyms for "rise" and "fall"
Using Rise as a Noun
Climb
Increase
Improve
Jump
Leap
Move upward
Skyrocket
Soar
Shoot up
Surge
Etc.
Using Rise as an Adjective
Increase
Climb
Leap
Pick up
Surge
Growth
Etc.
Using Fall as a Noun
Decline
Decrease
Deteriorate
Dip
Plunge
Freefall
Slump
Etc.
Using Fall as a Verb
Collapse
Decline
Decrease
Dip
Drop
Plummet
Plunge
Nosedive
Etc.
Remember that the first IELTS Writing task may include any of the following infographics: a bar chart, pie chart, line graph, diagram, etc. Thus, you should be well-versed in the language featured in the IELTS Writing graph regardless of the topic. IELTS graph synonyms are the key to unlocking a high score on this part of the test.
Check out sample answers for the various types of IELTS Writing Task 1 with Samples, Questions and Answers. Start building your writing skills now!