Music Clubs – IELTS Reading Answers
Justin,
Updated On


Limited-Time Offer : Access a FREE 10-Day IELTS Study Plan!
The Academic passage 'Music Clubs' is a reading passage that appeared in an IELTS Test.
Since questions get repeated in the IELTS exam, these passages are ideal for practice. If you want more practice, try taking an IELTS reading practice test.
Music Clubs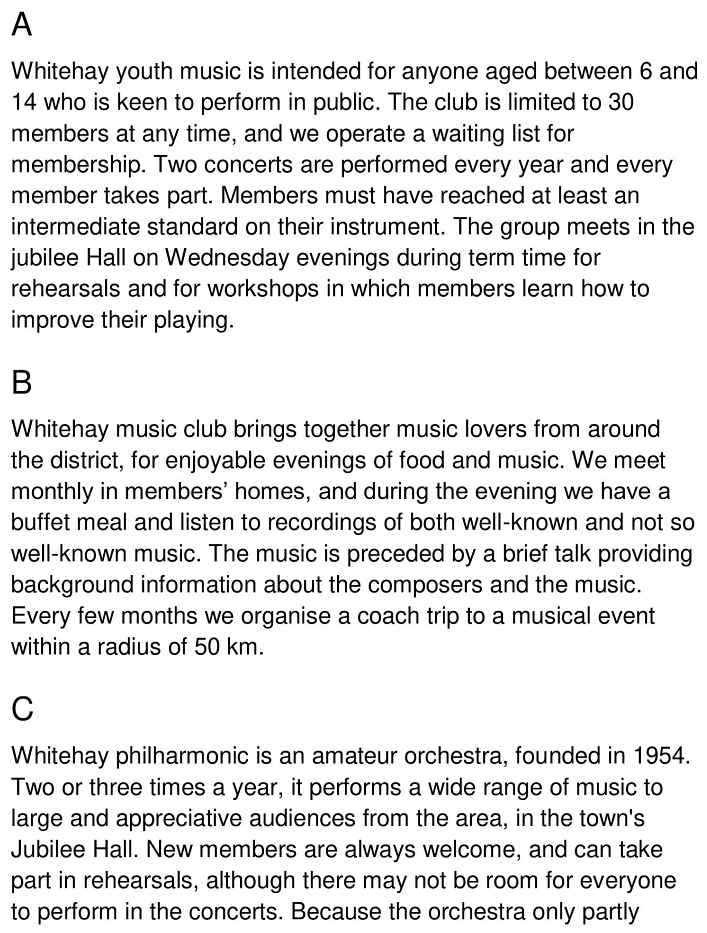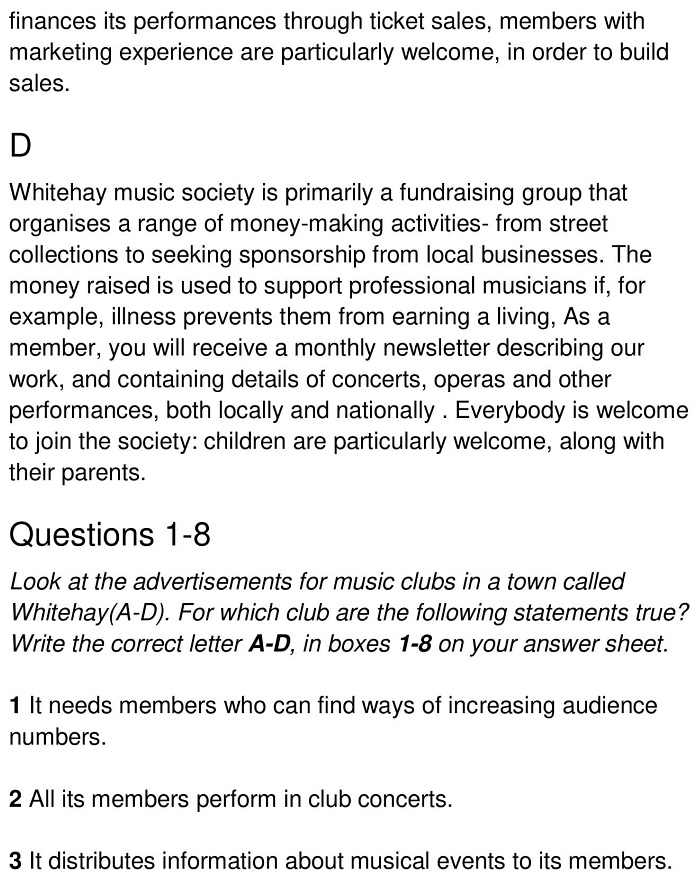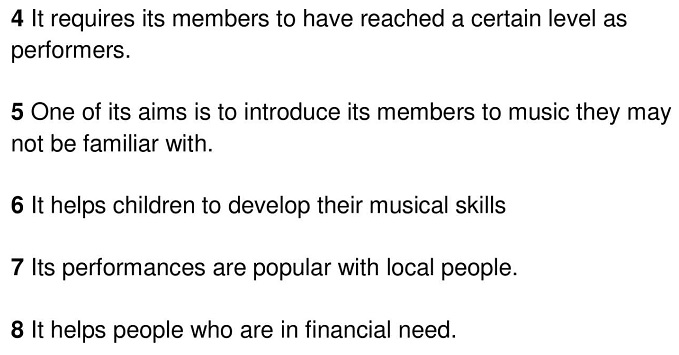 Answers
Question number 
Answer
Explanation

1

C

Paragraph C puts forward the information that

"members with marketing experience are particularly welcome, in order to build sales."

The term marketing experience is particularly welcome, denoted that it needs members who can increase audience numbers. Hence, the correct answer is "C."

2

A

Paragraph A mentions that

"two concerts are performed every year, and every member takes part."

Since every member takes part, it denotes that all its members perform in club concerts. Hence, the correct answer is "A."

3

D

Paragraph D provides the information that

"as a member, you will receive a monthly newsletter describing our work, and containing details of concerts."

From the information 'containing details of concerts,' we can deduce that it distributes information about the musical concert to its members. Hence, the correct answer is "D."
4

A

In paragraph A, there's a line that mentions that

"members must have reached at least an intermediate standard on their instrument."

From the term 'reached at least an intermediate standard,' we can confirm that it requires members to have reached a certain level as performers. Hence, the correct answer is "A."

5

B

Paragraph B advertisement states that

"during the evening we have a buffet meal and listen to recordings of both well-known and not so well-known music."

This line provides the information that it introduces its members to music that is not well-known to them or is unfamiliar. Hence, the correct answer is "B."

6

A

Paragraph A advertisement informs that

"Whitehay youth music is intended for anyone aged between 6 and 14 who is keen to perform in public."

Therefore, we infer that this music event helps children to develop their music skills. Hence, the correct answer is "A."

7

C

Paragraph C mentions that the music event, which is popular with local people, mentions that

"performs a wide range of music to large and appreciative audiences from the area."

The audience from the area means the local people. Hence, the correct answer is "C."

8

D

Advertisement of paragraph D mentions that

"for example, illness prevents them from earning a living."

Hence it raises money to support people who need it (those who are incapable of earning by themselves due to some reasons). Hence, the correct answer is "C."
Also check :