IELTS Academic Writing Task 1 : Prepositions
Zuhana,
Updated On


Limited-Time Offer : Access a FREE 10-Day IELTS Study Plan!
Prepositions are an integral part of any essay question. Especially in IELS Task 1, since you're describing a diagram or a chart, a lot of prepositions should be used.
Here are two examples, a diagram and a chart question of the IELTS Task 1 section. The prepositions are highlighted in both the model answers of these questions.
Example 1 (Diagram)
You have 20 minutes to complete this task.
Write at least 150 words.
The diagram below shows how Olive Oil is manufactured.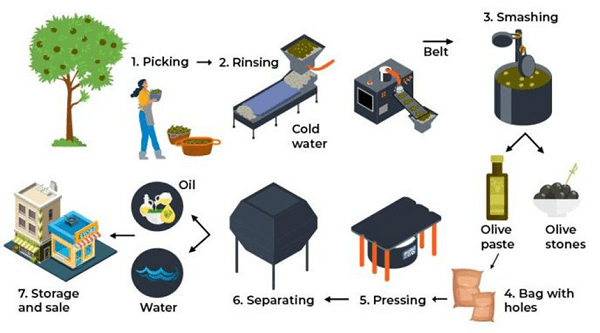 This diagram illustrates the process by which Olive Oil is manufactured. Overall, this is a step-by-step process comprising of 7 stages in the process, beginning with picking the olives by the farmers and ending with storage and sale.
To begin, ripe olives are plucked from the trees by farmers and then rinsed with cold water in the rinsing machine. Then they are transferred to another machine for crushing via the conveyor belt. Subsequently, they are divided into Olive paste and Olive stones. The Olive stones are removed.
After that, the Olive paste is packed in a perforated bag and later put into a pressing machine. Following this, it is put into another machine yet again to remove the excess water and separate Oil alone into bottles. Once they are separated, the processed Olive Oil is packaged and delivered to supermarkets, grocery stores, etc. Finally, these shops store and sell the packaged Olive Oil.
Example 2 (Chart)
You should spend about 20 minutes on this task.
Write at least 150 words.
Write a report describing the information in the graph below.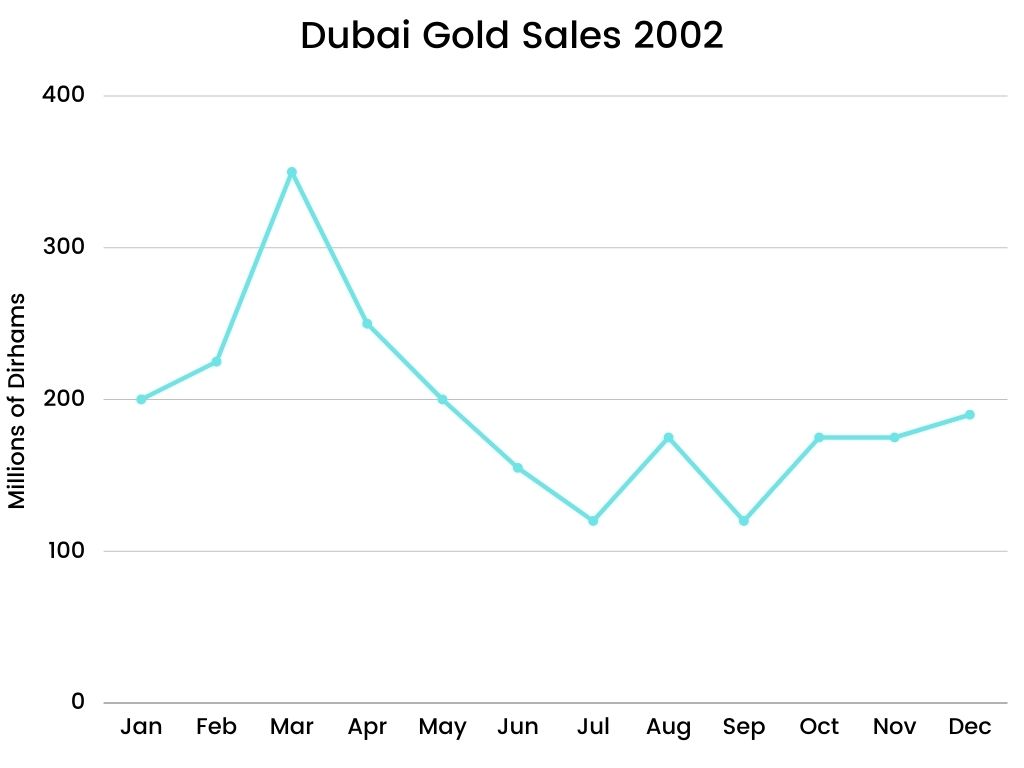 This line graph depicts the Gold Sales in the year 2002 in Dubai. Overall, we can see that gold sales were at the peak in March where it reached 350 million Dhirams, in contrast, sales were at the lowest in July and September for approximately 100-150 million Dhirams.
In January 2002, the sales were at 200 million Dhirams. There was a stable rise in the sales to about 220-240 million Dhirams in February and then rose sharply to exactly 350 million Dhirams in March, which had the highest sales of the year. After march, it began to drop until it reached 100-150 million Dhirams gradually, it's least sales in July. There was a small fluctuation from July to September as the sales rose in August to more than 200 million Dhirams and then dropped to the same amount as of July in September. There was an increase in sales in October, and the sales remained stable until December with minute fluctuations.
Also check :