IELTS Academic Reading 'Sustainable architecture – lessons from the ant' Answers
Janice Thompson,
Updated On
The Reading Module of the IELTS can be the top-scoring category, with diligent practice. To achieve the best results in this section, you must understand how to approach and answer the different Question types in the Reading Module. By solving and reviewing Sample Reading Questions from past IELTS papers, you can ensure that your Reading skills are up to the mark.
The Academic passage 'Sustainable architecture' is a reading passage that appeared in an IELTS Test.
It contains some of the IELTS reading question types. If you are interested in familiarising yourself with all the question types, don't hesitate to take an IELTS reading practice test.
Sustainable architecture – lessons from the ant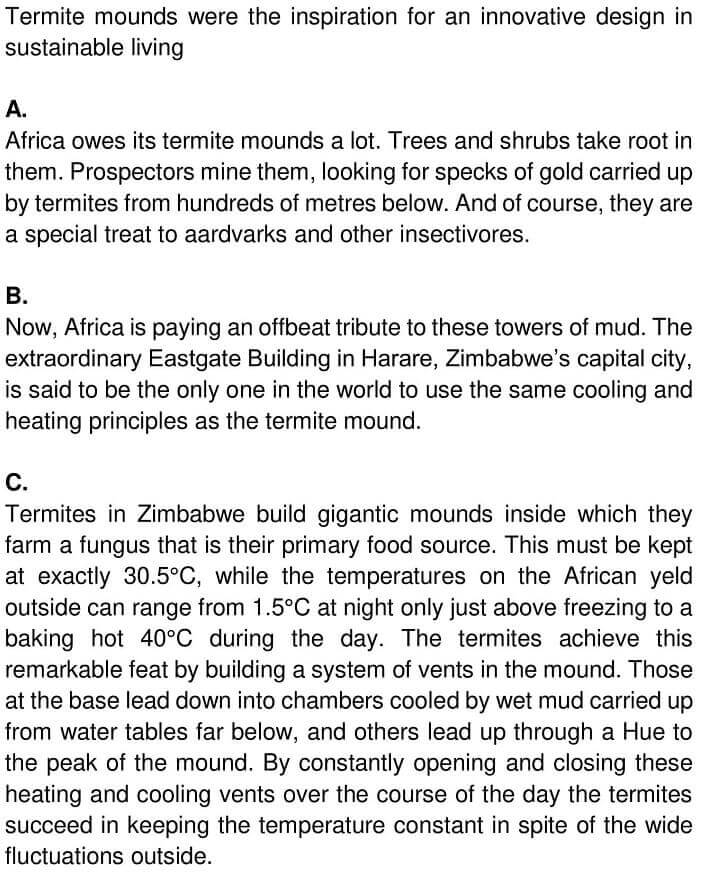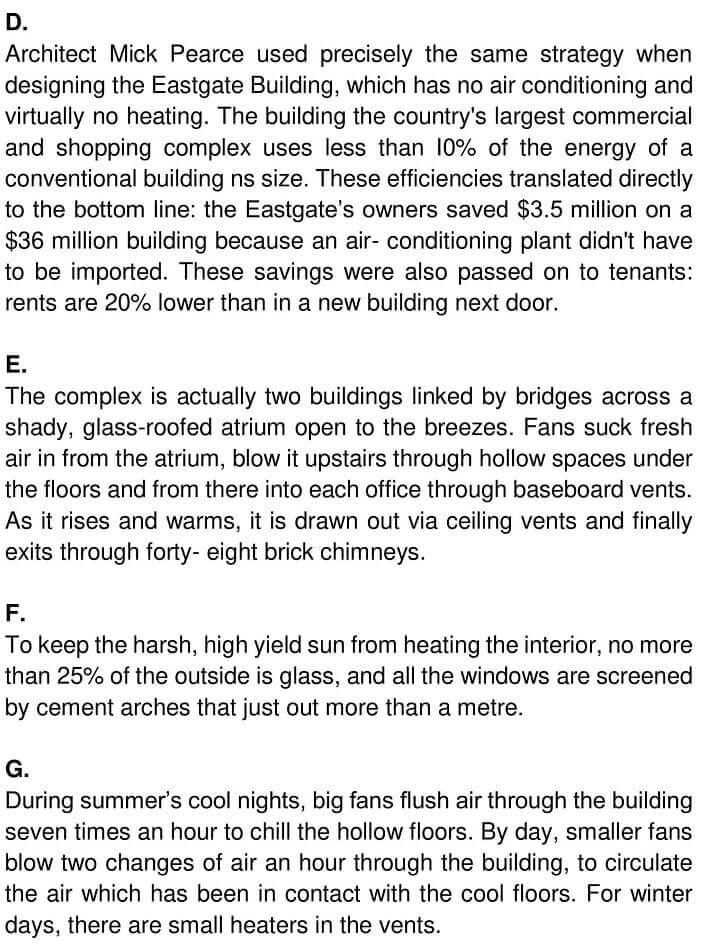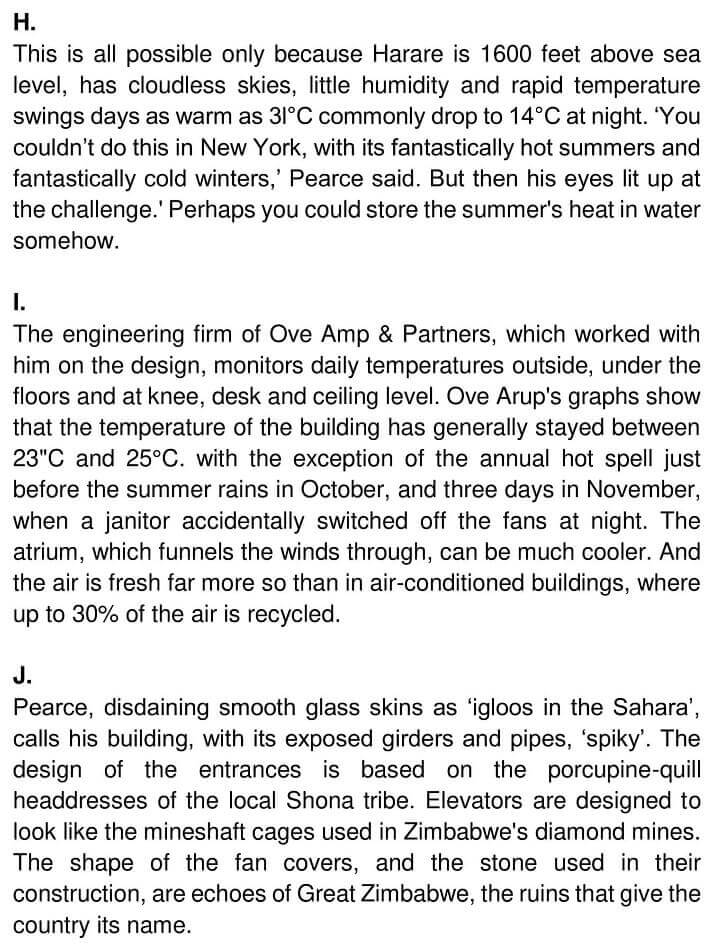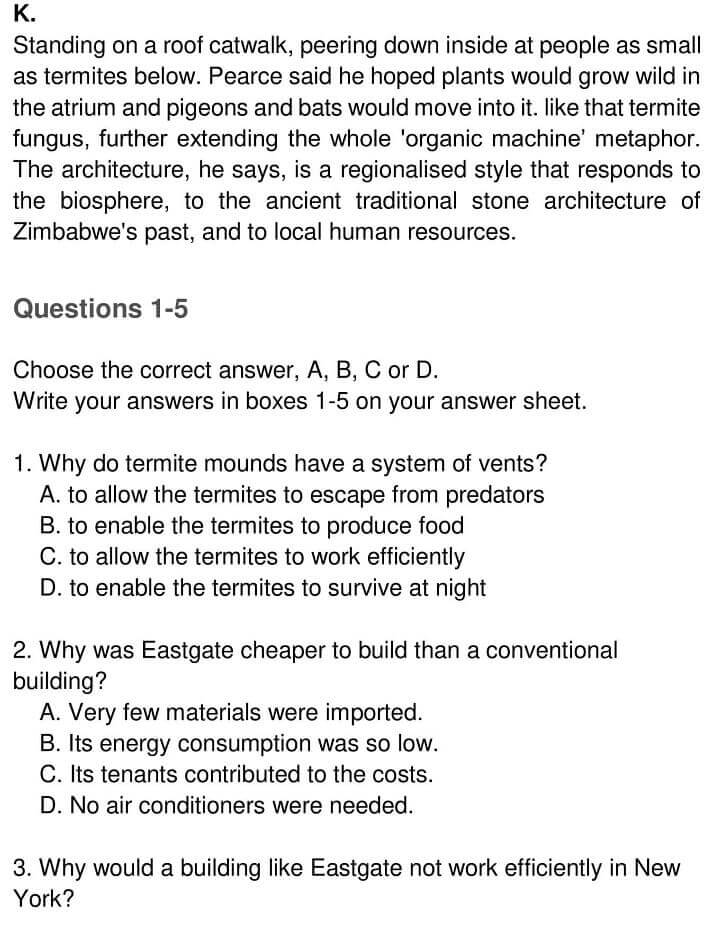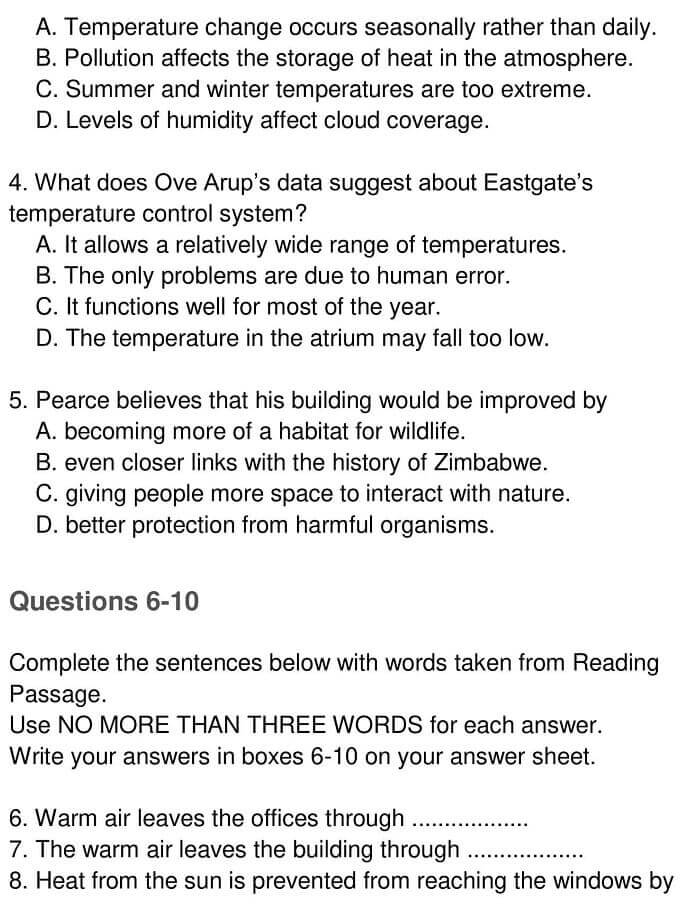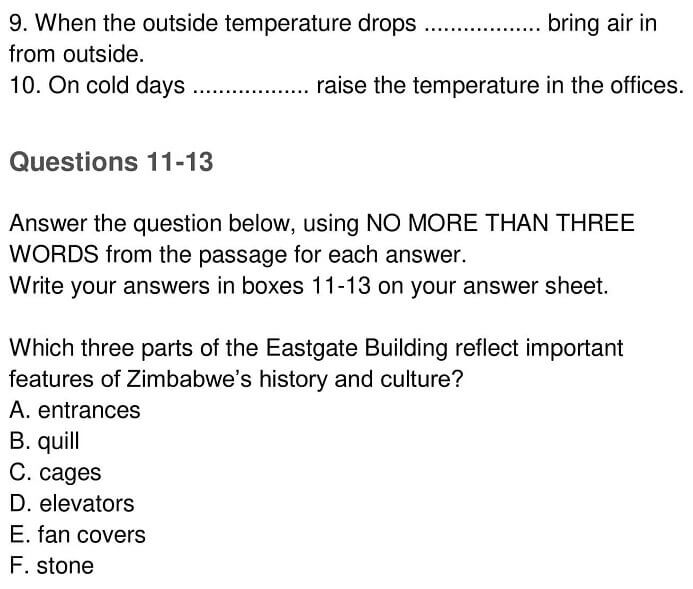 Answers
The answers with explanations are given below
| Question Number | Answers | Keywords | Location of Keywords |
| --- | --- | --- | --- |
| 1. | B | Termites in, build gigantic mounds inside which, that is their primary food source | Paragraph C, First 2 lines |
| 2. | D | Eastgate's owners saved, air- conditioning plant didn't have to be imported. | Paragraph D, Lines 6-8 |
| 3. | A | 'You couldn't do this in New York, hot summers and fantastically cold winters, | Paragraph H, Lines 4-5 |
| 4. | C | Temperature of the building has generally stayed  | Paragraph I, Lines 4-6 |
| 5. | A | Pearce said he hoped plants would grow wild in the atrium, extending the whole 'organic machine' metaphor.  | Paragraph K, Lines 2-4 |
| 6. | ceiling vents | Rises and warms, it is drawn out via ceiling vents | Paragraph E, Last 2 lines |
| 7. | (brick) chimneys | Finally exits through forty- eight brick chimneys. | Paragraph E, Last line |
| 8. | Cement arches | To keep the harsh, high yield sun from heating the interior, screened by cement arches  | Paragraph F |
| 9. | Big fans | During summer's cool nights, big fans flush air  | Paragraph G, First 2 lines |
| 10. | (small) heaters | For winter days, there are small heaters  | Paragraph G, Last line |
| 11. | A (in any order) | Entrances based on the porcupine-quill headdresses of the local Shona tribe | Paragraph J, Lines 3-4 |
| 12. | D (in any order) | Elevators, designed to look like the mineshaft cages used in Zimbabwe's diamond mines. | Paragraph J, Lines 4-6 |
| 13. | E (in any order) | Shape of the fan covers, are echoes of Great Zimbabwe, | Paragraph J, Lines 6-7 |
Check More IELTS Reading Answers
Also check :