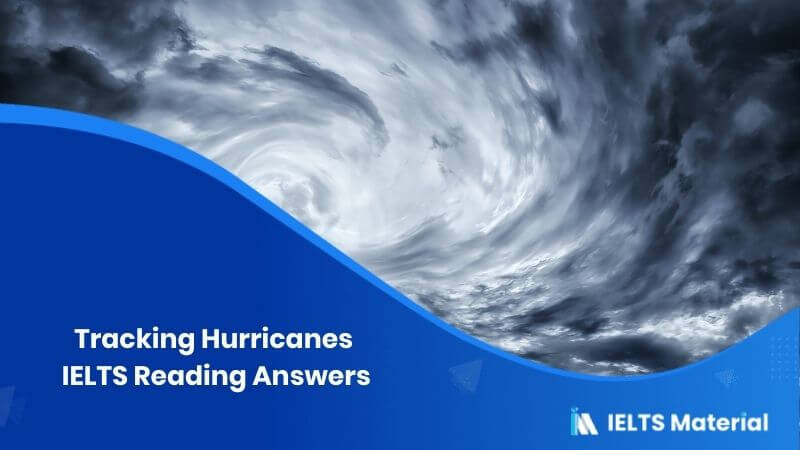 Tracking Hurricanes IELTS Reading Answers
The Academic passage 'Tracking Hurricanes ' is a reading passage that appeared in an IELTS Test. Read the passage below and answer questions 1 – 15. Beyond the questions, you will find the answers along with the location of the answers in the passage and the keywords that  help you find out the answers.
Tracking  Hurricanes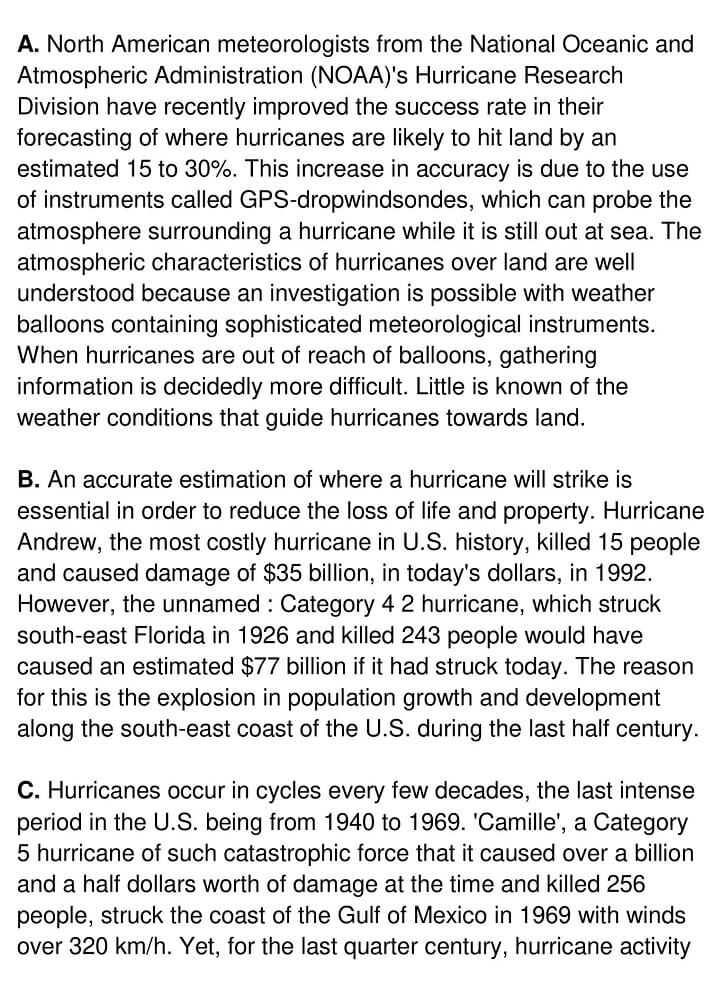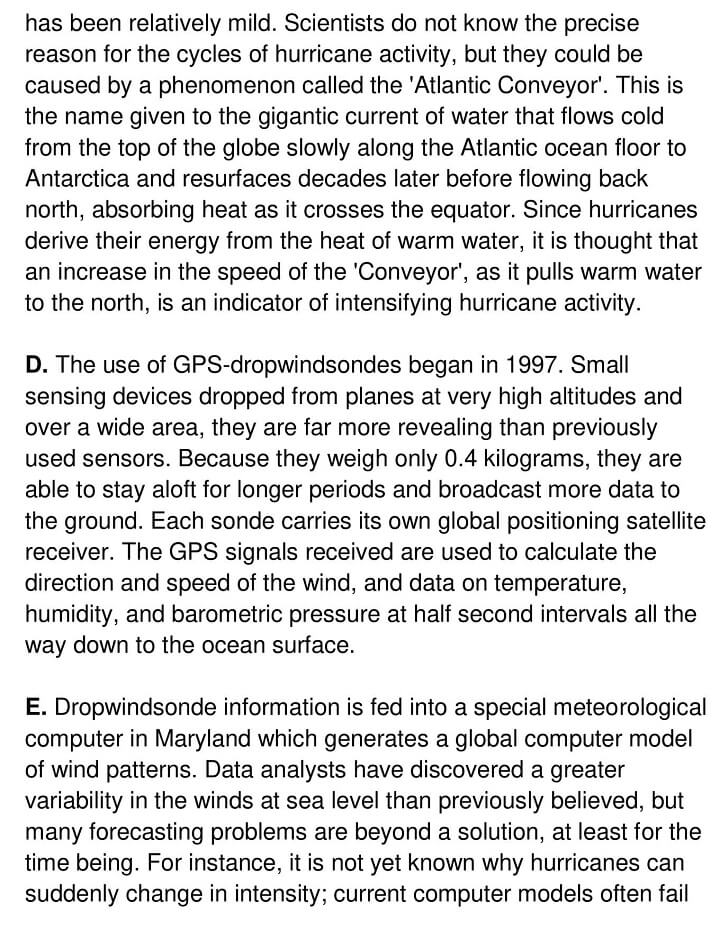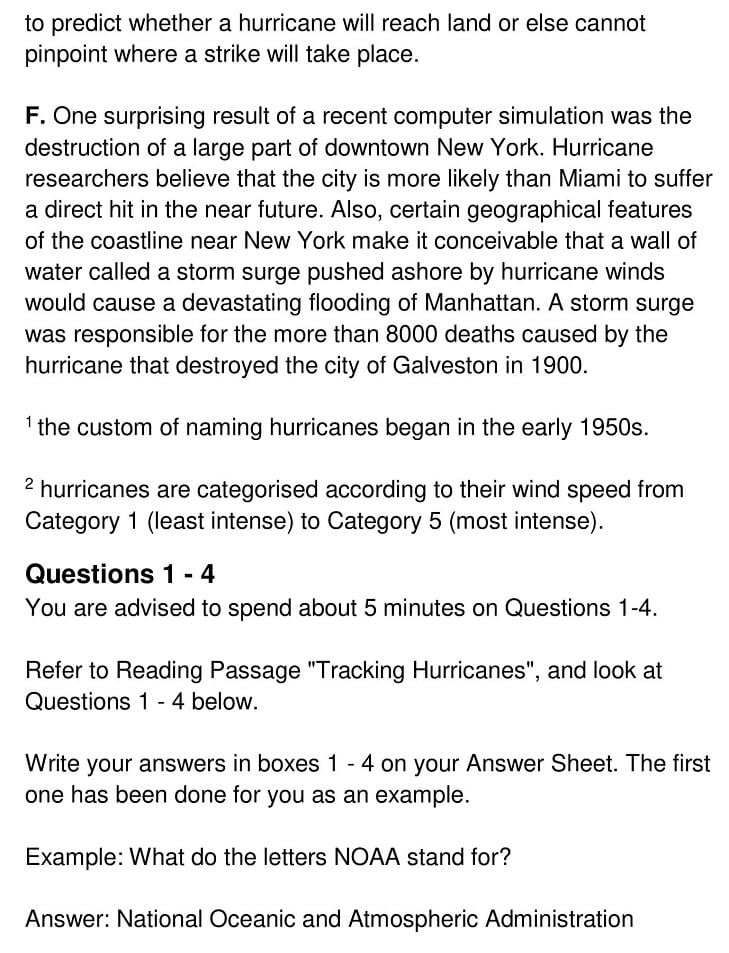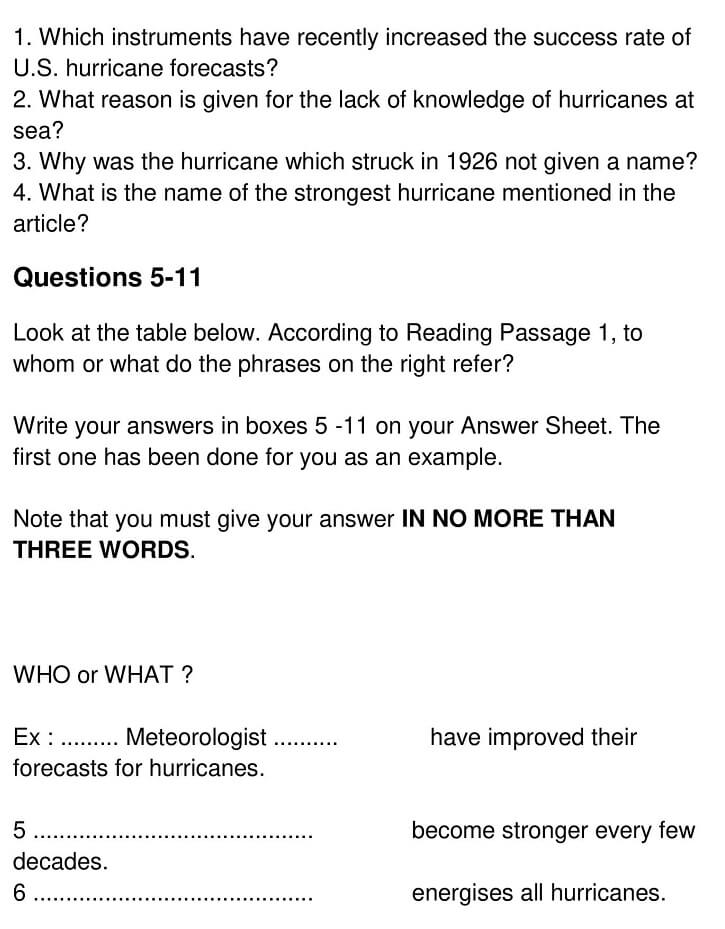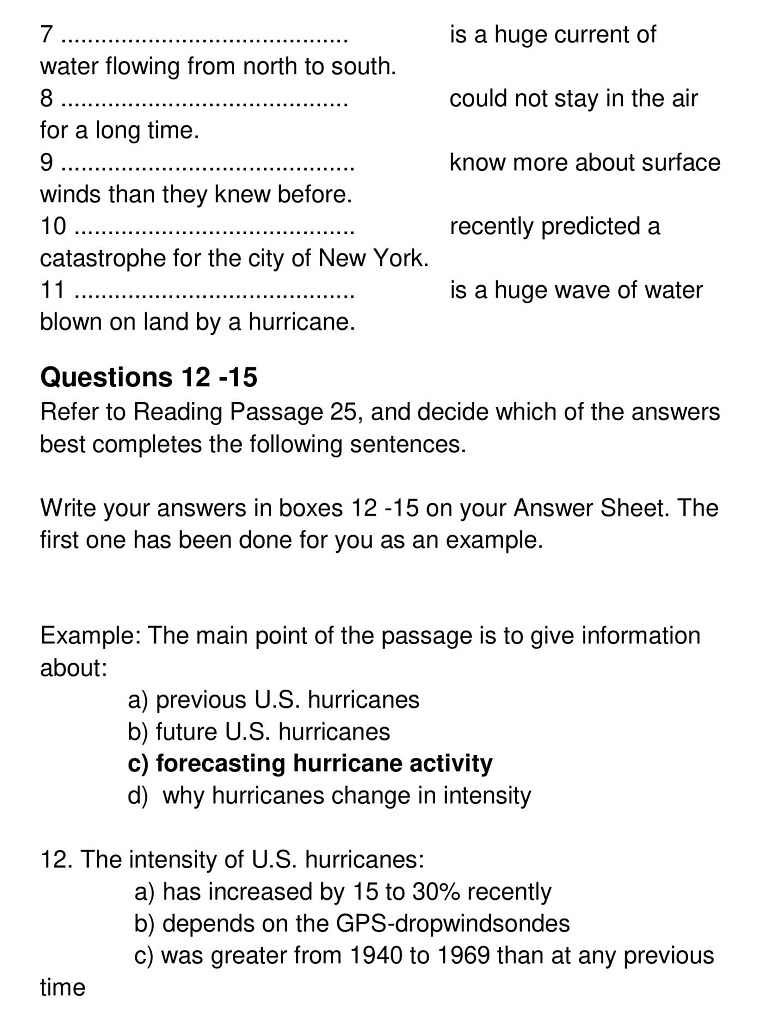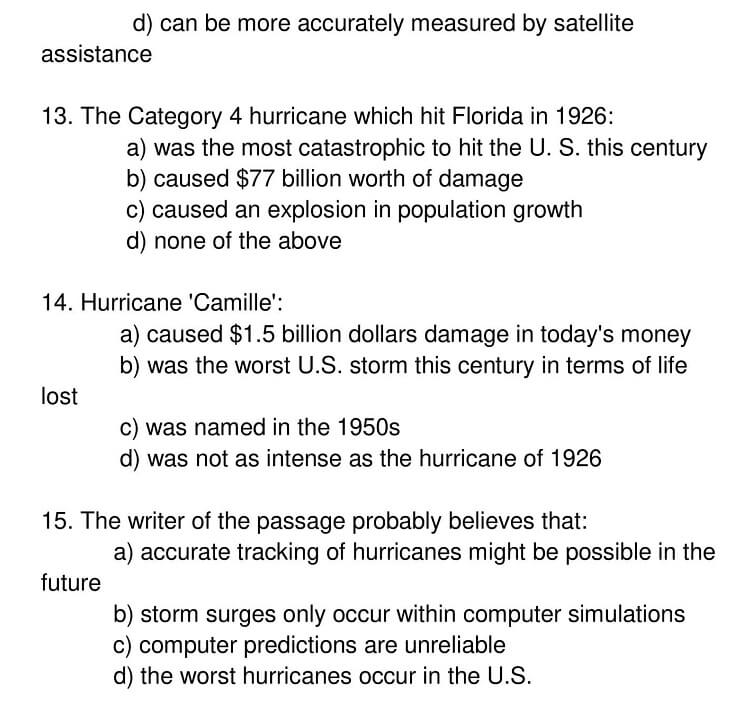 Answers
Unlock Answers
Question number 
Answer 
Keywords 
Location of keywords

1

GPS-dropwindsondes

improved the success rate, forecasting of where hurricanes are likely to hit land,  increase in accuracy, use of instruments called GPS-dropwindsondes,

Paragraph A;

Lines 1 – 4 

2

(weather) balloons

Hurricanes, out of reach of balloons, gathering information, more difficult.

Paragraph A;

Lines 7 – 8

3

(the custom of) naming hurricanes began in the (early) 1950s

Refer footnote 1

footnote 1 & Paragraph B; 

Lines 3 – 5 

4

Camille

Camillle, category 5 hurricane, refer footnote 2 

Footnote 2 & 

Paragraph C;

Lines 2 – 4

5

Hurricanes

Hurricanes occur in cycles, every few decades, last intense period in the U.S., from 1940 to 1969.

Paragraph C;

Lines 1 – 2 

6

heat (of water) / warm water

hurricanes derive their energy from the heat of warm water

Paragraph C;

Lines 9 – 10

7

(the) Atlantic Conveyor

phenomenon called the Atlantic Conveyor, name given to the gigantic current of water, along the Atlantic ocean floor to Antarctica, absorbing heat as it crosses the equator.

Paragraph C;

Lines 5 – 9

8

previously used sensors

GPS-dropwindsonde,Small sensing devices, far more revealing than previously used sensors, able to stay aloft for longer periods 

Paragraph D;

Lines 1 – 4 

9

data analysts

Data analysts, discovered, greater variability in the winds at sea level, than previously believed

Paragraph E;

Lines 2 – 3 

10

(a) computer (simulation) / hurricane researchers

surprising result, recent computer simulation, destruction, downtown New York. Hurricane researchers, believe that the city is more likely than Miami, suffer, a direct hit, in the near future.

Paragraph F;

Lines 1 – 3 

11

(a) storm surge

wall of water, called a storm surge, pushed ashore by hurricane winds

Paragraph F;

Lines 4 – 5

12

D

sonde, global positioning satellite receiver, GPS signals,  used to calculate, direction ,speed of the wind, ,data on temperature, humidity, barometric pressure 

Paragraph D;

Lines 4 – 7 

13

D

Use elimination method. 

Paragraph B;

Lines 3 – 5 

From lines 3 -5 in paragraph B, it is clear that  options A, B, C are not true, D is the right answer

14

B

'Camille', a Category 5 hurricane , killed 256 people, struck the coast of the Gulf of Mexico in 1969 with winds over 320 km/h.

Paragraph C;

Lines 2 -4 

15

A

Use elimination method

Option B does not fit in because computer simulations are used to predict storm surges and the latter is not in control of the former. 

Option C is untrue because some computer predictions have helped in forecasting hurricanes.

Option D is untrue because hurricanes occur in many parts of the world.

So option A is the answer.
Also check :