IELTS Academic Reading 'A song on the brain' Answers
Courtney Miller,
Updated On
The Academic passage 'A song on the brain' is a reading passage that appeared in an IELTS Test.
It contains some of the IELTS reading question types. If you are interested in familiarising yourself with all the question types, don't hesitate to take an IELTS reading practice test.
A song on the brain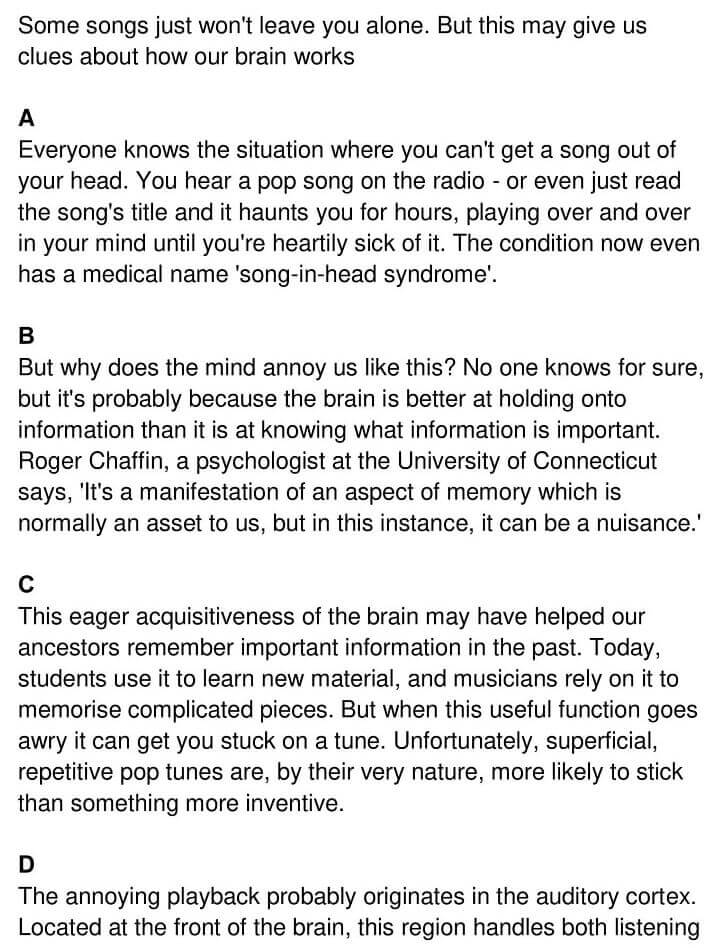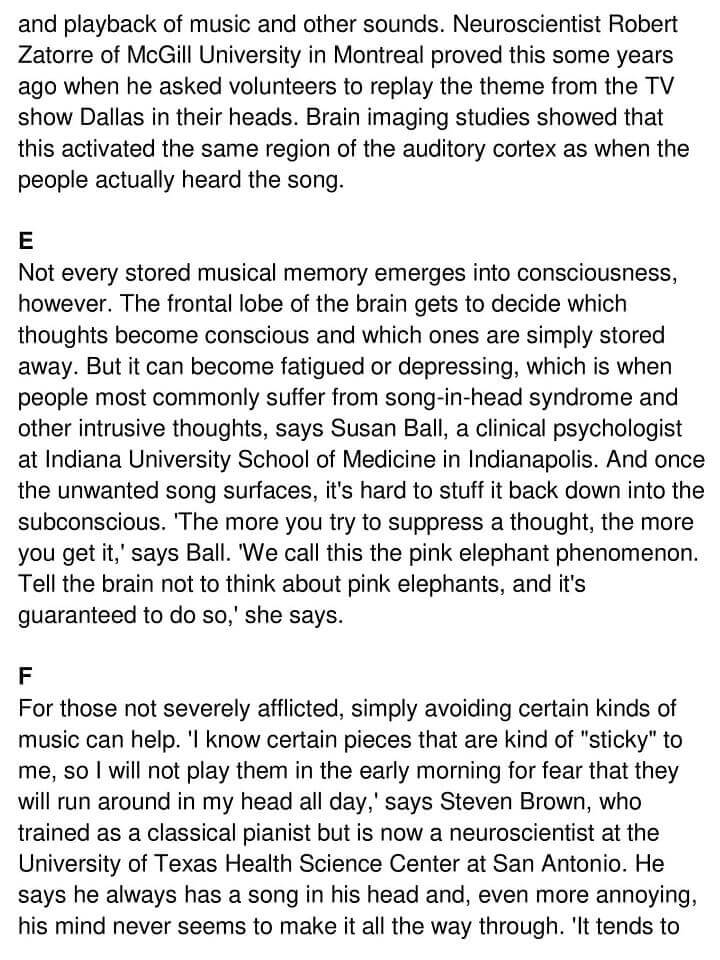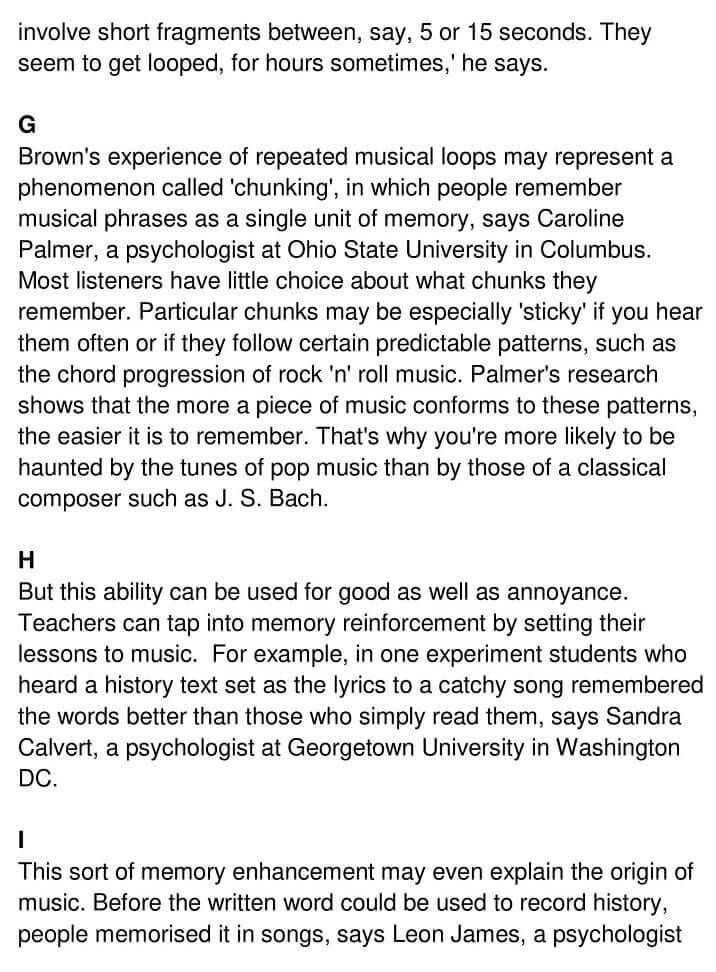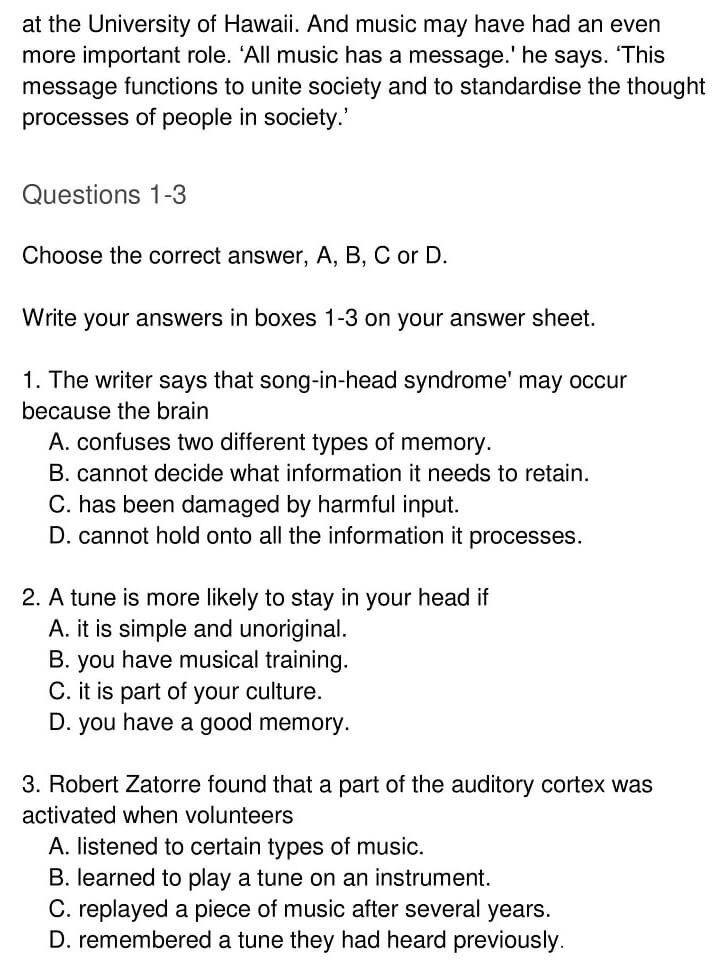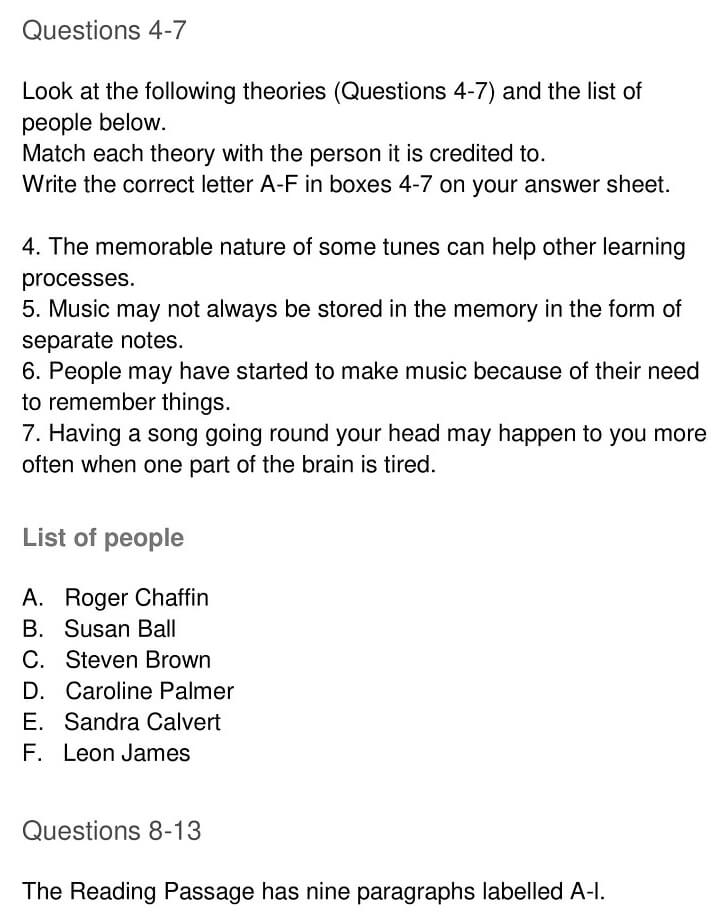 Answers
The answers with explanations are given below
| Question Number | Answers | Keywords | Location of Keywords |
| --- | --- | --- | --- |
| 1. | B | The brain is better at holding onto information, at knowing what information is important. | Paragraph B, Lines 2-3 |
| 2. | A | Superficial, repetitive pop tunes, more likely to stick than something more inventive. | Paragraph C, Last 2 lines |
| 3. | D | Asked volunteers to replay, theme from the TV show Dallas in their heads.  | Paragraph D, Lines 4-6 |
| 4. | E | Students who heard a history text set as the lyrics to a catchy song, remembered the words better  | Paragraph H, Lines 3-5 |
| 5. | D | 'Chunking', people remember musical phrases as a single unit of memory | Paragraph G, First 3 lines |
| 6. | F | May even explain the origin of music, people memorised it in songs | Paragraph I, First 3 lines |
| 7. | B | But it can become fatigued or depressing, most commonly suffer from song-in-head syndrome  | Paragraph E, First 5 lines |
| 8. | I | To unite society and to standardise the thought processes of people in society.'  | Paragraph I, Last 2 lines |
| 9. | G | A phenomenon called 'chunking', the tunes of pop music than by those of a classical composer  | Paragraph G |
| 10. | E | 'The more you try to suppress a thought, the more you get it,' the pink elephant phenomenon.  | Paragraph E, Last 4 lines |
| 11. | D | Playback probably originates in the auditory cortex,  front of the brain | Paragraph D, First 2 lines |
| 12. | A | A pop song on the radio, read the song's title and it haunts you for hours | Paragraph A, First 3 lines |
| 13. | F | Those not severely afflicted, avoiding certain kinds of music can help | Paragraph F, First 4 lines |
Check More IELTS Reading Answers
Also check :