The graphs show changes in spending habits of people in UK between 1971 and 2001. Write a report to a university lecturer describing the data.
Write at least 150 words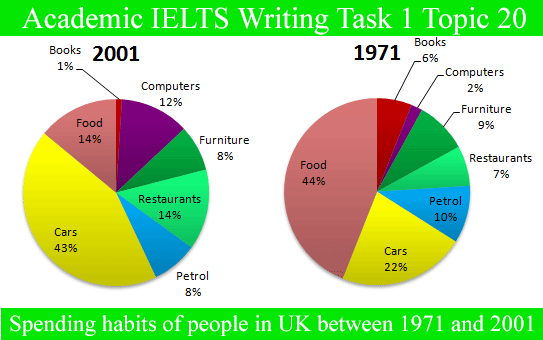 The pie charts show changes in UK spending patterns between 1971 and 30 years later, 2001.
As an overall trend, increased amounts of money spent on cars, computers and eating out were made up for by drops in expenditure on food and books.
In detail, food and car made up the two biggest item of expenditure in both years. Together they comprised over half of household spending in the UK. Food accounted for 44% of spending in 1971, but this dropped by two thirds to 14% in 2001. However, the outlay on cars doubled, rising from 22% in 1971 to 43% in 2001.
Other areas changed significantly. Spending on eating out doubled, climbing from 7% to 14%. The proportion of salary spent on computers increased dramatically, up from 2% in 1971 to 12% in 2001. However, as computer expenditure rose, the percentage of outlay on books plunged from 6% to 1%.
(151 words)
The following two tabs change content below.
Improve your IELTS skills with tips, model answers, lessons, free books, and more ------------ "The more you share, the more you get."
Latest posts by IELTS Material (see all)
Main IELTS Pages:
This website is to develop your IELTS skills with tips, model answers, lessons, free books, and more. Each section (Listening, Speaking, Writing, Reading) has a complete collection of lessons to help you improve your IELTS skills.
Get all the latest updates/lessons via email:
Subscribe for free IELTS lessons/Books/Tips/Sample Answers/Advice from our IELTS experts. We help millions of IELTS learners maximize their IELTS scores!
Subscribe to IELTS Material to receive the latest lessons