IELTS Academic Writing Task 1 Topic 27: Automatic photo booth – Flow Chart
Courtney Miller,
Updated On


Limited-Time Offer : Access a FREE 10-Day IELTS Study Plan!
The flow chart below shows an automatic photo booth.
Summarise the information by selecting and reporting the main features and make comparisons where relevant.
Write at least 150 words.
Automatic Photo Booth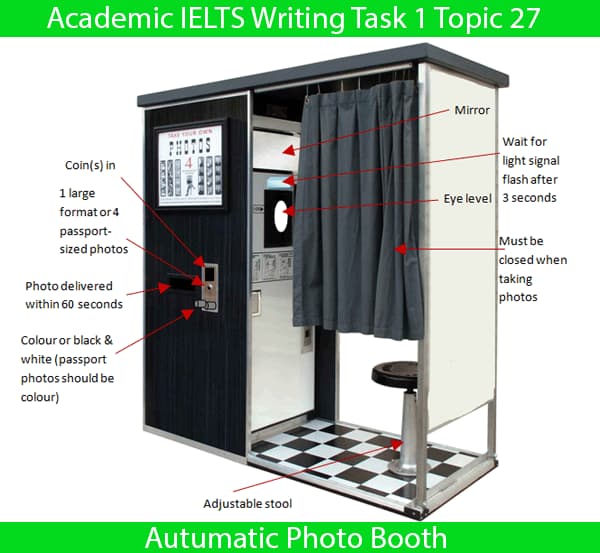 Report Plan
Paraphrase: shows>expresses; an automatic photo booth>a coin-operated photo booth
Overview: Summarise the information of the main features of the photo booth.
Paragraph 2: (1) Talk about the options of the photos. Give details.
Paragraph 3: (1) Talk about how to sit inside the booth. Give details.
Paragraph 4: (1) Talk about how the pictures are delivered. Give details.
Sample Answer
The flow chart expresses the primary feature of a coin-operated photo booth, which permits users to take large or passport-size self-pictures.
Outside the booth, two buttons let you choose the size of the photo (large format or passport size). If the large format setting is selected, only one image will be received. Passport-sized photos get delivered in sets of four. Below these, two buttons let you pick the colour or black and white, although you will have to choose the colour option for passport photos. Outside of the booth, there is also a slot to insert coins and a larger slot to receive photos.
An adjustable seat is available inside the booth to sit on. The seat has to be adjusted in a way that your eyes are level with the arrow on the screen. A mirror enables you to check the appearance before the picture is clicked.
In the doorway, the curtain should be closed while taking the photo. To the right of the screen, a flash comes on, telling you to prepare. Post this, after three seconds, the flash goes off. It takes almost sixty seconds to get the photos delivered outside.
Get evaluated for FREE!
Got a quick report in your mind for this question. Don't hesitate to post the same in our comment section. We will evaluate the report/letter and email you the band score & our trainer's comments. And, this service is entirely free.
Also check :