The pie graphs show the nutritional consistency of two dinners. Write a report to a university lecturer describing the data.
Write at least 150 words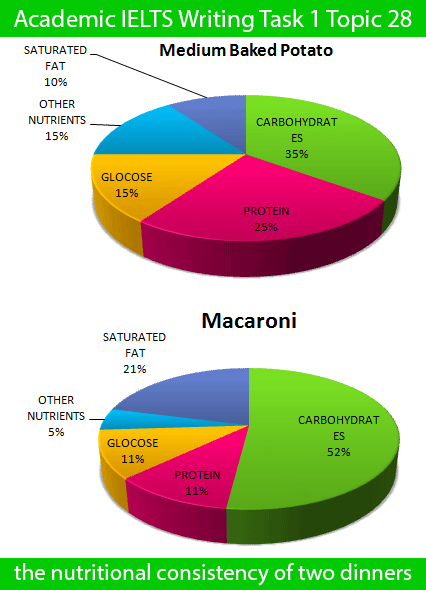 Model answer:
The graphs compare the proportion of various nutritional compounds contained in two different foods; macaroni and medium baked potato.
In general, there are a larger percentage of carbohydrates and saturated fats in macaroni than in medium baked potato. In contrast, medium baked potato has a much higher amount of protein and glucose.
In particular, macaroni mainly consists of large amounts of carbohydrate and saturated fats. Carbohydrates take up slightly more than a half, 52%, while a little less than a quarter is made up of saturated fats. The other nutrients show relatively lower proportions.
On the other hand, medium baked potato is mostly comprised of carbohydrates and protein. The amount of carbohydrates in the food is less than in macaroni, but they still take up the greatest percentage of 35% in medium baked potato. Interestingly, this dinner cereal has a large amount of protein with 25%, which is very different from macaroni. The other types of nutrients do not show significant figures in the pie chart.
(166 words)
THIS TEST IS COLLECTED & IMPLEMENTED BY IELTSMATERIAL.COM
( Free IELTS Practice Tests – Reading, Listening, Writing, Speaking  Test|
IELTS Exam Preparation – Free IELTS material and resources.
<
p style="text-align: right;">Download IELTS Preparation Material & Tips)
The following two tabs change content below.
Improve your IELTS skills with tips, model answers, lessons, free books, and more ------------ "The more you share, the more you get."
Latest posts by IELTS Material (see all)
Main IELTS Pages:
This website is to develop your IELTS skills with tips, model answers, lessons, free books, and more. Each section (Listening, Speaking, Writing, Reading) has a complete collection of lessons to help you improve your IELTS skills.
Get all the latest updates/lessons via email:
Subscribe for free IELTS lessons/Books/Tips/Sample Answers/Advice from our IELTS experts. We help millions of IELTS learners maximize their IELTS scores!
Subscribe to IELTS Material to receive the latest lessons