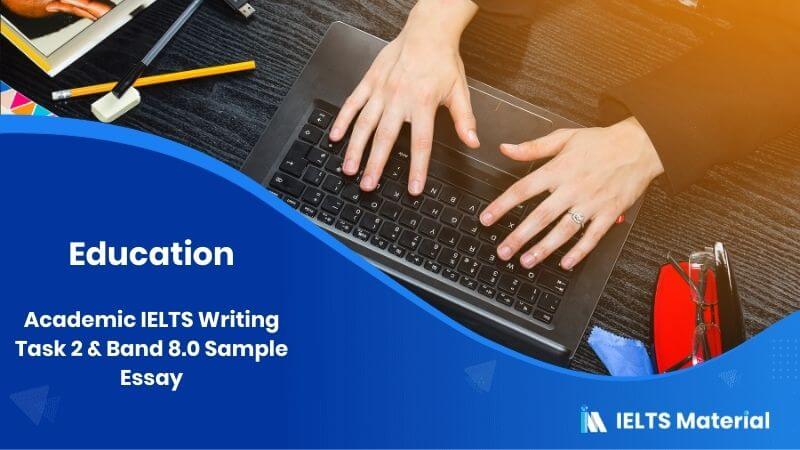 Academic IELTS Writing Task 2 Topic: Education & Band 8.0 Sample Essay
Many students have to study subjects which they do not like. Some people think this is a complete waste of time. To what extent do you agree or disagree with this statement?
In today's competitive world, students have to study subjects that they are not interested in at schools. However, a broad knowledge is needed to succeed in any field, and thus I disagree that it is a waste of time if school students study such subjects.
Let us first examine the reasons why some people hold the opinion that students should not have to study all the subjects and should be allowed to choose the subjects they want to study. They claim that in this case, the students will probably be more enthusiastic about studying. In addition, if we force students to study all subjects, they will quickly lose interest in education. Moreover, let's assume all subjects are compulsory for studying. In that case, students will not have enough time to learn all of them properly, and eventually, they will constantly be under a lot of pressure.

However, I believe that all subjects are of great importance, and for the holistic development of the students, they need to study all subjects equally at the school level. First, at the young age, they are not mature enough to decide their desired careers and related subjects. Thus, they should learn all subjects to realize their real interests in certain subjects. Second, the job market has been very demanding recently, and the recruiters select students who are skilled in various fields. Having the basic knowledge of myriad subjects during school time widens the horizons for the students, which will help increase every student's employment opportunities.
In conclusion, I believe that students should learn all subjects at the school level as they are not mature enough to know their real interests at that age, and broad knowledge is also needed for their career development.
Bonus question:
Some people think that it is a waste of time for high school students to study literature at school. To what extent do you agree or disagree with this statement?
Also check :