Ant Intelligence IELTS Reading Answers
Janice Thompson,
Updated On


Limited-Time Offer : Access a FREE 10-Day IELTS Study Plan!
The Academic passage 'Ant Intelligence' is a reading passage that appeared in an IELTS Test.
Since questions get repeated in the IELTS exam, these passages are ideal for practice. If you want more practice, try taking an IELTS reading practice test.
Ant Intelligence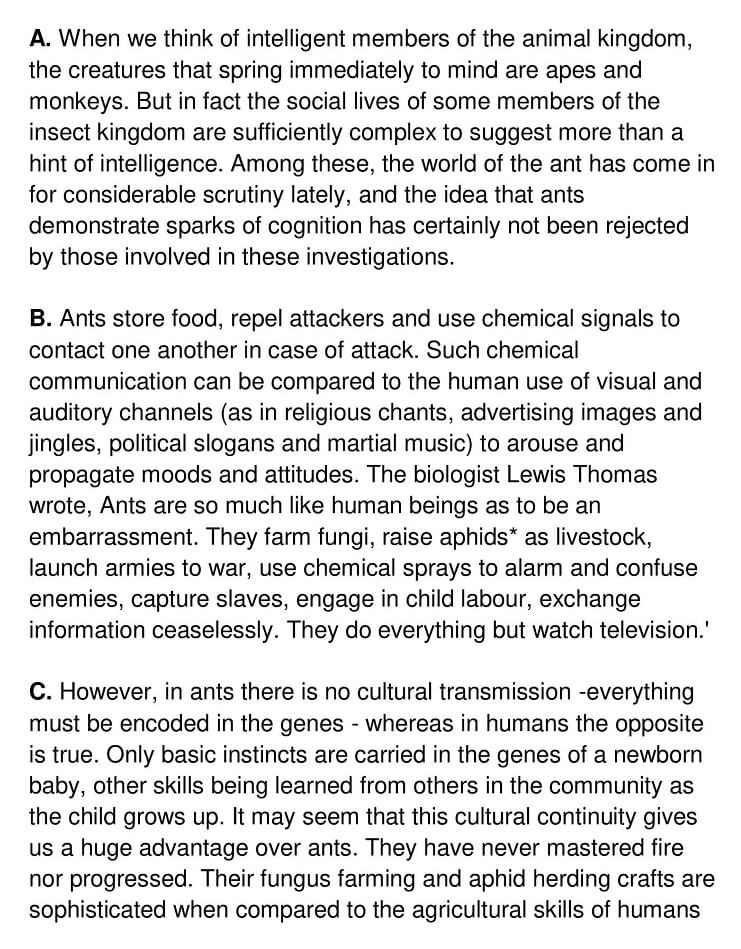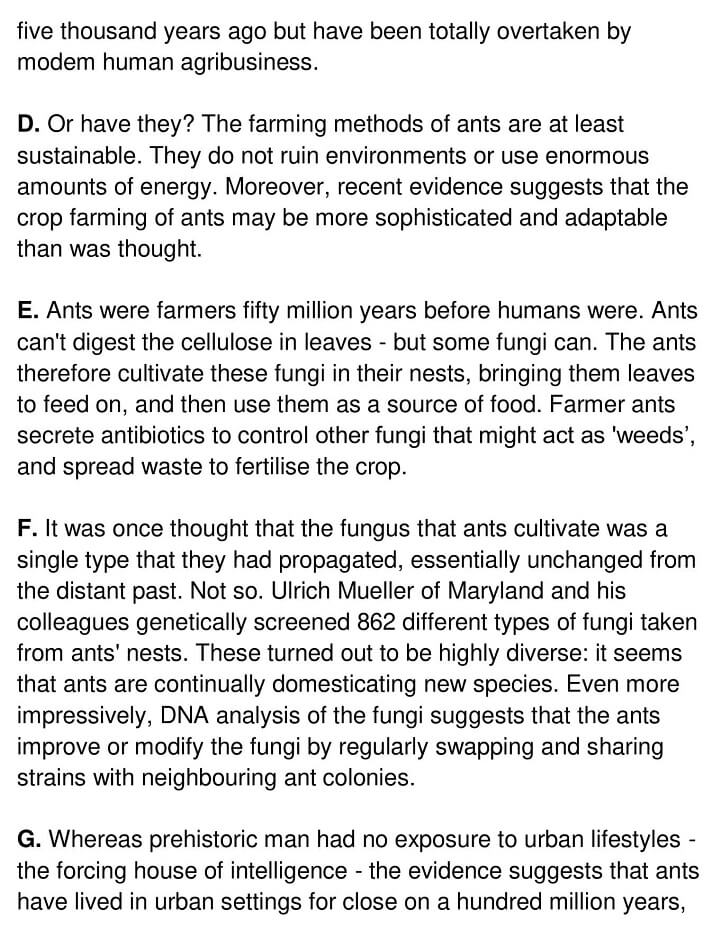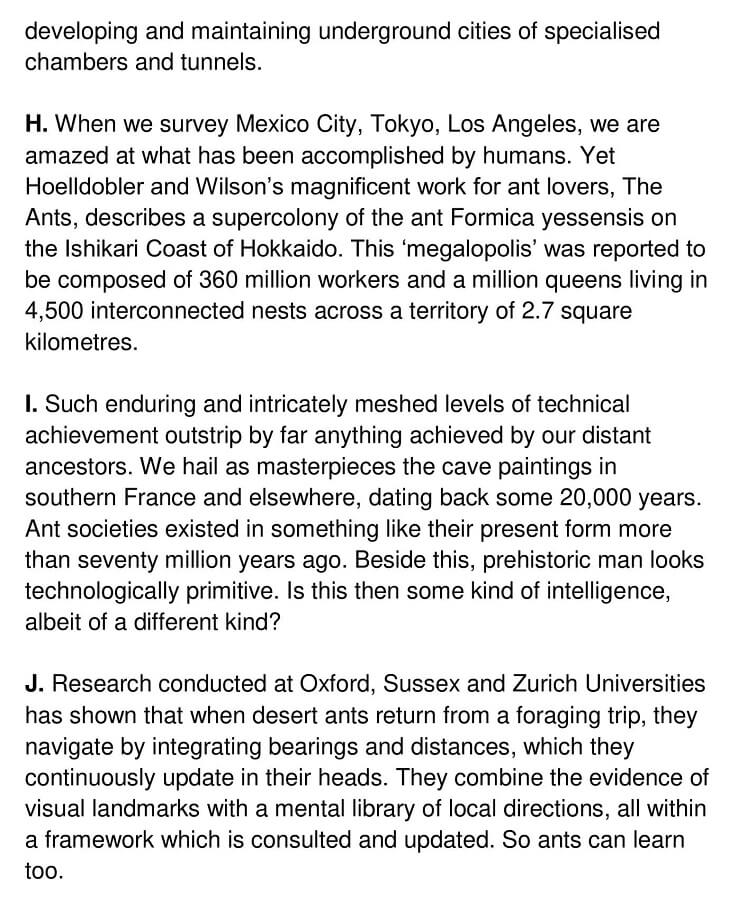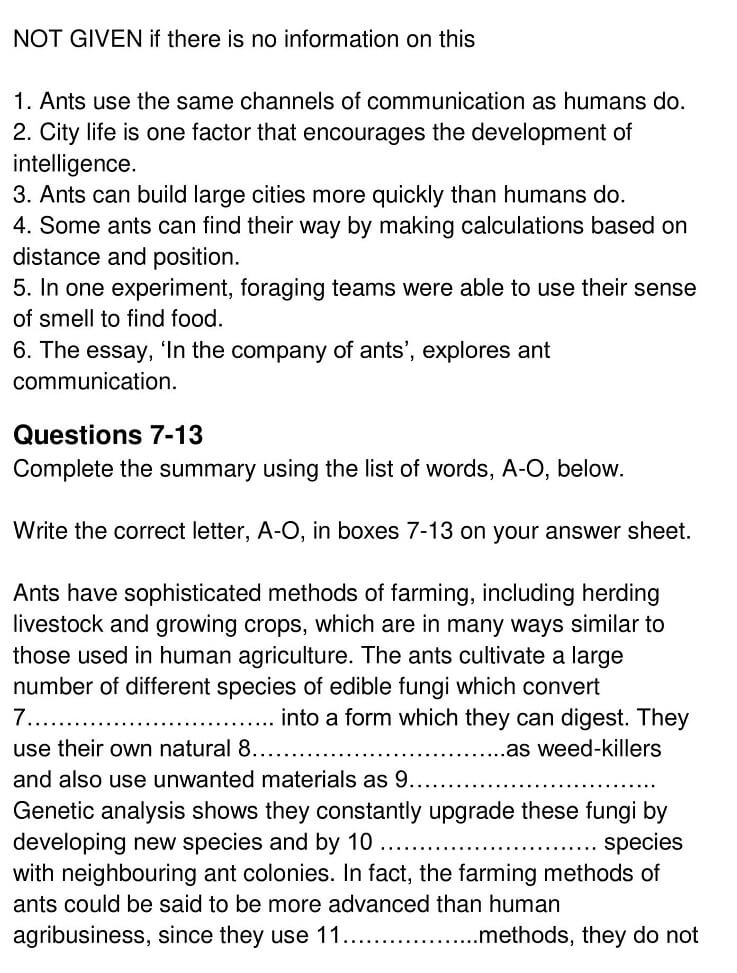 Answers
| Question number  | Answer  | Keywords  |
| --- | --- | --- |
| 1 | FALSE | Paragraph B states that ants store food, repel attackers and 'use chemical signals to contact one another' in case of attack. Such chemical communication can be compared to the human use of visual and auditory channels (to arouse and propagate moods and attitudes. As the statement contradicts the information, the answer is 'FALSE'. |
| 2 | TRUE | Paragraph G mentions that prehistoric man had no exposure to 'urban lifestyles' (citylife) – the 'forcing house of intelligence' – the evidence suggests that ants have lived in urban settings for close on a hundred million years, developing and maintaining underground cities of specialised chambers and tunnels (development of intelligence). As the statement agrees with the information, the answer is 'TRUE'. |
| 3 | NOT GIVEN | In paragraph I, the writer points out that 'enduring and intricately meshed levels of technical achievement' outstrip anything achieved by our distant ancestors. We hail as 'masterpieces the cave paintings in southern France' dating back some 20,000 years. Ant societies existed in something like their present form more than seventy million years ago. Beside this, prehistoric man looks technologically primitive. In paragraph J, the writer further points out that research conducted at Oxford, Sussex and Zurich Universities has shown that when 'desert ants' return from a foraging trip, they 'navigate by integrating bearings and distances', which they continuously update their heads. They 'combine the evidence of visual landmarks with a mental library of local directions', all within a framework which is consulted and updated. So, there is a comparison between human buildings and ant's structure, but it is not said that ants can build large cities faster than humans. Hence, the answer is 'NOT GIVEN'. |
| | | |
| --- | --- | --- |
| 4 | TRUE | Paragraph J mentions that research conducted at Oxford, Sussex and Zurich Universities has shown that desert ants can 'navigate' (find their way) 'by integrating' (by making calculations) 'bearings and distances' (positions and distances), which they continuously update their heads. As the statement agrees with the information, the answer is 'TRUE'. |
| 5 | FALSE | Paragraph K Often the foragers 'proceeded to the exact spot in the maze', where the food had been, 'precautions were taken to prevent the foraging team using odour clues'. Thus, the foragers could have found the food but they were prevented from smelling the food by using odour clues which clouded their sense of smell. As the statement contradicts the information, the answer is 'FALSE'. |
| 6 | NOT GIVEN | In the last paragraph, L, Edward Wilson, in his essay, 'In the company of ants', 'advises readers' who ask what to do with the ants in their kitchen to: 'Watch where you step. Be careful of little lives.'. There is no mention of ant communication in relation to the essay named here. Hence, the answer is 'NOT GIVEN'. |
| 7 | C | Paragraph E tells us that 'ants can't digest the cellulose' in leaves – 'but some fungi can'. The ants, therefore, 'cultivate these fungi' in their nests, bringing them leaves to feed on, and then use them as a source of food. Hence, the answer is C (cellulose). |
| 8 | M | From paragraph E, we can find that farmer ants 'secrete antibiotics' (secretions) to 'control other fungi that might act as 'weeds'', and spread waste to fertilise the crop. Hence, the answer is M (secretions). |
| 9 | F | Paragraph E points out that farmer ants secrete antibiotics to control other fungi that might act as 'weeds', and spread 'waste' (unwanted materials) to 'fertilise the crop' (as fertilizers). Hence, the answer is F (fertilizers). |
| 10 | D | Paragraph F shares the fact that 'DNA analysis' (genetic analysis) of the fungi suggests that the ants 'improve or modify the fungi' (upgrade the fungi) by 'regularly swapping and sharing' (exchanging) strains with neighboring ant colonies. Hence, the answer is D (exchanging). |
| 11 | N | Paragraph D states that the 'farming methods of ants' are at least 'sustainable'. Hence, the answer is N (sustainable). |
| 12 | O | In paragraph D, the writer says that the 'farming methods of ants' are at least 'sustainable'. They 'do not ruin (affect) environments' or use enormous amounts of energy. Hence, the answer is O (environment). |
| 13 | E | In paragraph D, it is said that the 'farming methods of ants' are at least 'sustainable'. They do not ruin environments or 'use enormous amounts of energy' (waste). Hence, the answer is E (energy). |
Check More IELTS Reading Answers
Also check :