Task 1: Water usage in Sydney
The charts below show the percentage of water used by different sectors in Sydney, Australia, in 1997 and 2007.
Summarize the information by selecting and reporting the main features, and make comparisons where relevant.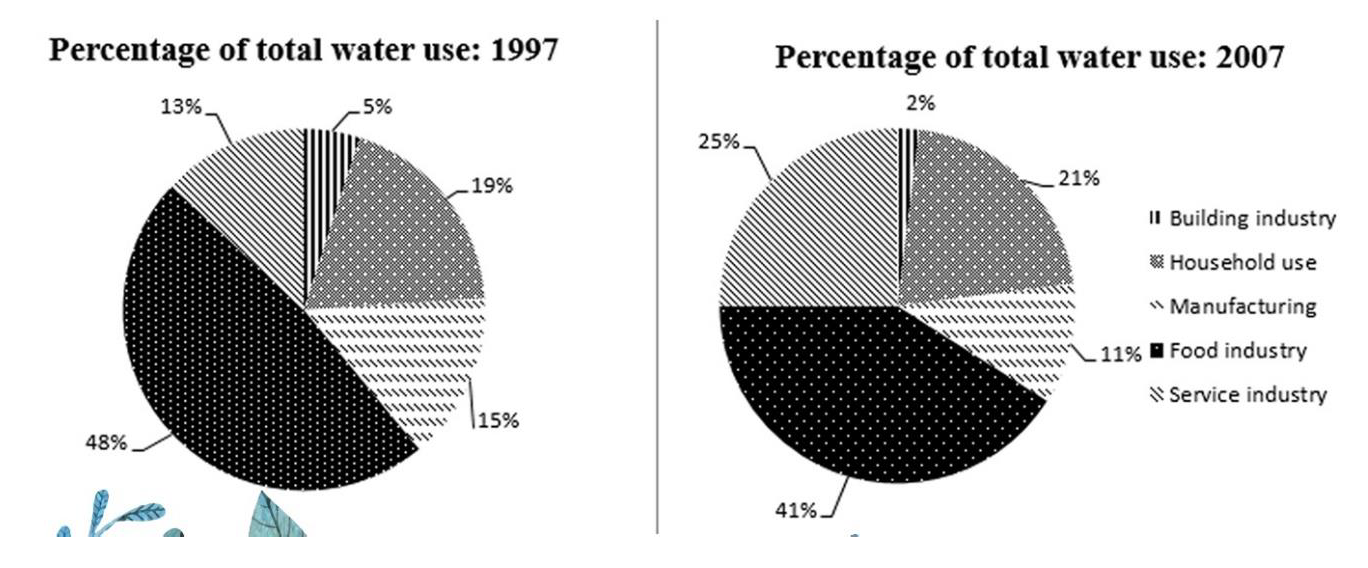 Report Plan:
• Paraphrase: show>compare; water used>water usage; different>various
• Summary/overview paragraph: (1) highest percentage – food industry (2) service industry – percentage of total water use almost doubled
• Paragraph 3: decline of water use in 3 sectors – compare the food industry, manufacturing and building, give figures
• Paragraph 4: contrast the increase in water use in the other sectors -households and service industry, give figures.
Report:
The pie charts compare the water usage of various sectors of the economy in Sydney, in two years – 1997 and 2007.
Overall, it is clear that the sector which used the highest percentage of water was the food industry. The percentage of total water use by the service industry sector in 2007 was almost double the figure for 1997.
The proportion of total water use fell in three sectors in 2007, compared with the year 1997. The food industry accounted for 48% of all water usage in 1997, but only 41% in 2007. Manufacturing and the building industry also witnessed a decrease in the percentage of water used, falling to 11% and 2%, respectively, of total water usage in 2007.
By contrast, there was an increase in the proportion of total water use in the other two sectors. The water used by the service sector rose from 13% in 1997 to 25% of the total in 2007. Household use increased slightly to reach 21% of the total in 2007.
169 words
The following two tabs change content below.
Latest posts by IELTS Material (see all)
Main IELTS Pages:
This website is to develop your IELTS skills with tips, model answers, lessons, free books, and more. Each section (Listening, Speaking, Writing, Reading) has a complete collection of lessons to help you improve your IELTS skills.
Get all the latest updates/lessons via email:
Subscribe for free IELTS lessons/Books/Tips/Sample Answers/Advice from our IELTS experts. We help millions of IELTS learners maximize their IELTS scores!
Subscribe to IELTS Material to receive the latest lessons