Haast's Eagle IELTS Reading Answers
Janice Thompson,
Updated On
The Reading Module of the IELTS can be the top-scoring category, with diligent practice. To achieve the best results in this section, you must understand how to approach and answer the different Question types in the Reading Module. By solving and reviewing Sample Reading Questions from past IELTS papers, you can ensure that your Reading skills are up to the mark.
The Academic passage 'Haast's Eagle' is a reading passage that appeared in an IELTS Test.
Ideally, you should not spend more than 20 minutes on a passage. Let's see how easy this passage is for you and if you're able to make it in 20 minutes. If not, try more IELTS reading practice tests from IELTSMaterial.com
Haast's Eagle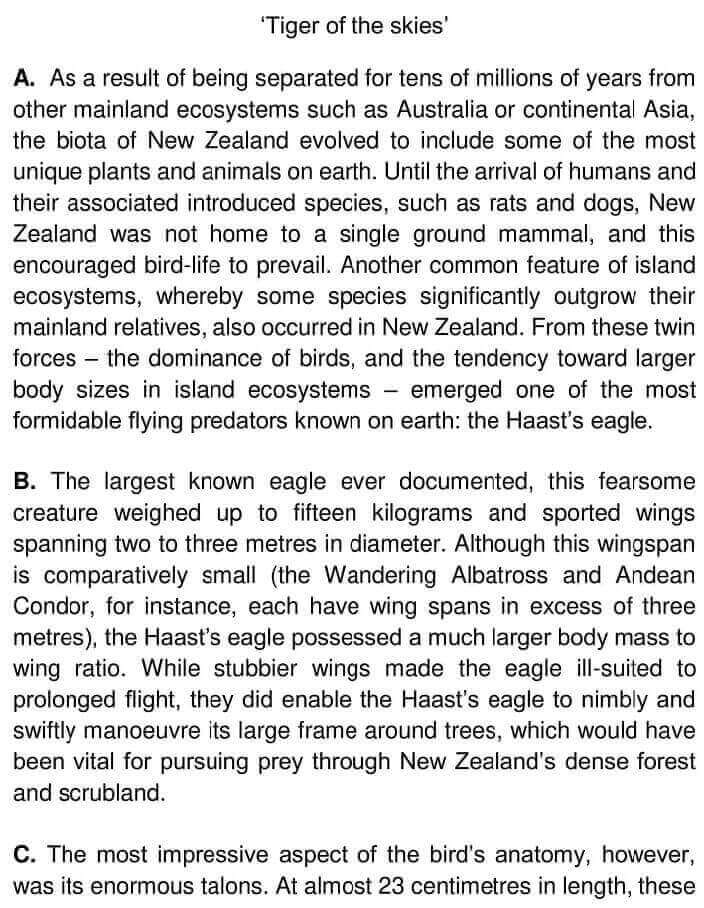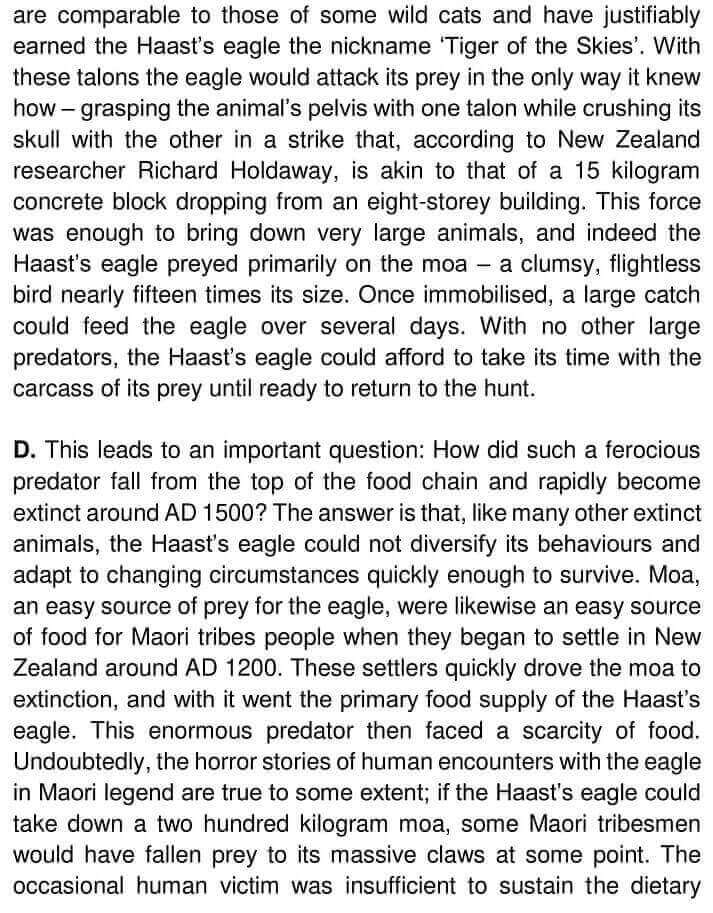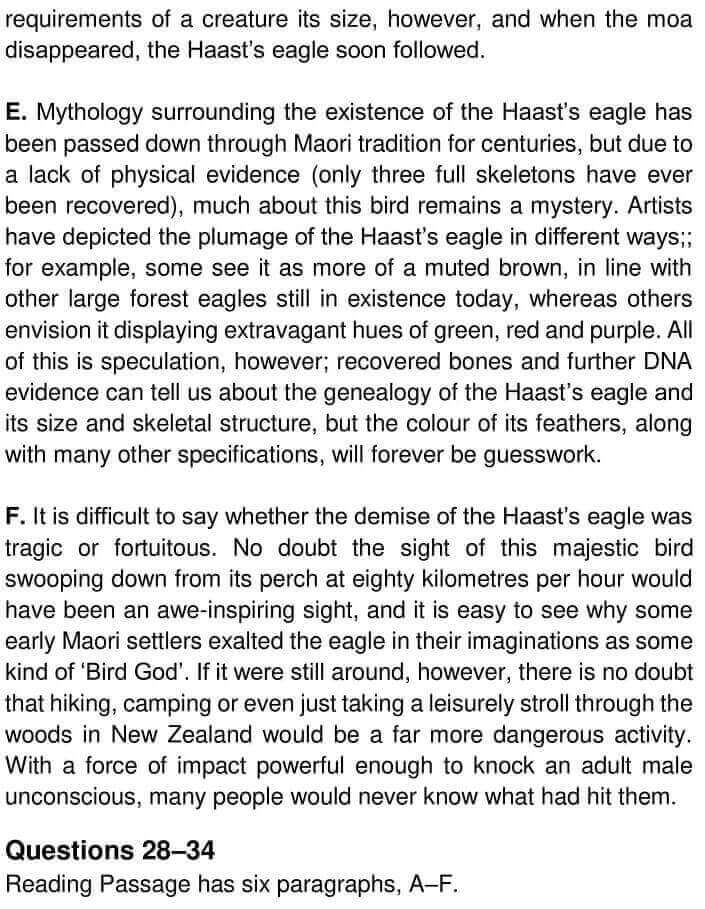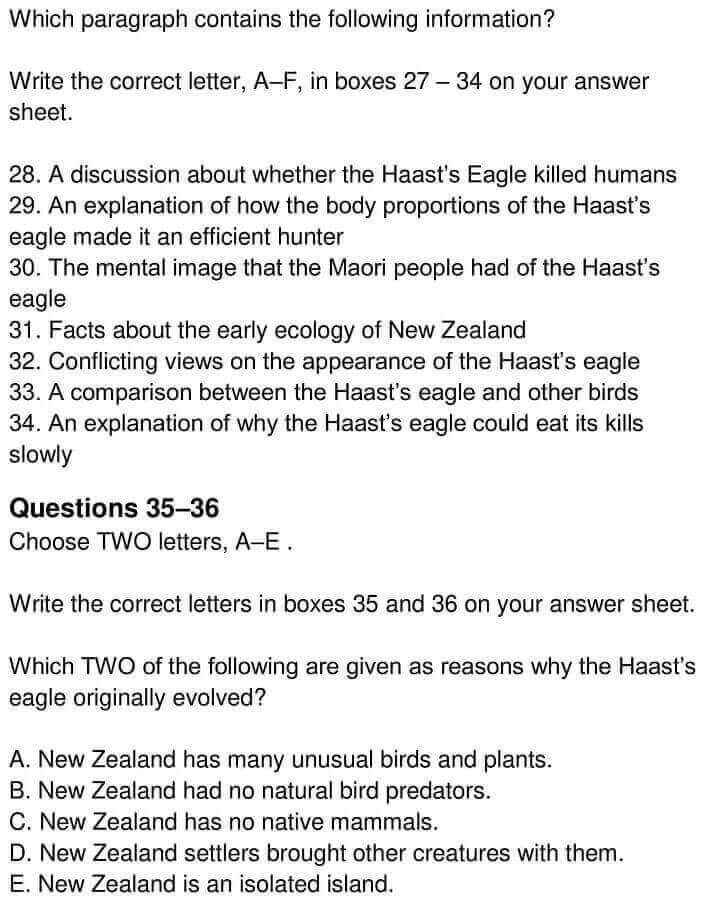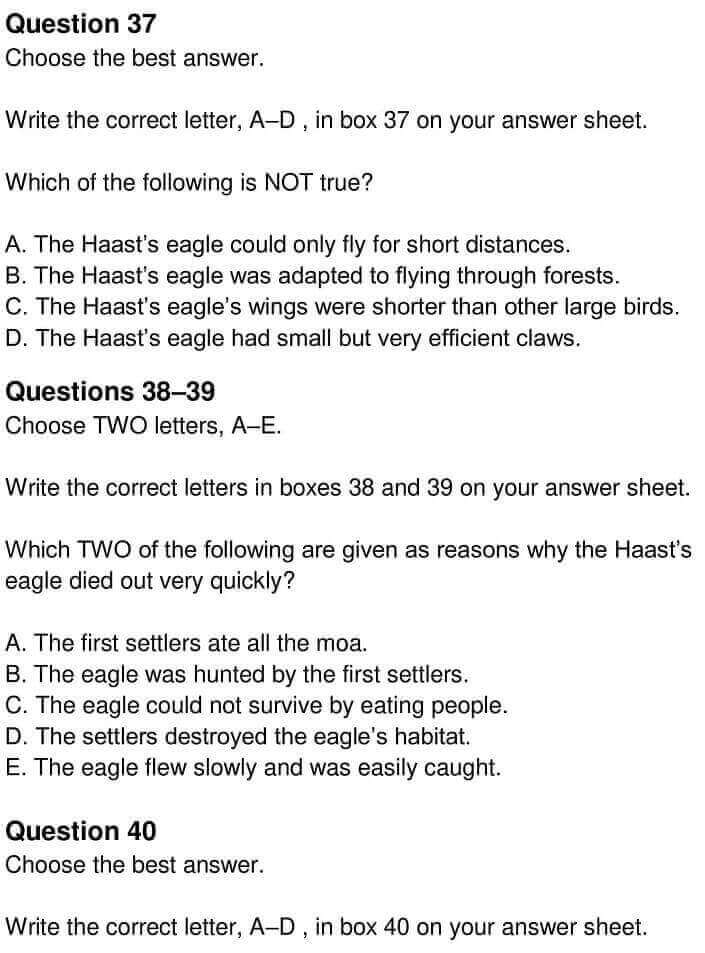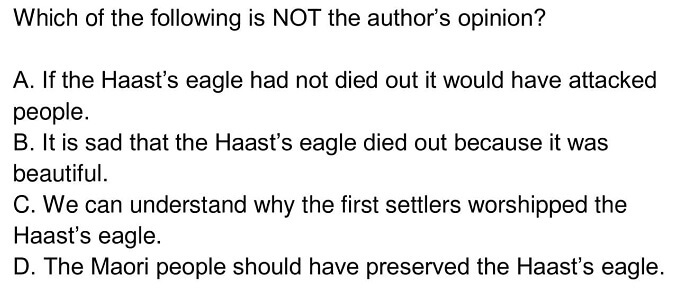 Answers
Question number 
Answer 
Keywords 
Location of keywords

28

D

Undoubtedly, the horror stories of human encounters with the eagle in Maori legend are true to some extent; if the Haast's eagle could take down a two hundred kilogram moa, some Maori tribesmen would have fallen prey to its massive claws at some point.

Paragraph D;

Line 6

29

B

While stubbier wings made the eagle ill-suited to prolonged flight, they did enable the Haast's eagle to nimbly and swiftly manoeuvre its large frame around trees, which would have been vital for pursuing prey through New Zealand's dense forest and scrubland.

Paragraph B;

Last line

30

F

it is easy to see why some early Maori settlers exalted the eagle in their imaginations as some kind of 'Bird God'.

Paragraph F;

Line 2

31

A

Until the arrival of humans and their associated introduced species, such as rats and dogs, New Zealand was not home to a single ground mammal, and this encouraged bird-life to prevail.

Paragraph A;

Lines 2 – 3

32

E

Artists have depicted the plumage of the Haast's eagle in different ways;; for example, some see it as more of a muted brown, in line with other large forest eagles still in existence today, whereas others envision it displaying extravagant hues of green, red and purple.

Paragraph E;

Line 2

33

B

Although this wingspan is comparatively small (the Wandering Albatross and Andean Condor, for instance, each have wing spans in excess of three metres), the Haast's eagle possessed a much larger body mass to wing ratio.

Paragraph B;

Line 2

34

C

Once immobilised, a large catch could feed the eagle over several days. With no other large predators, the Haast's eagle could afford to take its time with the carcass of its prey until ready to return to the hunt.

Paragraph C;

Lines 5 – end

35

C

Until the arrival of humans and their associated introduced species, such as rats and dogs, New Zealand was not home to a single ground mammal, and this encouraged bird-life to prevail.

Paragraph A;

Line 2

36

E

As a result of being separated for tens of millions of years from other mainland ecosystems such as Australia or continental Asia, the biota of New Zealand evolved to include some of the most unique plants and animals on earth.

Paragraph A;

Line 1

37

D

some Maori tribesmen would have fallen prey to its massive claws at some point

Paragraph D;

Line 6

38

A

These settlers quickly drove the moa to extinction, and with it went the primary food supply of the Haast's eagle. This enormous predator then faced a scarcity of food.

Paragraph 

39

C

The occasional human victim was insufficient to sustain the dietary requirements of a creature its size, however, and when the moa disappeared, the Haast's eagle soon followed.

Paragraph D;

Last line 

40

D

Elimination method:

Options A,B,C are found in the passage.

Option A:  With a force of impact powerful enough to knock an adult male unconscious, many people would never know what had hit them.

Option B: No doubt the sight of this majestic bird swooping down from its perch at eighty kilometres per hour would have been an awe-inspiring sight.

Option C: it is easy to see why some early Maori settlers exalted the eagle in their imaginations as some kind of 'Bird God'.

Option A:

Paragraph F;

Last line 

Option B & C : Paragraph F;

Lin 2
Check More IELTS Reading Answers
Also check :