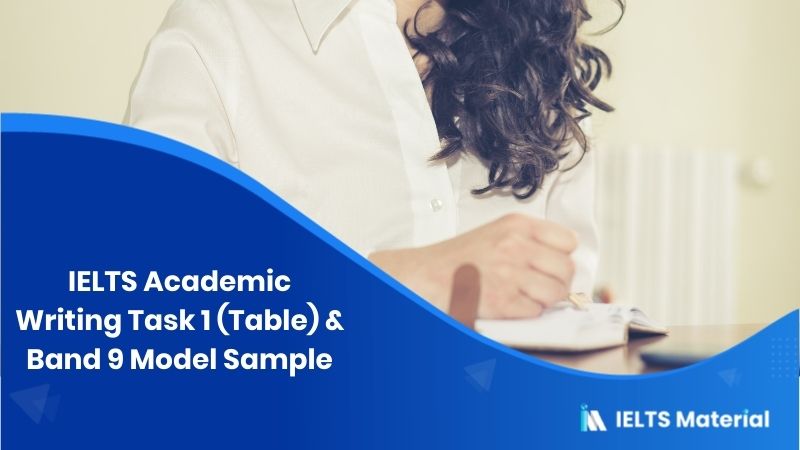 IELTS Academic Writing Task 1 (Table) & Band 9 Model Sample
IELTS Writing Task 1 question:
The table below shows social and economic indicators for four countries in 1994, according to United Nations statistics.
Summarise the information by selecting and reporting the main features, and make comparisons where relevant.
Write at least 150 words

Task 1 plan:
Introduction: paraphrase task heading
summary paragraph – 2 major features

indicators significantly higher in each category for Canada and Japan than Peru and Zaire
The figures for each indicator in Zaire were lowest of all the countries

paragraph 3 – annual income and life expectancy
paragraph 4 – daily calories and literacy

Model sample:
The table compares UN data on socio-economic indicators for Japan, Canada, Peru, and Zaire in 1994.
Overall, it is clear that the figures for all four indicators were consistently higher in Canada and Japan. In addition, Zaire had the lowest figures for each of the indicators.
Annual income per person in Japan was $15760, considerably ahead of Canada with $11100. There was a dramatic gap then to Peru and Zaire, where the annual income per person was $160 and $130 respectively. In terms of life expectancy, this was similar in Japan [78 years] and Canada [76 years], but it was much lower in Peru [51 years] and just 47 years in Zaire.
Canada headed the table for daily calorie supply per person. The calorie intake of 3326 compared with 2846 in Japan, 1927 in Peru, and 1749 in Zaire. Whereas the adult literacy rate was almost 100% in Canada and Japan, only 68% of people in Peru and 34% of those in Zaire were literate.
See also: