IELTS Writing Task 1 question:
The diagram below shows the water cycle, which is the continuous movement of water on, above and below the surface of the Earth.
Summarise the information by selecting and reporting the main features, and make comparisons where relevant.
Write at least 150 words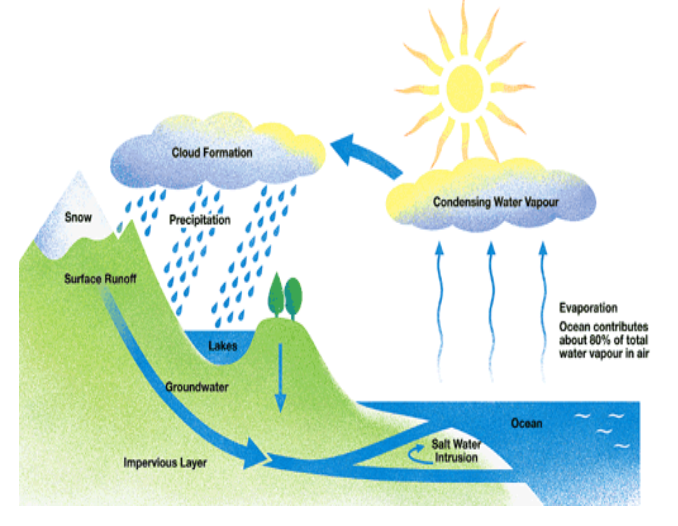 Model sample:
The chart illustrates the circulation of water in nature.
Overall, it is clear that there are three main stages in this process, beginning with the evaporation of water and the formation of a cloud. The next step shows the water's journey after falling to the ground and the process ends with salt water intrusion.
At the first step of the process, as a result of the sun 's heat, water evaporates into the air. It is estimated that 80% of total water vapour is taken from the ocean. Following this, a cloud is formed by the condensation of water vapour.
In the next stage, the heavy clouds cause rain or snow. Water from the precipitation partly pours into the lakes or can be absorbed into the ground. The surface runoff which is made from rainwater creates the groundwater and then flows back to the ocean without reaching the impervious layer. The final stage of the process is the salt water intrusion where water from the ocean moves to the freshwater aquifers.
(171 words)
The following two tabs change content below.
Main IELTS Pages:
This website is to develop your IELTS skills with tips, model answers, lessons, free books, and more. Each section (Listening, Speaking, Writing, Reading) has a complete collection of lessons to help you improve your IELTS skills.
Get all the latest updates/lessons via email:
Subscribe for free IELTS lessons/Books/Tips/Sample Answers/Advice from our IELTS experts. We help millions of IELTS learners maximize their IELTS scores!
Subscribe to IELTS Material to receive the latest lessons