Malaria IELTS Reading Answers
Janice Thompson,
Updated On
The Academic passage 'Malaria' is a reading passage that appeared in an IELTS Test. Each question types are asked in the IELTS Reading exam. So, the passages given in this practice set will help you enhance your reading and understanding capabilities.
Try to find the answers to get an idea of the difficulty level of the passages in the actual reading test. If you want more passages to solve, try taking one of our IELTS reading practice tests.
Malaria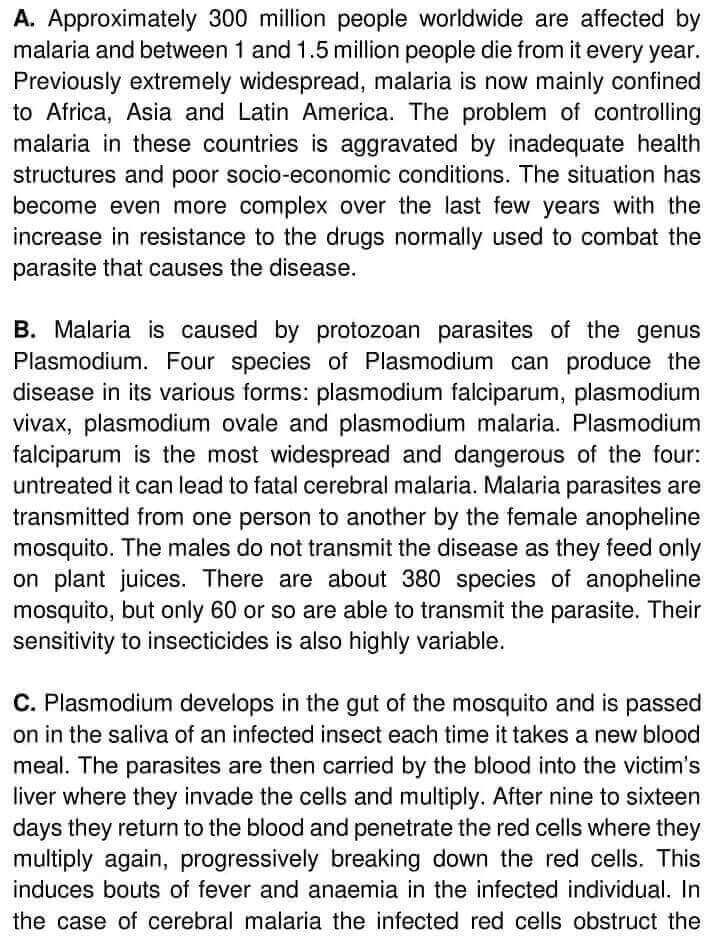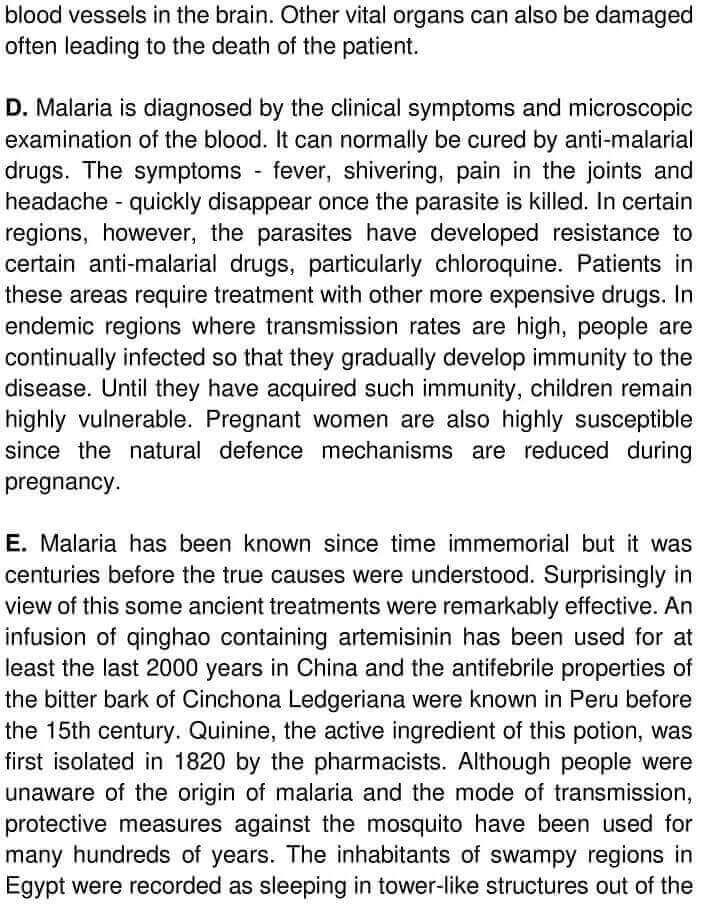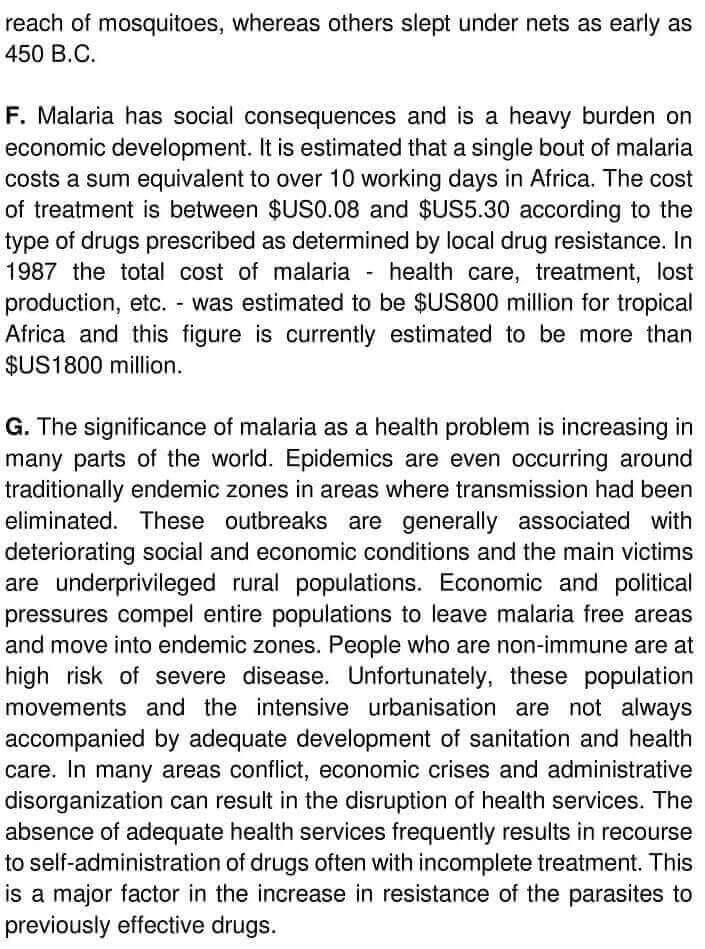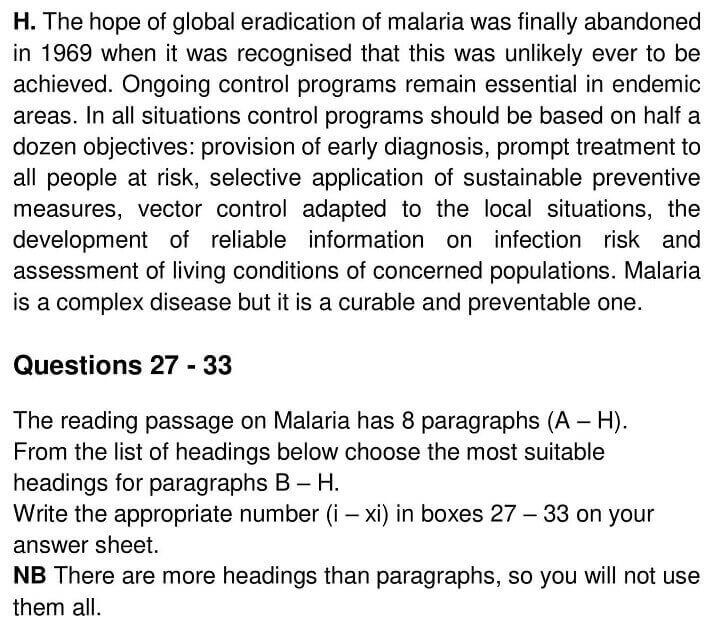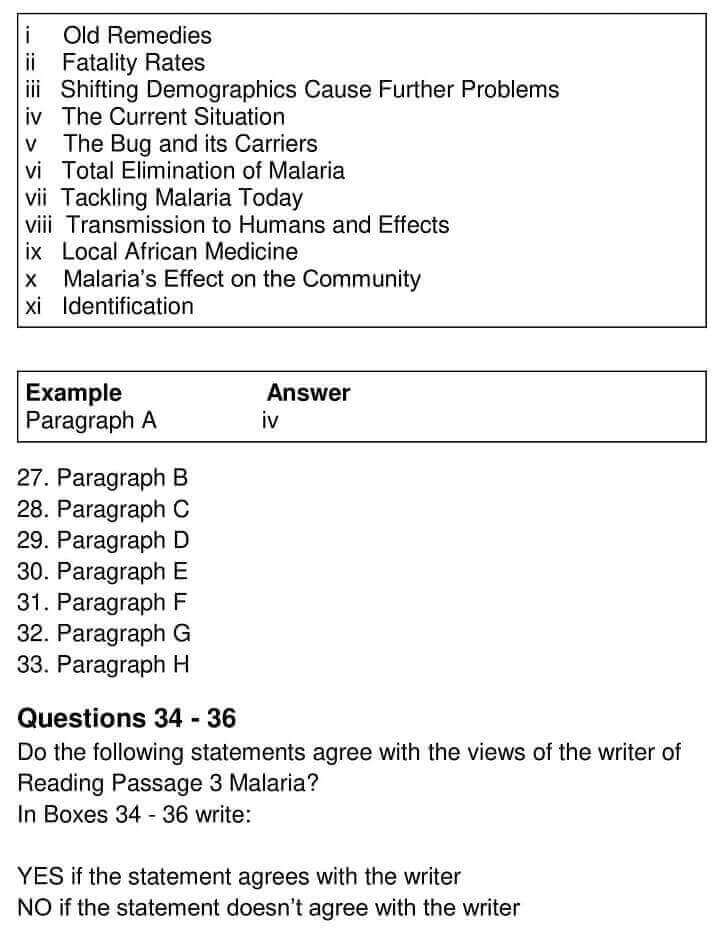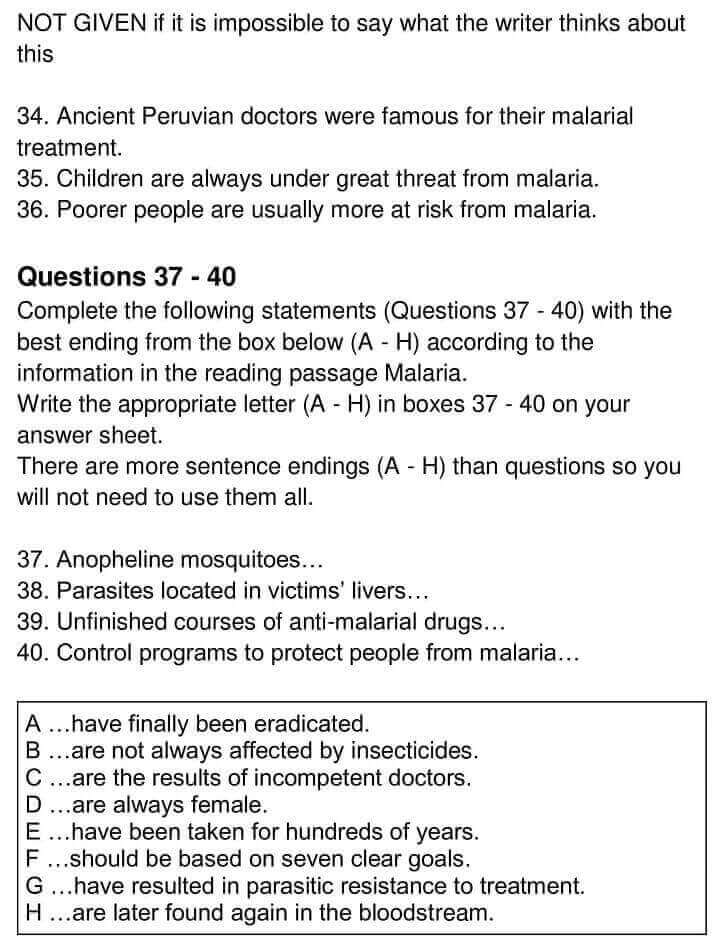 Answers
Unlock Answer
Signup/Login and get access to the answers
Question number 
Answer
Explanation

27

v

Paragraph B puts forward the idea that

"four species of Plasmodium can produce the disease in its various forms: plasmodium falciparum, plasmodium vivax, plasmodium ovale and plasmodium malaria

." Moreover, "

malaria parasites are transmitted from one person to another by the female anopheline mosquito."

From the above information, we can comprehend that this passage discusses the disease and what species carries and transmits these diseases. Hence, the appropriate heading is "v."

28

viii

Paragraph C states that

"the parasites are then carried by the blood into the victim's liver where they invade the cells and multiply. After nine to sixteen days, they return to the blood and penetrate the red cells, where they multiply again, progressively breaking down the red cells. This induces bouts of fever and anaemia in the infected individuals."

This passage appears to discuss the ways malaria is transmitted to humans and what effects it leaves on humans. Hence, the appropriate heading is "viii."

29

vii

The first line of paragraph D mentions that

"malaria is diagnosed by the clinical symptoms and microscopic examination of the blood. It can normally be cured by anti-malarial drugs."

From the phrase 'cured by anti-malarial drugs', we can deduce how malaria is tackled today. Hence, the appropriate heading is "vii."

30

i

The first line of paragraph E conveys that

"surprisingly in view of this some ancient treatments were remarkably effective."

The term ancient refers to something dating from the past. Therefore, it implies that this passage refers to old remedies to cure diseases like malaria. Hence, the appropriate heading is "i."
31

x

In paragraph F, the author states that

"malaria has social consequences and is a heavy burden on economic development."

This passage mentions the effects malaria has on the community. Hence, the appropriate heading is "x."

32

iii

Paragraph G discusses that

"these population movements and the intensive urbanisation are not always accompanied by adequate development of sanitation and health care."

Thus, movement or shift exacerbates problems. Hence, the appropriate heading is "iii."

33

xi

According to paragraph H,

"the hope of global eradication of malaria was finally abandoned in 1969 when it was recognised that this was unlikely ever to be achieved."

From the word 'recognised', we can infer that the disease cannot be eradicated but control measures can be taken. Hence, the appropriate heading is "xi."

34

NOT GIVEN

None of the paragraph confirms or denies that ancient Peruvian doctors were famous for their malarial treatment. Hence, the correct answer is "NOT GIVEN."

35

FALSE

As per paragraph D,

"until they have acquired such immunity, children remain highly vulnerable."

Since children who have acquired immunity are safe, it implies that not all children are under threat of malaria. As the statement contradicts the statement, the correct answer is "FALSE."

36

TRUE

In paragraph A, there's a line that states that

"the problem of controlling malaria in these countries is aggravated by inadequate health structure and poor socio-economic conditions."

Besides that, a line in paragraph G mentions that

"outbreaks are generally associated with deteriorating social and economic conditions, and the main victims are the underprivileged rural population."

Both these lines confirm that poorer people are usually more at risk from malaria. As the statement agrees with the information, the correct answer is "TRUE."

37

B

The last line of paragraph B conveys that

"their sensitivity to insecticides is also highly variable."

Insecticides are chemicals created to kill various types of insects. Since anopheline mosquitoes' sensitivity to these insecticides are highly variable, it infers that they are not always affected by these insecticides. Hence, the correct answer is "B."

38

H

In paragraph C, a line mentions that

"parasites are then carried by the blood into the victim's liver where they invade the cells and multiply. After nine to sixteen days they return to the blood and penetrate the red cells where they multiply again, progressively breaking down the red cells."

The earlier line confirms that parasites are carried or located in victims' livers and later found in the bloodstream. Hence, the correct answer is "H."

39

E

Paragraph E provides the information that

"although people were unaware of the origin of malaria, and mode of transmission, protective measures against the mosquito have been used for many hundreds of years."

Thus, it signifies that unfinished courses of antimalarial drugs have been used or taken for hundreds of years. Hence, the correct answer is "E."

40

G

According to paragraph D, "in certain regions, however, the parasites have developed resistance to certain antimalarial drugs." The term 'developed resistance' confirms that control programs to protect people from malaria have resulted in parasitic resistance to treatment. Hence, the correct answer is "G."
Check More IELTS Reading Answers
Also check :