Owl Secrets – IELTS Reading Answers
Justin,
Updated On
The Academic passage 'Owl Secrets' is a reading passage that appeared in an IELTS Test. 
It contains some of the IELTS reading question types. If you are interested in familiarising yourself with all the question types, don't hesitate to take an IELTS reading practice test.
Owl Secrets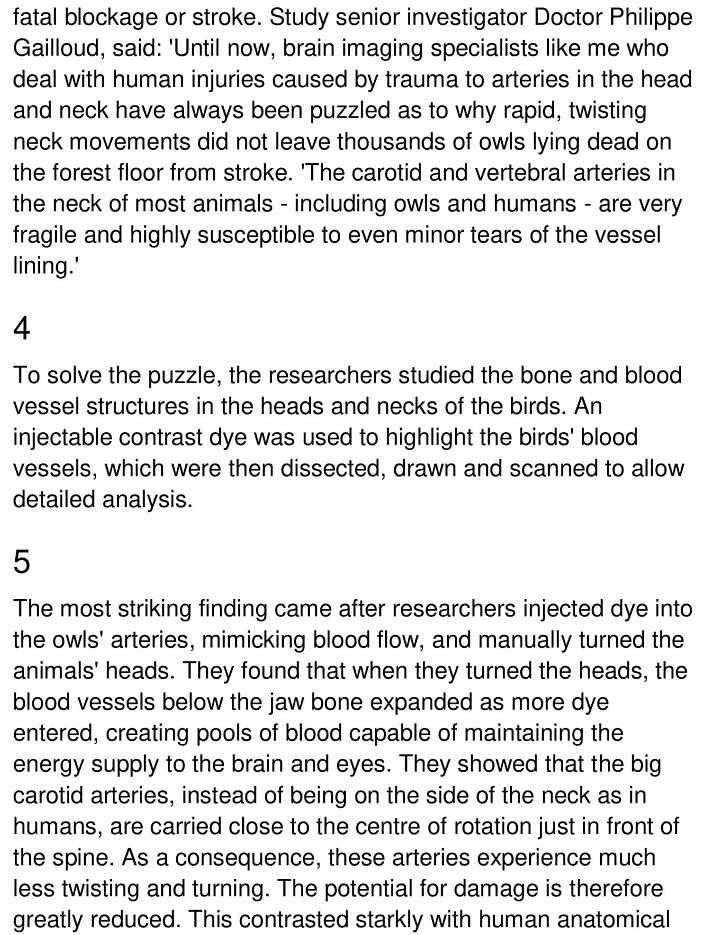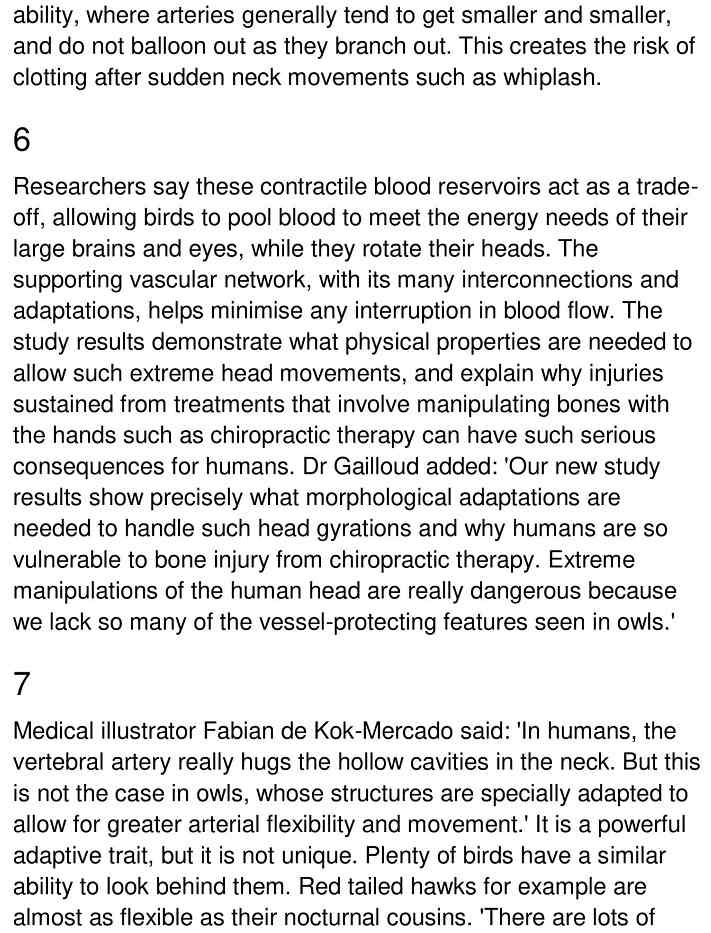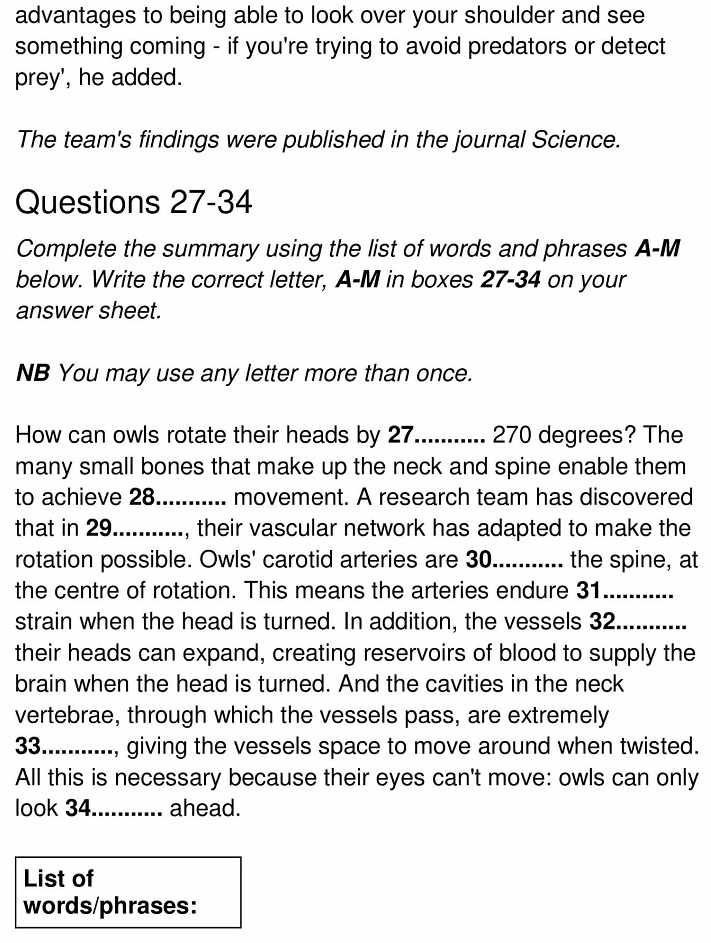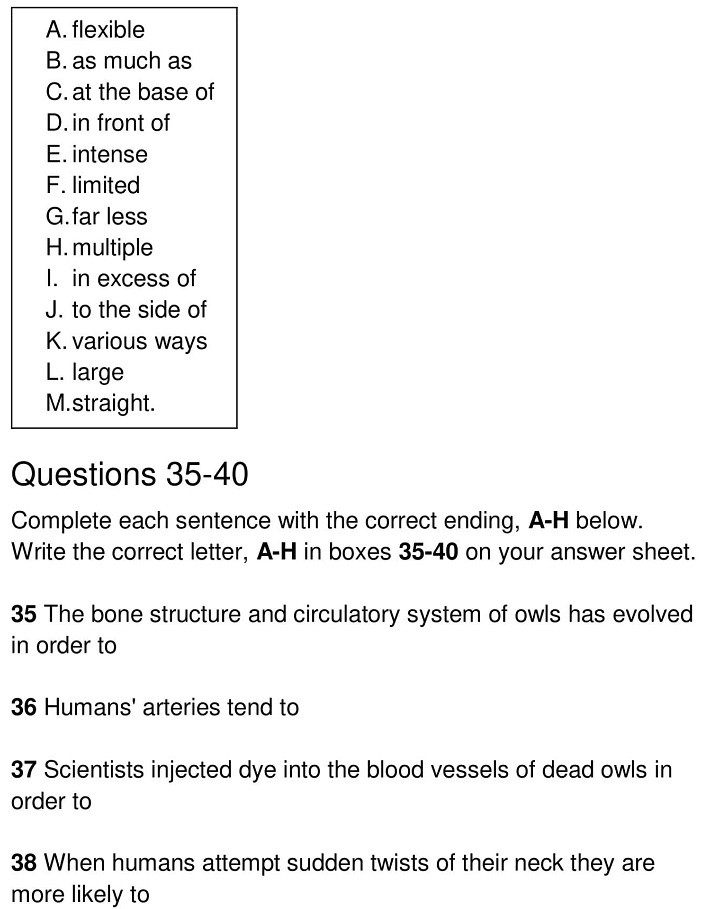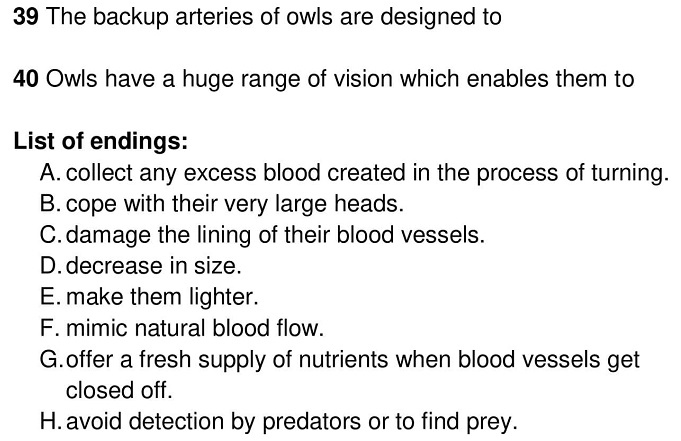 Answers
Unlock Answer
Signup/Login and get access to the answers
The answers to questions 27-40 are given below along with their explanations.
| Question Number | Answer | Keywords | Locations of Keywords |
| --- | --- | --- | --- |
| 27 | B | rotate their overly large heads by up to 270 degrees | Para 1, last line |
| 28 | A | vascular systems let them move with increased flexibility | Para 2, first 2 lines |
| 29 | K | They found, vertebral artery enters, neck higher, other birds, more slack, have small vessel connections, carotid, vertebral arteries, allowing, blood, exchanged, two blood vessels | Para 2, lines 3-6 |
| 30 | D | carotid arteries, instead of, side of the neck, humans, close to the centre of rotation, in front of the spine | Para 5, lines 5-6 |
| 31 | G | arteries experience much less twisting and turning | Para 5, lines 6-7 |
| 32 | C | blood vessels below the jaw bone expanded  | Para 5, line 3 |
| 33 | L | owls, structures, adapted, greater arterial flexibility, movement | Para 7, lines 2-3 |
| 34 | M | – | N/A |
| 35 | B | designed, prevent injury, animals rotate, overly large heads | Para 1, last 2 lines |
| 36 | D | human anatomical ability, arteries, get smaller, | Para 5, lines 7-8 |
| 37 | F | mimicking blood flow | Para 5, first 2 lines |
| 38 | C | risk damaging the lining of their blood vessels | Para 3, line 4 |
| 39 | G | This creates an uninterrupted blood flow to the brain | Para 2, lines 6-7 |
| 40 | H | if you're trying to avoid predators or detect prey | Para 7, last 2 lines |
Check More IELTS Reading Answers
Also check :