PTE Exam Preparation 2023: Your Gateway to Success
Raajdeep Saha,
Updated On


Limited-Time Offer : Access a FREE 10-Day IELTS Study Plan!
As the year 2023 unfolds, countless ambitious individuals are setting their sights on one particular goal – acing the PTE exam. The Pearson Test of English (PTE) is a renowned English proficiency test widely accepted by educational institutions and governments worldwide.
In this blog, we'll delve into the key strategies and tips for effective PTE exam preparation in 2023. So, let's embark on this journey together and equip ourselves with the necessary tools to achieve success.
10 Ways to Prepare Well for Your PTE Exam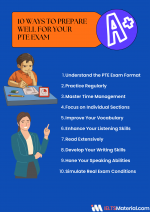 Understand the PTE Exam Format
The first step towards effective PTE exam preparation is to familiarize yourself with the exam format. The PTE exam consists of four main sections: Speaking and writing, Reading, Listening, and an optional 10-minute break between the sections. Each section assesses different language skills, so knowing what to expect will help you strategize your study plan accordingly.
Practice Regularly
They say practice makes perfect, and it couldn't be truer when it comes to the PTE exam. Devote ample time to regular practice, utilizing mock tests and practice materials. The more you practice, the more confident you will become in handling different question types and managing your time effectively during the actual exam.
Master Time Management
Time management is crucial during the PTE exam, as you need to answer all the questions within a specified time frame. Work on your speed and accuracy by setting time limits during your practice sessions. Remember, the PTE exam is not just about knowing the answers but also about delivering them within the given time constraints.
Focus on Individual Sections
While comprehensive preparation is essential, it's equally vital to identify your weak areas and work on improving them. Each section of the PTE exam demands a specific skill set. For instance, the Speaking & Writing section requires clarity of thought and expression, while the Reading section assesses your comprehension abilities. Tailor your preparation to address the specific requirements of each section.
Improve Your Vocabulary
A strong vocabulary is the backbone of effective communication. Enhance your word bank by learning new words daily and using them in sentences to reinforce your understanding. Practice vocabulary-based exercises and keep a vocabulary journal to track your progress.
Enhance Your Listening Skills
The Listening section of the PTE exam tests your ability to comprehend spoken English in various contexts. To sharpen your listening skills, engage in listening exercises, watch English movies, and TV shows, and listen to podcasts or news broadcasts in English. Pay attention to pronunciation, intonation, and context to improve your overall understanding.
Read Extensively
Reading is not only fundamental to expanding your knowledge but also crucial for performing well in the PTE exam's Reading section. Read a diverse range of materials, including newspapers, articles, academic texts, and fiction to expose yourself to different writing styles and subject matters.
Develop Your Writing Skills
In the Speaking & Writing section, you will be required to write essays and summarize information from graphs or charts. Work on your writing skills by practicing essay writing on various topics and seeking feedback from teachers or peers. Pay attention to grammar, punctuation, and coherence in your writing.
Hone Your Speaking Abilities
The Speaking & Writing section also evaluates your ability to communicate fluently and clearly. Engage in speaking exercises, record your responses, and listen to them critically. Identify areas for improvement and work on pronunciation and intonation.
Simulate Real Exam Conditions
As the PTE exam date approaches, simulate real exam conditions during your practice sessions. Take full-length mock tests to get accustomed to the exam's duration and intensity. This will not only build your stamina but also help you identify areas where you need to improve further.
Keep a Trump Card Under Your Sleeve: A Wrap-Up!
The PTE exam is an exciting opportunity to showcase your English proficiency and open doors to a world of possibilities. With proper preparation, dedication, and perseverance, you can conquer the PTE exam in 2023. Follow the strategies and tips outlined in this blog, and remember to practice consistently.
As you embark on your journey of PTE exam preparation, stay positive and confident in your abilities. Remember that success comes to those who put in the effort and remain committed to their goals. So, gear up, aim high, and let the world witness your language prowess in the PTE exam of 2023, and find seats when you're ready.