Roller Coaster – IELTS Reading Answers
Whitney Houston,
Updated On


Limited-Time Offer : Access a FREE 10-Day IELTS Study Plan!
The Academic passage 'Roller Coaster' is a reading passage that appeared in an IELTS Test.
Since questions get repeated in the IELTS exam, these passages are ideal for practice. If you want more practice, try taking an IELTS reading practice test.
Roller Coaster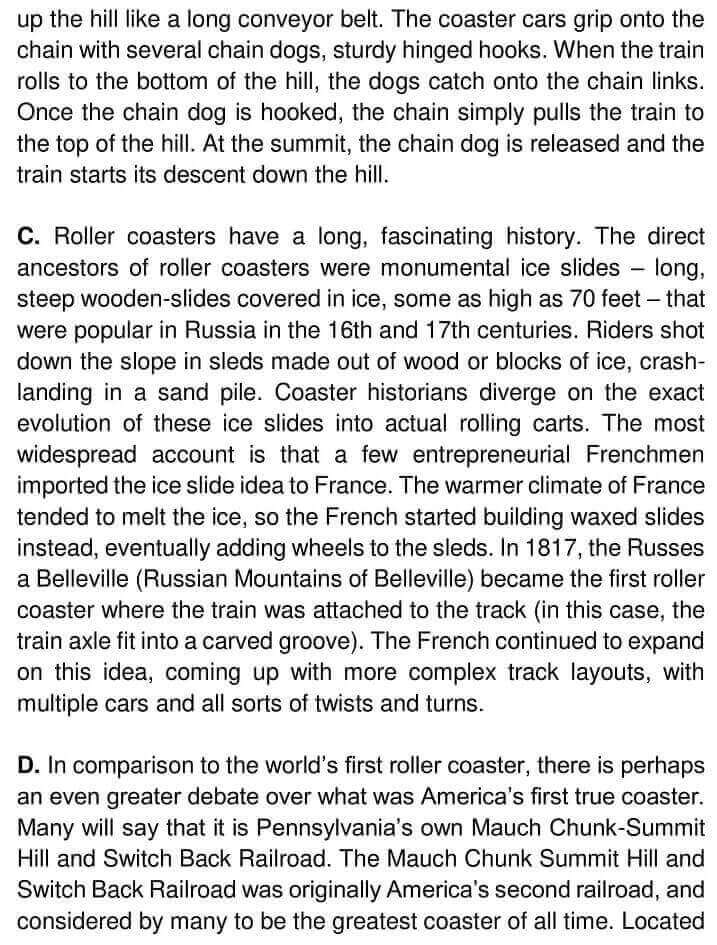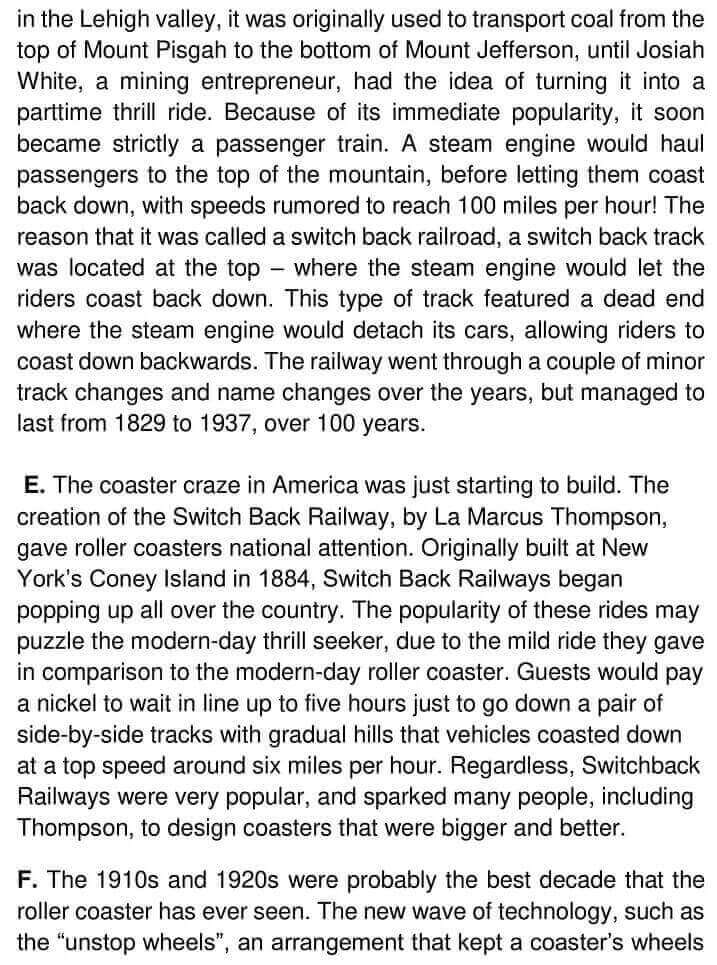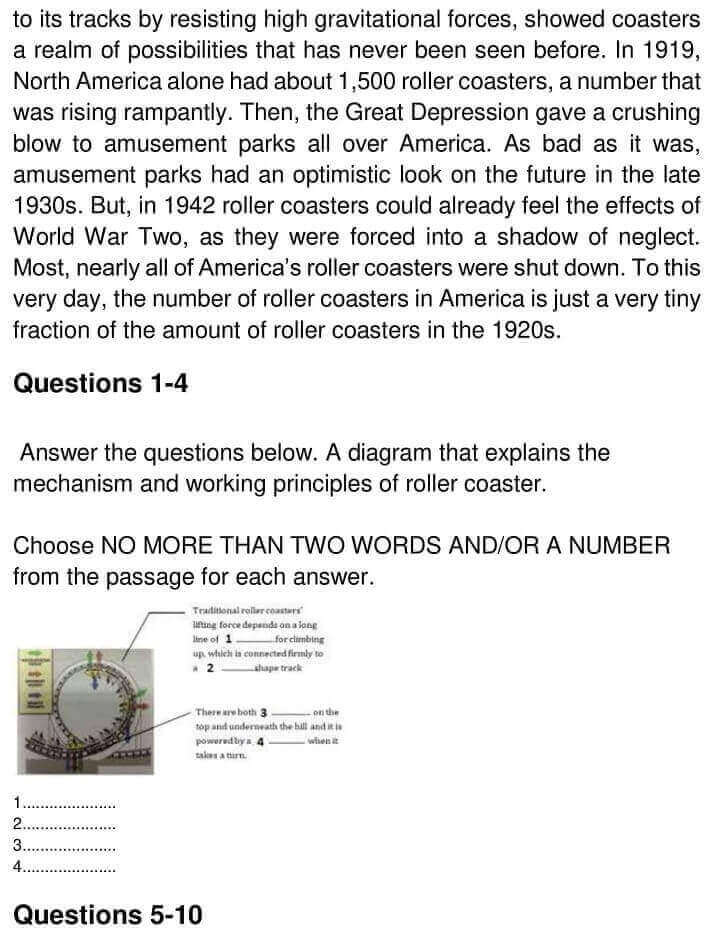 Answers
Question number 
Answer
Explanation

1

chain

Paragraph B states that

"the traditional lifting mechanism is a long length of chain running up the hill under the track."

From this sentence, we can infer that the 'lifting mechanism' or the 'lifting force' is a long length of chain. Hence, the correct answer is "chain."

2

loop

Paragraph B provides the information that

"the chain is fastened in a loop, which is wound around a gear at the top of the hill."

The term 'fastened' means connected. Thus, it is firmly connected to a loop. Hence, the correct answer is "loop."

3

gear

In paragraph B, there's a line that states that the

"chain is fastened in a loop, which is wound around a gear at the top of the hill."

It confirms that there are gear at the top and underneath the hill. Hence, the correct answer is "gear."
4

motor

Paragraph B also mentions that

"the gear at the bottom of the hills is turned by a simple motor."

The term turned can be interpreted as powered by a motor. Hence, the correct answer is "motor."

5

ice

The initial lines of paragraph C state that

"the direct ancestors of roller coasters were monumental ice slides – long, steep wooden-slides covered in ice."

The term covered can be interpreted as wrapped, so it was wrapped in ice. Hence the correct answer is "ice."

6

Waxed slides

There's a line in paragraph C that mentions,

"the warm climate of France tended to melt the ice, so the French started building waxed slides instead."

So, therefore, due to the warm temperate of France, it was modified or built to waxed slides. Hence the correct answer is "waxed slides."

7

melt

In paragraph C, the author mentions that

"the warm climate of France tended to melt the ice."

Because France's temperature was warm, it would melt the ice. Hence the correct answer is "melt."

8

wheels

From the line

"eventually adding wheels to the sleds."

in paragraph C, we can infer that this time wheels were installed in sleds (a vehicle usually on runners for transportation, especially on snow or ice) boards. Hence the correct answer is "wheels."

9

coal

Paragraph D conveys that

"located in the Lehigh valley, it was originally used to transport coal from the top of Mount Pisgah to the bottom of Mount Jefferson."

From this information, we can deduce that the railroad was designed or used to send or transport coal. Hence the correct answer is "coal."

10

Steam engine

Paragraph D mentions that

"a steam engine would haul passengers to the top of the mountain, before letting them coast back down, with speeds rumored to reach 100 miles per hour."

The earlier line confirms that a steam engine would pull or allow riders to slide downwards. Hence the correct answer is "steam engine."

11

NOT GIVEN

Paragraph F provides the information that

"most, nearly all of America's roller coasters were shut down. To this very day, the number of roller coasters in America is just a very tiny fraction."

However, none of the paragraphs claims that most existing roller coasters in the world are in New Jersey. Hence, the correct answer is "NOT GIVEN."

12

YES

The last line of paragraph C conveys that

"the French continued to expand on this idea, coming up with more complex track layouts, with multiple cars and all sorts of twists and turns."

The French continued to expand the idea of Russians and added more innovation including cars and tracks. As the statement agrees with the information, the correct answer is "YES."

13

YES

The first line of paragraph E mentions that

"the creation of the SwitchBack Railway, by La Marcus Thompson, gave roller coasters national attention. Originally built at New York's Coney Island."

The phrase "gave roller coasters national attention" implies that Switchback Railways got popularity after its first construction in New York. As the statement agrees with the information, the correct answer is "YES."

14

NO

Paragraph F states that

"The Great Depression gave a crushing blow to amusement parks all over America."

Also,

"most recently all of America's roller coasters were shut down."

From these lines, we can deduce that the Great Depression did shake the significant role of the US roller coaster since most of them were shut. As the statement contradicts the statement, the correct answer is "NO."
Check More IELTS Reading Answers
Also check :