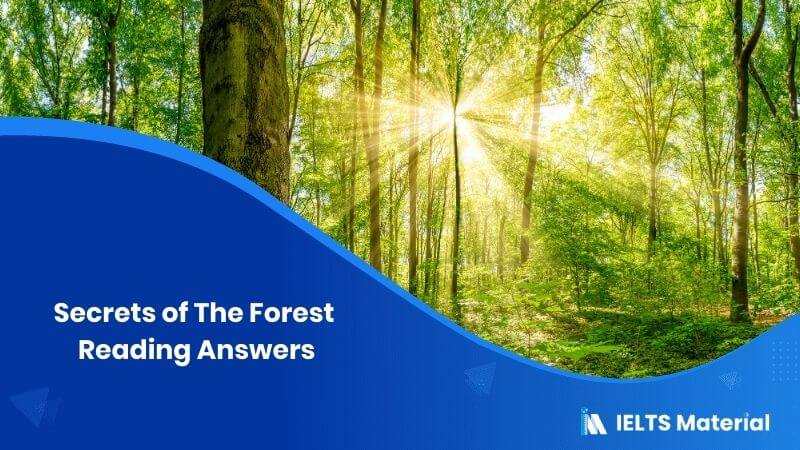 Secrets of The Forest Reading Answers
The Academic passage 'Secrets of the Forest' is a reading passage that appeared in an IELTS Test. Read the passage below and answer questions 1-13. Beyond the questions, you will find the answers along with the location of the answers in the passage and the keywords that help you find out the answers.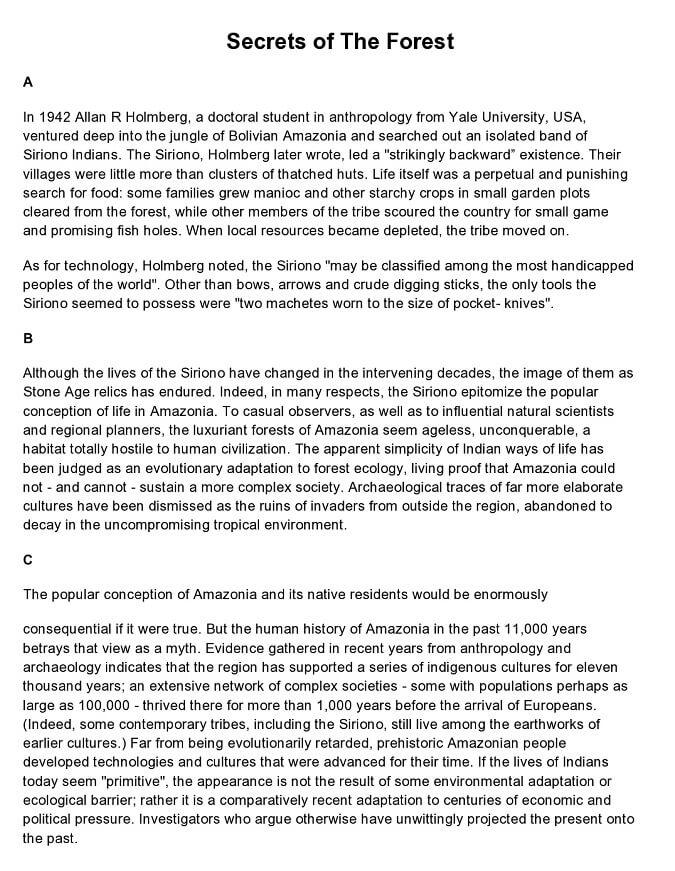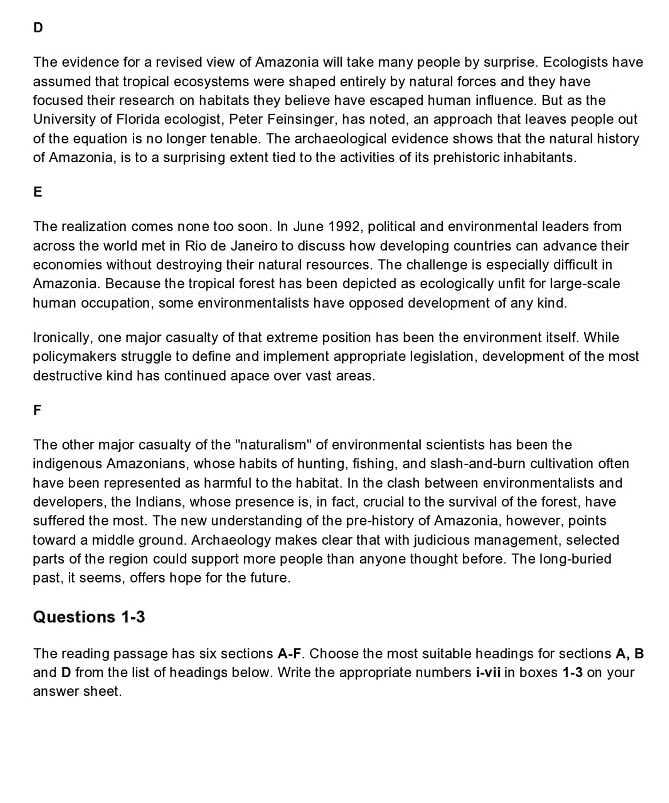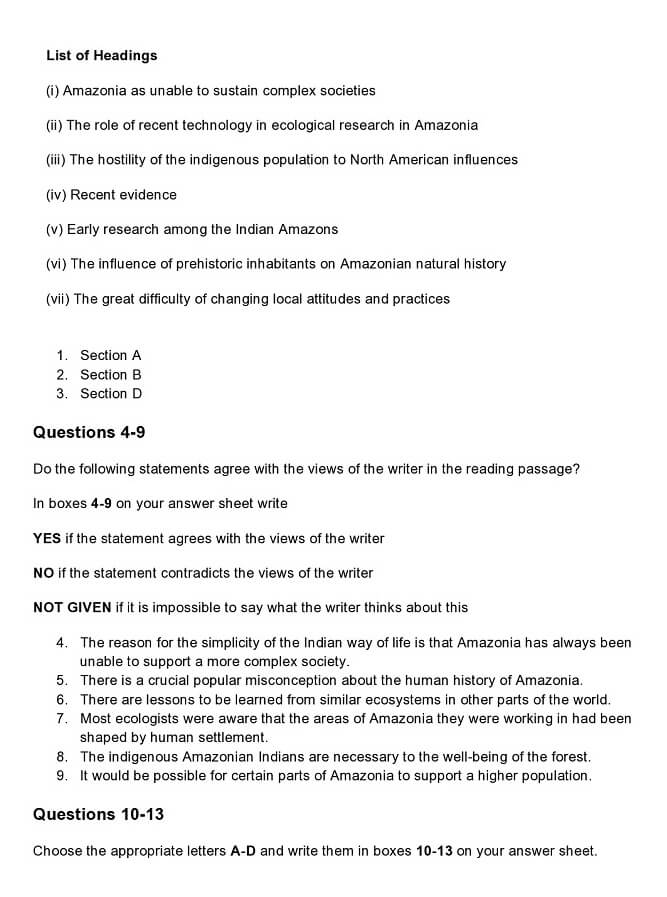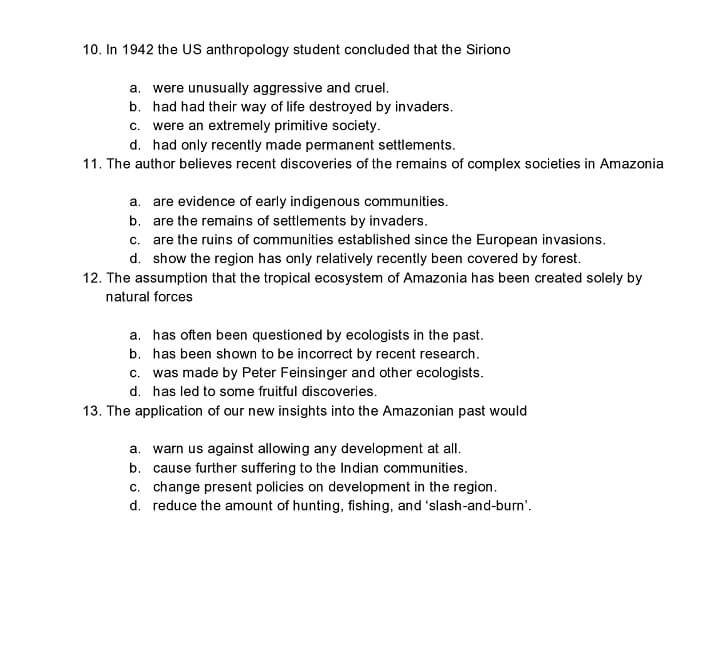 Answers
Unlock Answers
The answers to questions 1-13 are given below with their explanations.
| | | | |
| --- | --- | --- | --- |
| Question Number | Answer | Keywords | Location of Keywords |
| 1 | v | In 1942 Allan R Holmberg, doctoral student, anthropology, Yale, ventured, jungle, Bolivian Amazonia | Section A; lines 1-2 |
| 2 | i | The apparent simplicity, Indian ways of life, evolutionary adaptation, forest ecology, Amazonia could not, complex society | Section B; lines 5-7 |
| 3 | vi | The archaeological evidence, natural history, Amazonia, tied, activities, prehistoric inhabitants. | Section D; last 2 lines |
| 4 | YES | The apparent simplicity, Indian ways of life, evolutionary adaptation, forest ecology, Amazonia could not, complex society | Section B; lines 5-7 |
| 5 | YES | The popular conception, Amazonia, native residents, consequential, true, human history, past 11,000 years, that view, myth | Section C; lines 1-3 |
| 6 | NOT GIVEN | | |
| 7 | NO | The evidence, revised view, Amazonia, take many people, surprise. Ecologists, assumed, tropical ecosystems, shaped entirely, natural forces | Section D; first 2 lines |
| 8 | YES | whose presence, crucial, survival, forest | Section F; line 4 |
| 9 | YES | judicious management, parts, support more people, anyone thought before | Section F; lines 6-7 |
| 10 | C | The Siriono, Holmberg, "strikingly backward" existence | Section A; line 3 |
| 11 | B | Archaeological traces of far more elaborate cultures have been dismissed as the ruins of invaders from outside the region | Section B; linies 7-8 |
| 12 | B | natural history, Amazonia, surprising extent tied to, activities, prehistoric inhabitants | Section C; last 2 lines |
| 13 | C | new understanding, pre-history of Amazonia, points toward, middle ground | Section F; lines 5-6 |
Also check :