The Vikings IELTS Reading Answers
Janice Thompson,
Updated On
The Reading Module of the IELTS can be the top scoring category, with diligent practice. To achieve the best results in this section, you must understand how to approach and answer the different Question types in the Reading Module. By solving and reviewing Sample Reading Questions from past IELTS papers, you can ensure that your Reading skills are up to the mark.
The Academic passage 'The Vikings' is a reading passage that appeared in an IELTS Test.
Ideally, you should not spend more than 20 minutes on a passage. Let's see how easy this passage is for you and if you're able to make it in 20 minutes. If not, try more IELTS reading practice tests from IELTSMaterial.com
The Vikings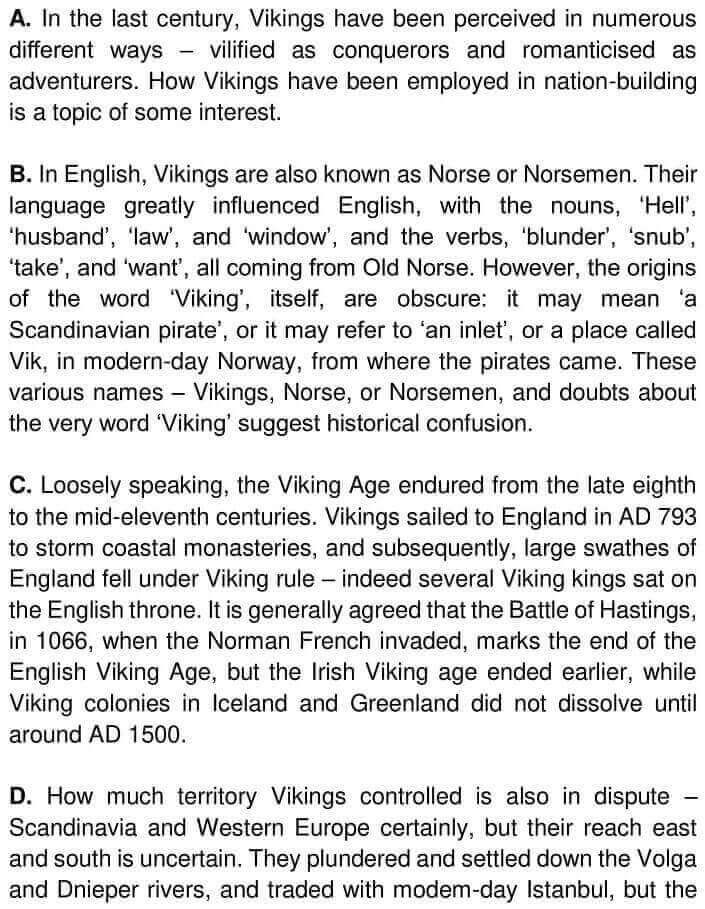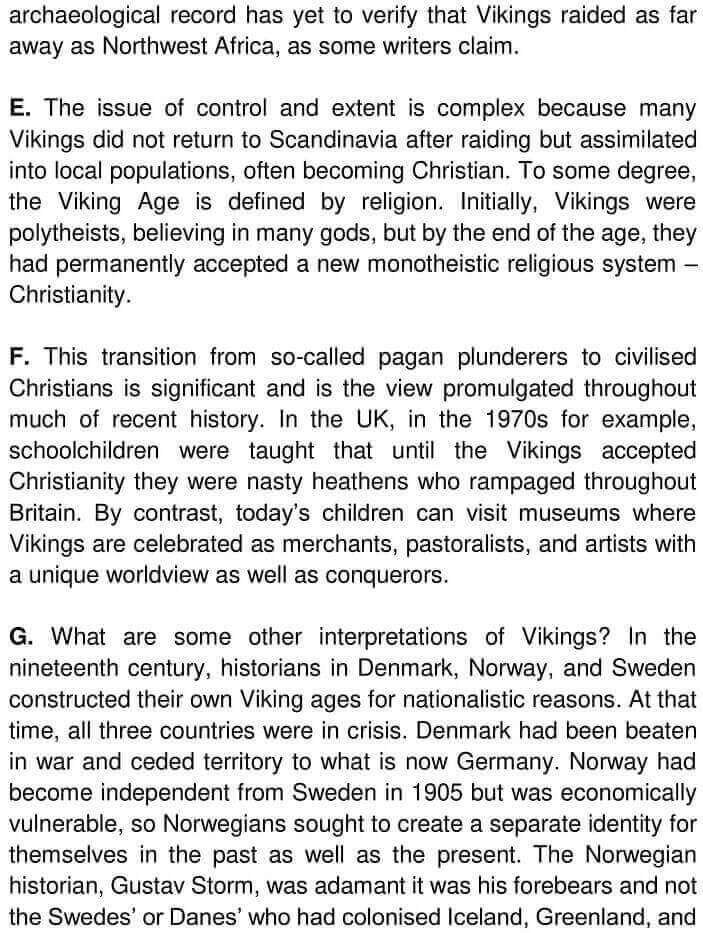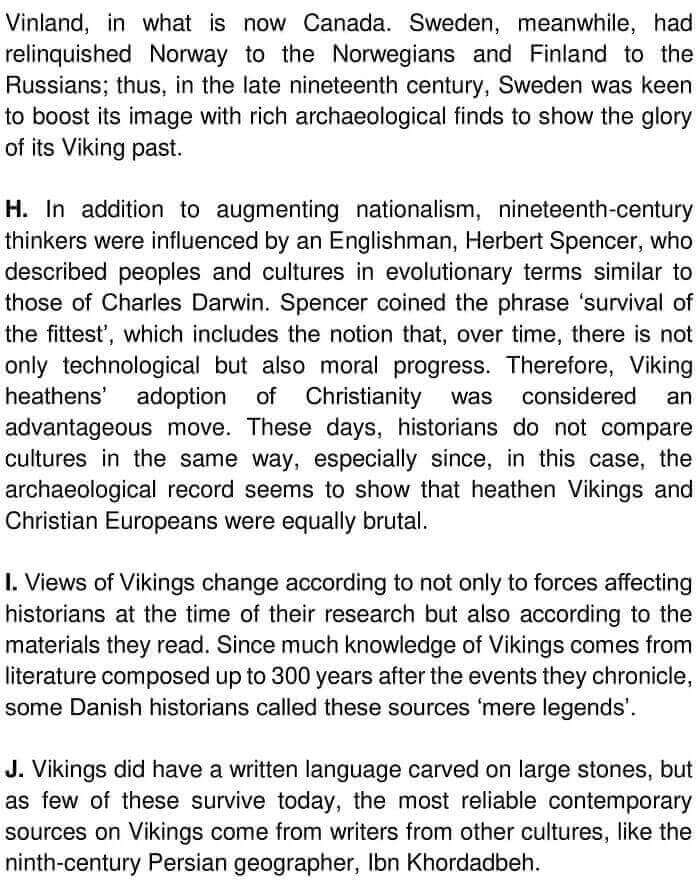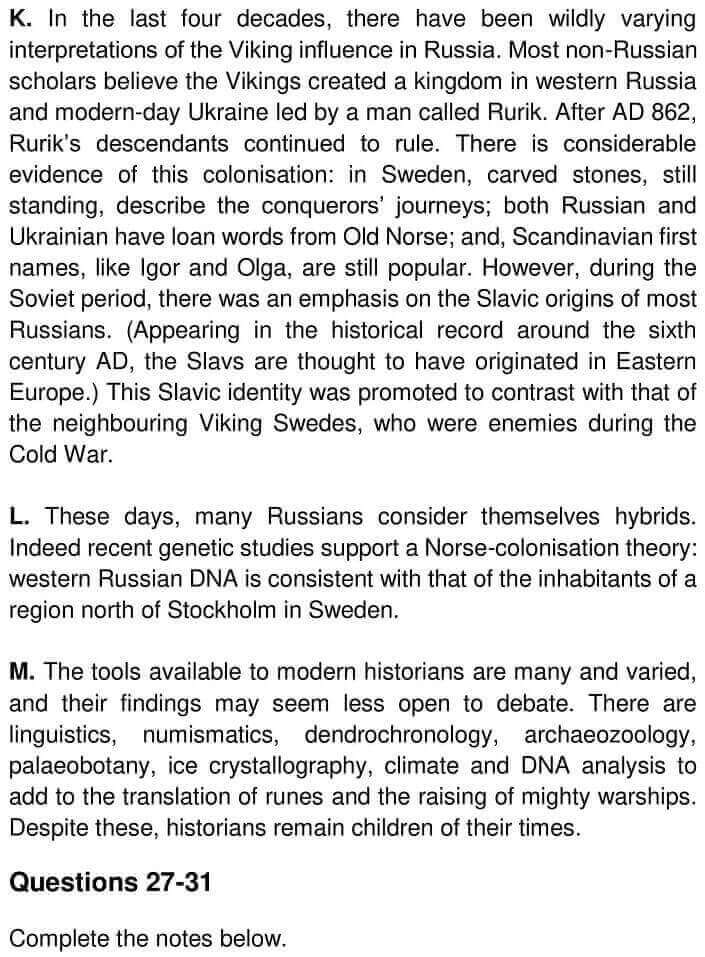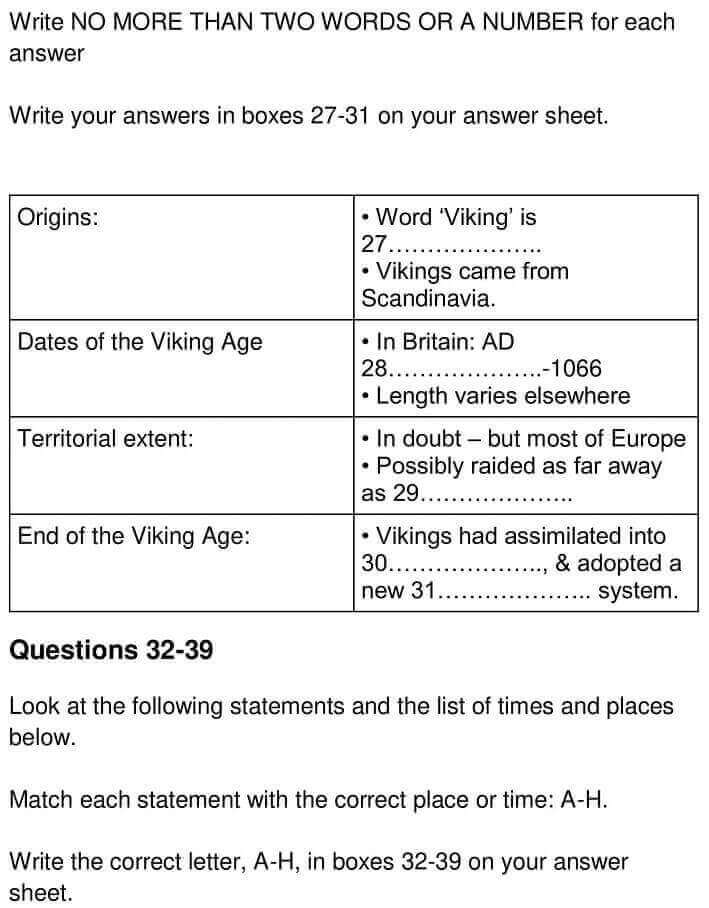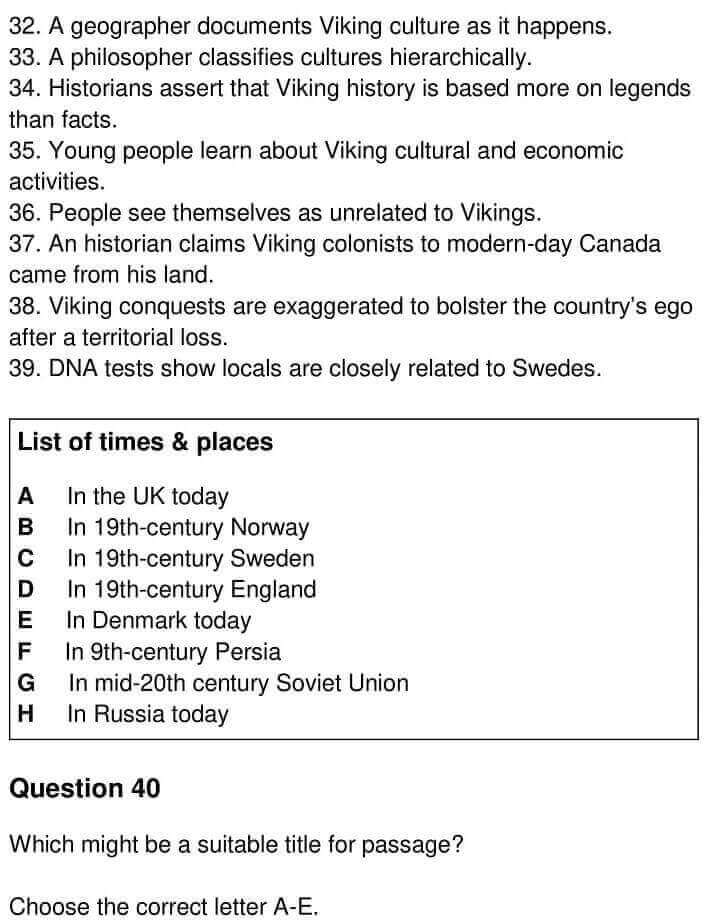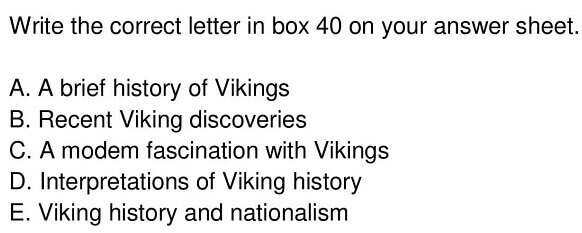 Answers
Question number 
Answer 
Explanation

27

obscure

In paragraph B, it is stated that Vikings are also known as Norse or Norsemen and their language greatly influenced from English. However, the '

origins of the word 'Viking''

, itself, is '

obscure'

. Hence, the answer is 'obscure'.

28

793

In paragraph C, it is given that '

Vikings sailed to England in AD 793',

which is the beginning of the English Viking era, to storm coastal monasteries, and subsequently, large swathes of

England fell under Viking rule. It is generally agreed that the Battle of Hastings,

in '1066', when the Norman French invaded, 'marks the end of the English Viking Age'. Hence, the answer is '793'.

29

Northwest Africa

Paragraph D refers to the fact that the archaeological record has '

yet to verify

' (in doubt) that Vikings raided

as far away as Northwest Africa

. So, there is a possibility that this record can be used to prove the possible Viking raid. Hence, the answer is 'Northwest Africa'.
30

local populations

In paragraph E, the writer points out that the issue of control and extent is complex because '

many Vikings'

did not return to Scandinavia after raiding but '

assimilated into local populations'

, often becoming Christian.Hence, the answer is 'local population'.

31

religious

Paragraph E mentions that initially, Vikings were polytheists, believing in many gods, but by the '

end of the age'

, they had permanently accepted a '

new monotheistic religious system'

–

Christianity. Hence, the answer is 'religious'

32

F

Paragraph J discusses that Vikings did have a written language carved on large stones, but as few of these survive today, the '

most reliable contemporary sources on Vikings come from'

writers from other cultures, like the '

ninth-century Persian geographer, Ibn Khordadbeh'

. So, he documented Viking culture as it happened as he himself belonged to that era. Hence, the answer is F (In 9th-century Persia).

33

D

In paragraph H, the writer says that the '

nineteenth-century thinkers'

were influenced by '

an Englishman, Herbert Spencer'

(philosopher), who '

described people and cultures in evolutionary terms'

similar to

those of Charles Darwin. This tells us that Spencer classified people and their culture hierarchically as they evolved in time and this affected the thinking of 19th century England. Hence, the answer is D (In 19th-century England).

34

E

Paragraph I  informs that since '

much knowledge of Vikings'

(source) comes from literature composed up to 300 years after the events they chronicle, some '

Danish historians

' (historians of Denmark) called these '

sources 'mere legends''

. From this statement, we can conclude that these historians believed that Viking history is based more on legends

than facts. Hence, the answer is E (In Denmark today).

35

A

From paragraph F, we find out that

'in the UK'

, in the 1970s for example, schoolchildren were taught that until the Vikings accepted Christianity they were nasty heathens who rampaged throughout Britain. There has been a change in this viewpoint in UK as '

today's children'

can visit museums where '

Vikings'

are celebrated as

'merchants, pastoralists,

' (economic activities) and '

artists with a unique worldview as well as conquerors

' (cultural). Hence, the answer is A (In the UK today).

36

G

In the beginning of paragraph K, it is put forward that in the last four decades, there have been wildly varying interpretations of the Viking influence in Russia. Most non-Russian

scholars believe the Vikings created a kingdom in western Russia and modern-day Ukraine. Later, it is added that during 'the Soviet period' (mid-20th century), there was 'an emphasis on the Slavic origins of most Russians' which means that Russians were not related to the Vikings. Hence, the answer is G (In mid-20th century Soviet Union).

37

B

Paragraph G claims that '

in the nineteenth century

,

historians'

in Denmark, Norway, and Sweden constructed '

their own Viking ages'

for nationalistic reasons. Norway had become independent from Sweden in 1905 and the '

Norwegian historian, Gustav Storm'

, '

was adamant'

(claims) it was '

his forebears'

(people from his land) and not the Swedes' or Danes'

'who had colonised Iceland, Greenland, and Vinland'

and it is '

now Canada'

. Hence, the answer is B (In 19th-century Norway).

38

C

Paragraph G communicates that Sweden

'relinquished Norway'

, which was a territorial loss for them, to the Norwegians and Finland to the Russians. So, '

in the late nineteenth century, Sweden'

was '

keen to boost its image'

(bolster the country's ego) with

'rich archaeological finds to show the glory

of its Viking past' (exaggerated Viking conquests). Hence, the answer is C (In 19th-century Sweden).

39

H

Paragraph L reports that '

these days'

(today), many Russians consider themselves hybrids.

Indeed recent 'genetic studies' (DNA test) support a Norse-colonisation theory:

'western Russian DNA' is 'consistent with' (closely related to) that of the 'inhabitants of a region' (local) north of 'Stockholm in Sweden'. The DNA test proves that the local Swedes are closely related to Russians. Hence, the answer is H (In Russia today).

40

D

The first sentence of Paragraph A states that '

Vikings have been perceived in numerous

different ways' in the last century. They have been vilified as conquerors as well as romanticised as adventurers. Further, in the first sentence of Paragraph G, the author asks the questions 'What are some other interpretations of Vikings?'. Moreover, the author discusses 'wildly varying interpretations of the Viking' in Paragraph K. So, it can be concluded that the answer is D (Interpretations of Viking history).
Check More IELTS Reading Answers
Also check :