Vanished IELTS Reading Answers
Janice Thompson,
Updated On
The Reading Module of the IELTS can be the top-scoring category, with diligent practice. To achieve the best results in this section, you must understand how to approach and answer the different Question types in the Reading Module. By solving and reviewing Sample Reading Questions from past IELTS papers, you can ensure that your Reading skills are up to the mark.
The Academic passage 'Vanished' is a reading passage that appeared in an IELTS Test. Try to find the answers to get an idea of the difficulty level of the passages in the actual reading test. If you want more passages to solve, try taking one of our IELTS reading practice tests.
Vanished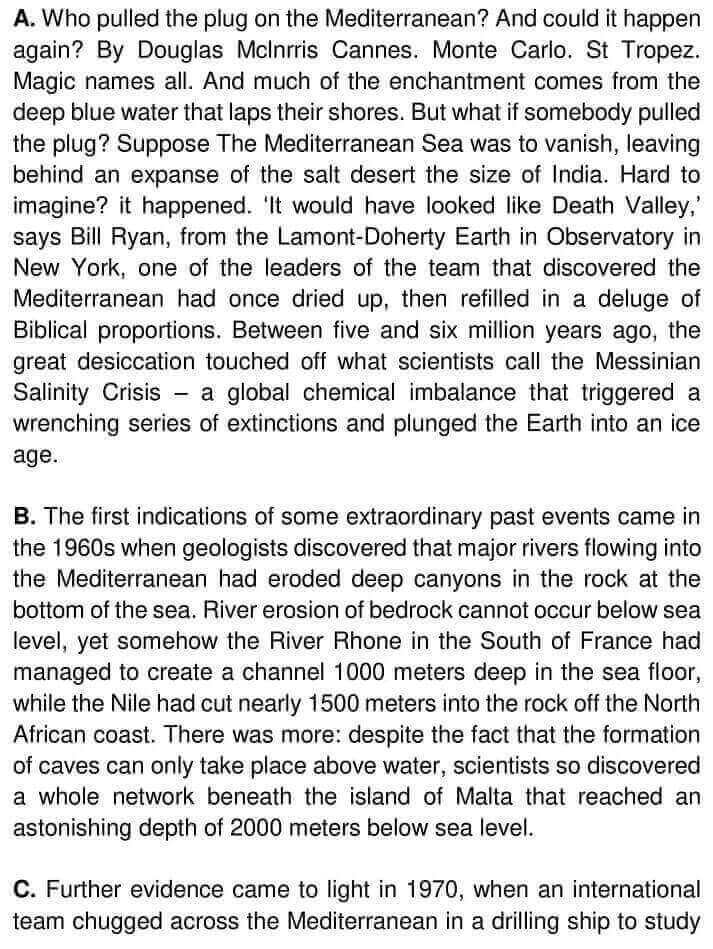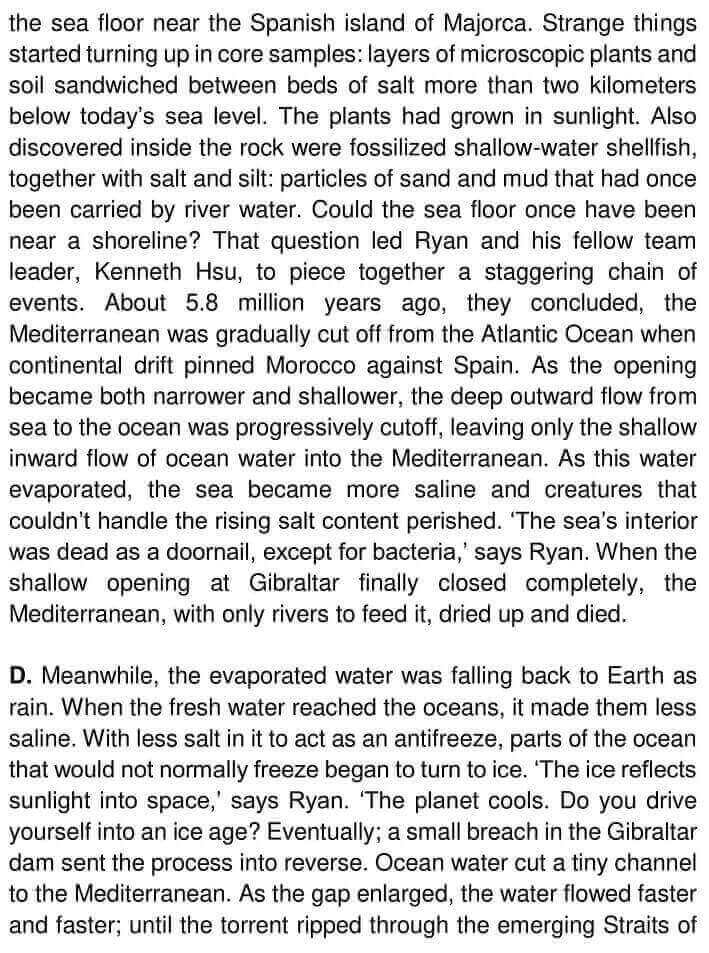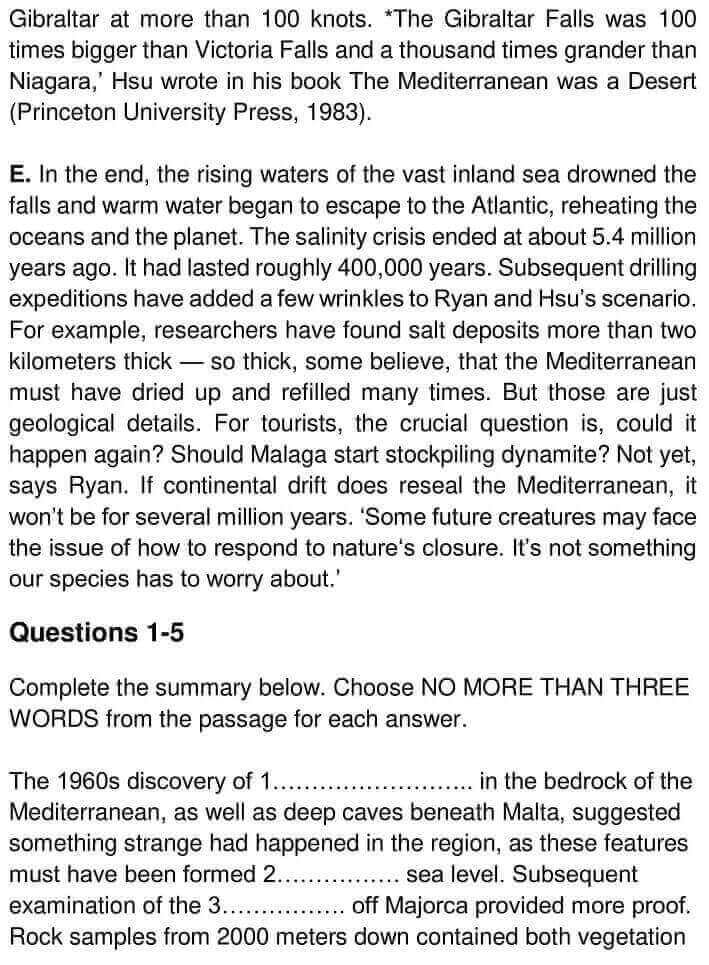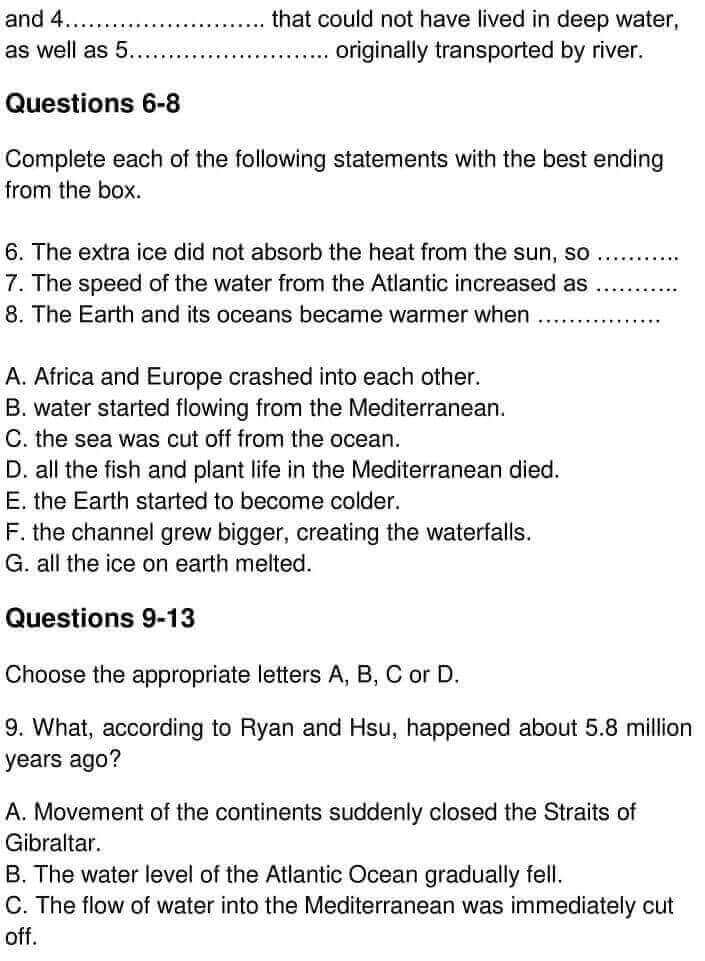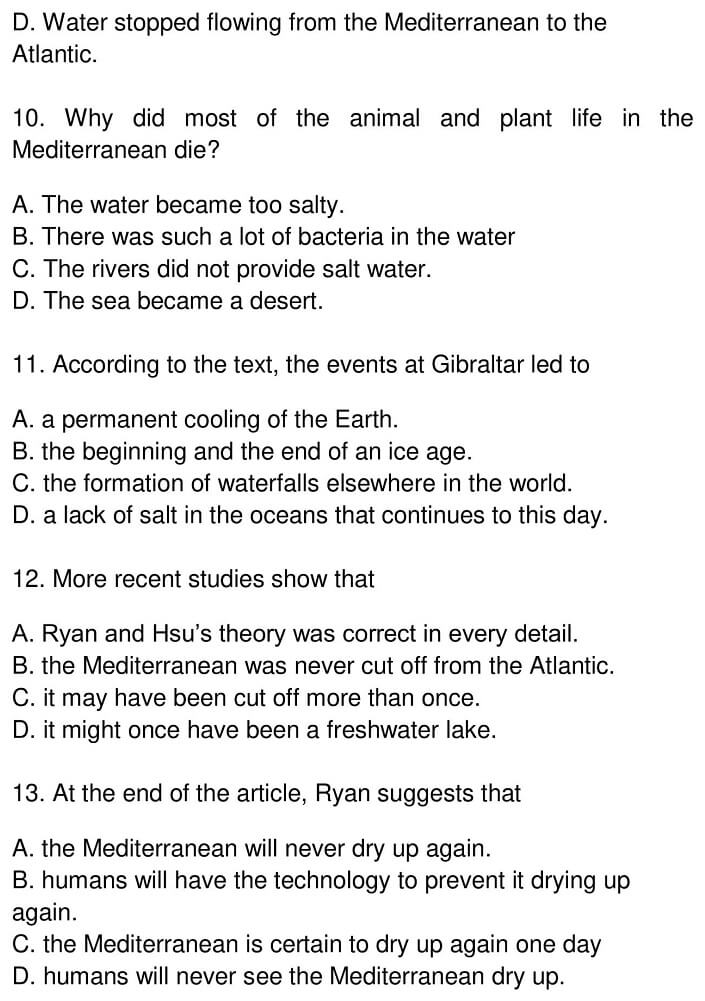 Answers
Question number 
Answer 
Keywords 
Location of keywords

1

Deep canyons

The first indications of some extraordinary past events came in the 1960s when geologists discovered that major rivers flowing into the Mediterranean had eroded deep canyons in the rock at the bottom of the sea.

Paragraph B;

Line 1

2

Above 

There was more: despite the fact that the formation of caves can only take place above water,

Paragraph B;

Last line 

3

seafloor

Further evidence came to light in 1970, when an international team chugged across the Mediterranean in a drilling ship to study the sea floor near the Spanish island of Majorca.

Paragraph C;

Line 1 

4

shellfish

Also discovered inside the rock were fossilized shallow-water shellfish, together with salt and silt:

Paragraph C;

Line 4 

5

silt/ sand and mud 

salt and silt: particles of sand and mud that had once been carried by river water

Paragraph C;

Line 4

6

E

The planet cools

Paragraph D;

Line 5

7

F

Ocean water cut a tiny channel to the Mediterranean. As the gap enlarged, the water flowed faster and faster; until the torrent ripped through the emerging Straits of Gibraltar at more than 100 knots.

Paragraph D;

Lines 8 – 9

8

B

In the end, the rising waters of the vast inland sea drowned the falls and warm water began to escape to the Atlantic, reheating the oceans and the planet.

Paragraph E;

Line 1

9

D

About 5.8 million years ago, they concluded, the Mediterranean was gradually cut off from the Atlantic Ocean when continental drift pinned Morocco against Spain.

Paragraph C;

Line 7

10

A

As this water evaporated, the sea became more saline and creatures that couldn't handle the rising salt content perished.

Paragraph C;

Line 9

11

B

With less salt in it to act as an antifreeze, parts of the ocean that would not normally freeze began to turn to ice.

&

Eventually; a small breach in the Gibraltar dam sent the process into reverse.

Paragraph D;

Line 3

&

Paragraph D;

Line 7

12

C

some believe, that the Mediterranean must have dried up and refilled many times.

Paragraph E;

Line 4

13

D

Not yet, says Ryan. If continental drift does reseal the Mediterranean, it won't be for several million years.

Paragraph E;

Line 9
Check More IELTS Reading Answers
Also check :