William Gilbert And Magnetism IELTS Reading Answers
Janice Thompson,
Updated On


Limited-Time Offer : Access a FREE 10-Day IELTS Study Plan!
The Academic passage 'William Gilbert And Magnetism' is a reading passage that appeared in an IELTS Test.
It contains some of the IELTS reading question types. If you are interested in familiarising yourself with all the question types, don't hesitate to take an IELTS reading practice test.
William Gilbert And Magnetism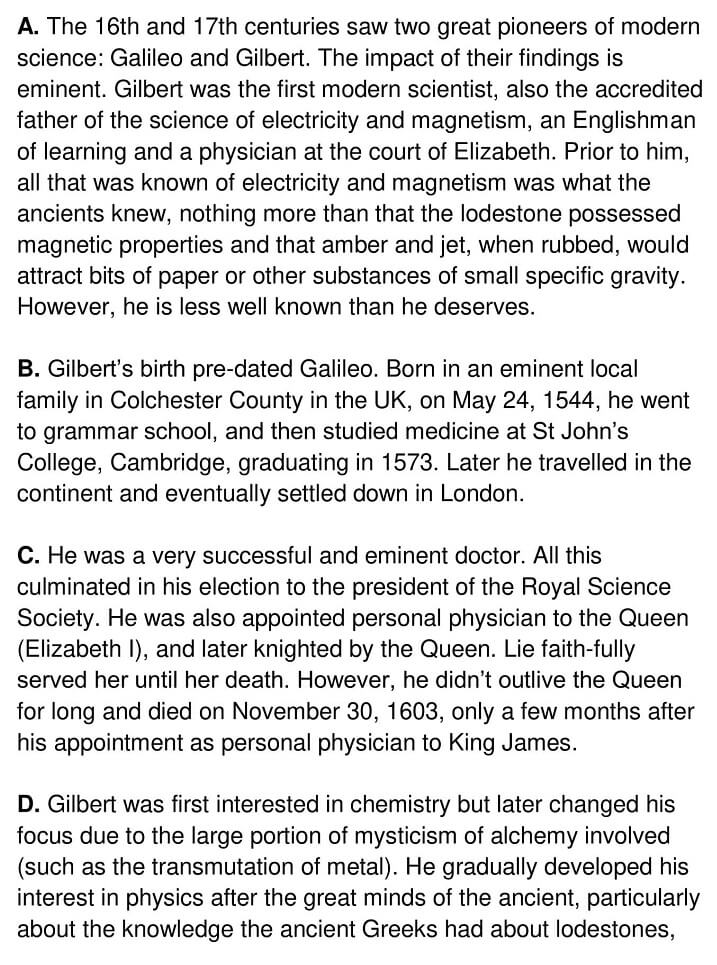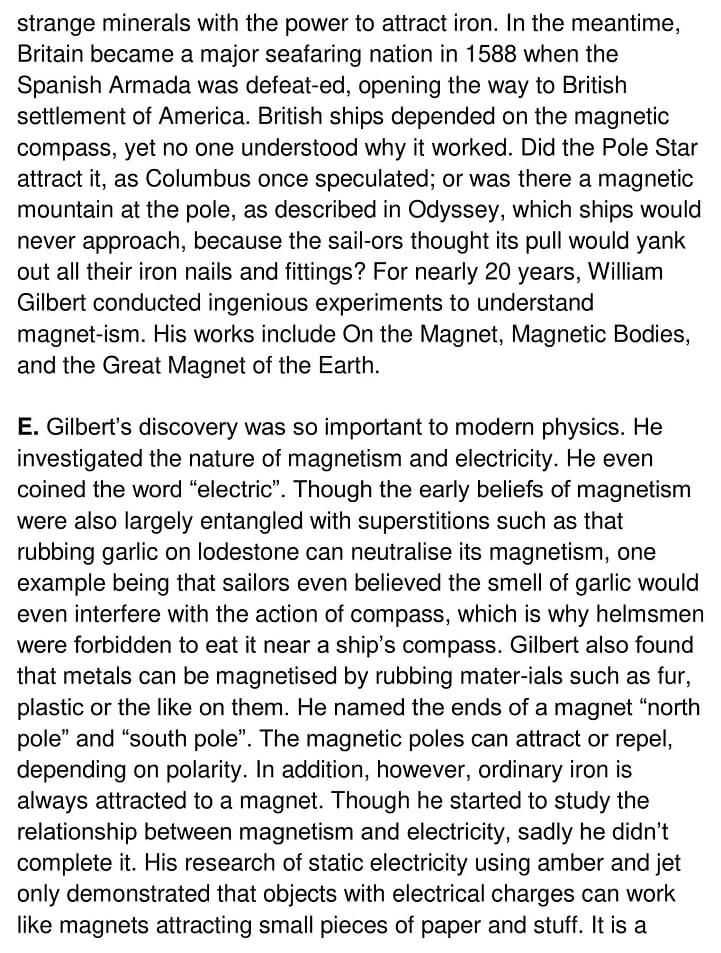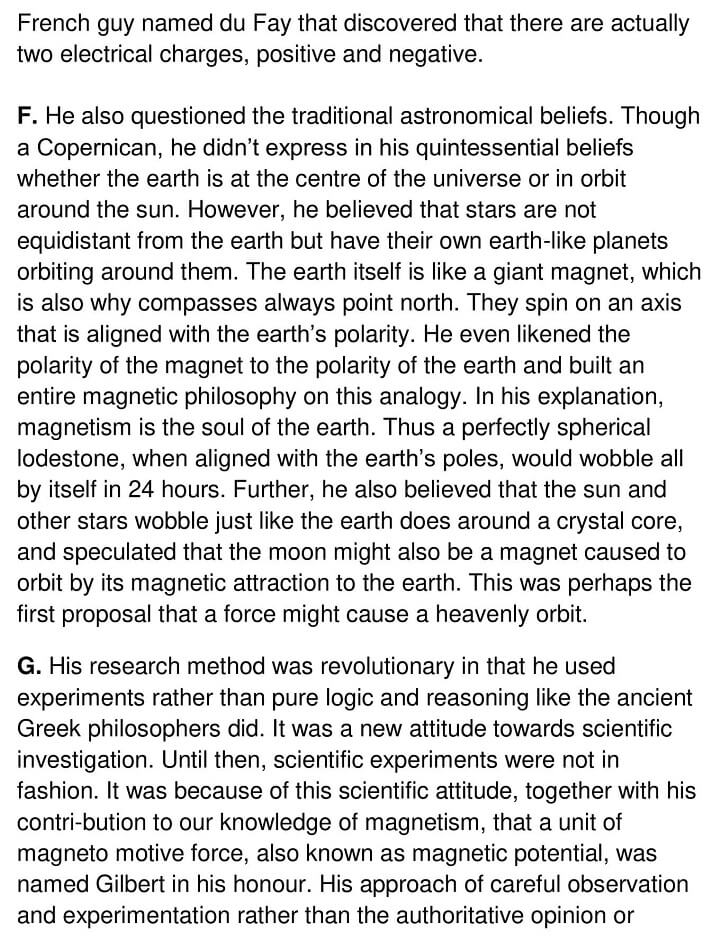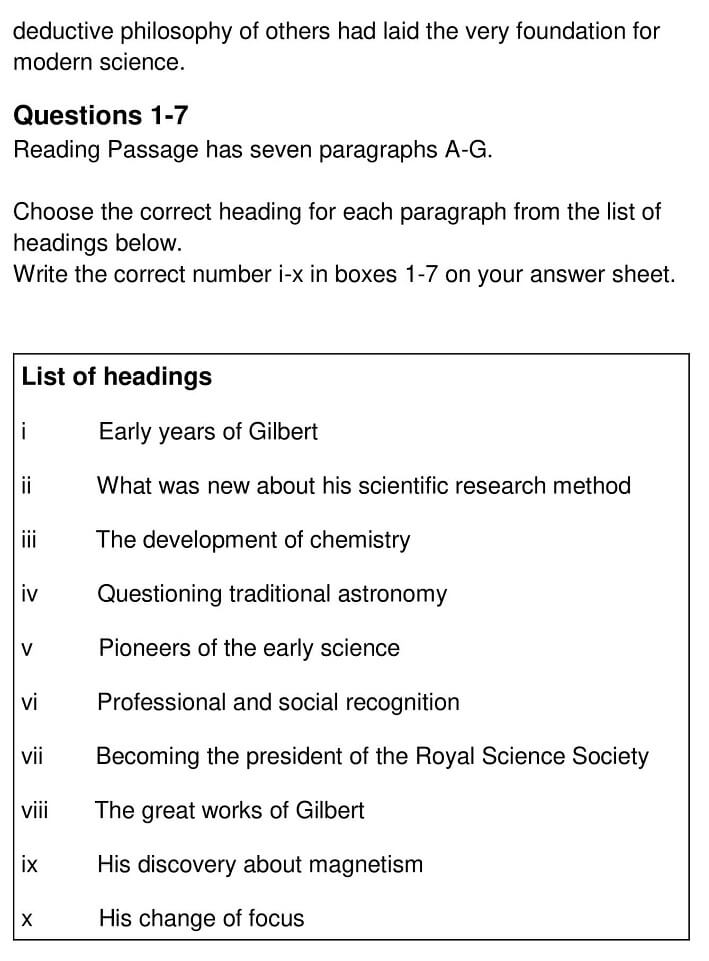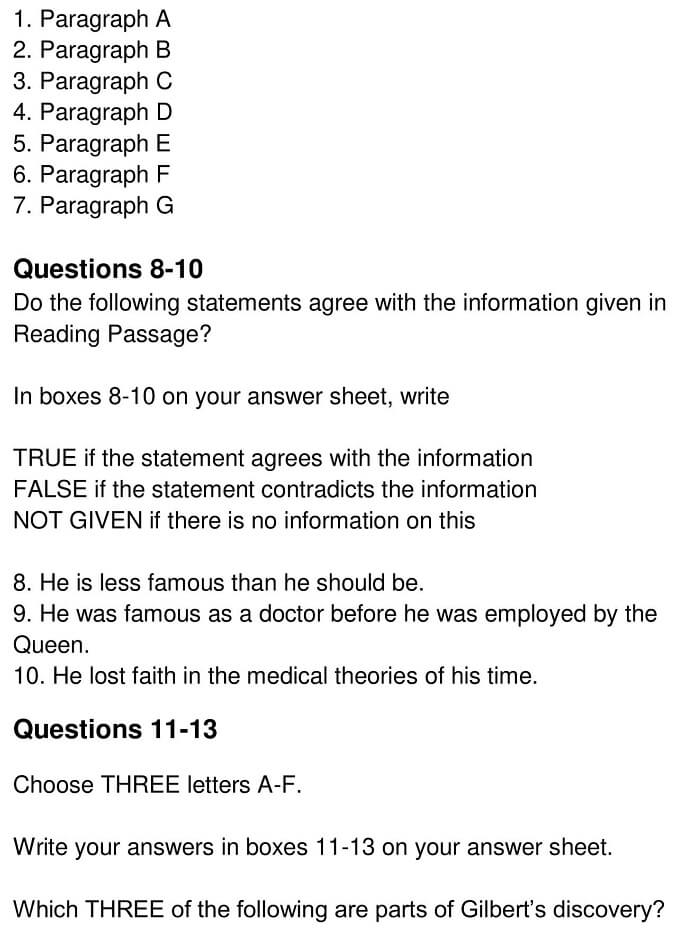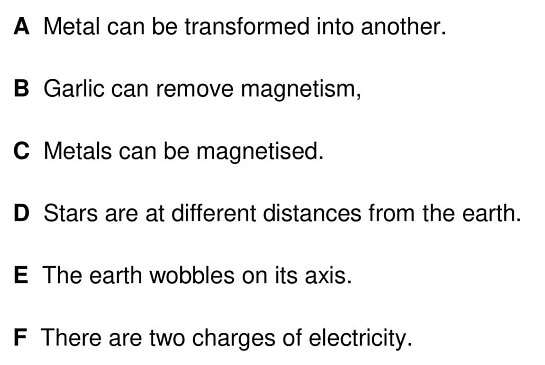 Answers
Question number 
Answer 
Keywords 
Location of keywords

1

v

The 16th and 17th centuries saw two great pioneers of modern science: Galileo and Gilbert.

Paragraph A;

Line 1

2

i

Gilbert's birth pre-dated Galileo.

Paragraph B;

Line 1

3

vi

He was a very successful and eminent doctor. All this culminated in his election to the president of the Royal Science Society. He was also appointed personal physician to the Queen (Elizabeth I), and later knighted by the Queen.

Paragraph C;

Lines 1- 3

4

x

Gilbert was first interested in chemistry but later changed his focus

Paragraph D;

Line 1

5

ix

He investigated the nature of magnetism and electricity

Paragraph E;

Line 2

6

iv

He also questioned the traditional astronomical beliefs.

Paragraph F;

Line 1

7

ii

His research method was revolutionary in that he used experiments rather than pure logic and reasoning 

Paragraph G;

Line 1

8

TRUE

he is less well known than he deserves.

Paragraph A;

Last line

9

TRUE

He was a very successful and eminent doctor. All this culminated in his election to the president of the Royal Science Society. He was also appointed personal physician to the Queen (Elizabeth I),

Paragraph C;

Lines 1- 3

10

NOT GIVEN

–

–

11

C

Gilbert also found that metals can be magnetised

Paragraph E;

Line 5

12

D

stars are not equidistant from the earth but have their own earth-like planets orbiting around them

Paragraph F;

Line 3

13

E

They spin on an axis that is aligned with the earth's polarity

Paragraph F;

Line 5
Check More IELTS Reading Answers
Also check :