IELTS Academic Writing Task 1 Example 2: Change of a coastal town called Pentland – Map
Ruben Smith,
Updated On
Maps or diagrams are a description task that will come across in the IELTS. For this question type, you must describe in brief a presented map or diagram. To do so, begin by analyzing the question and identifying the main features of the diagram. Draft and introduction, followed by an overview of the main characteristics of the image. Then you may finally add the essential details.
Two maps show the change of a coastal town called Pentland, from 1950 to 2007.
Summarise the information by selecting and reporting the main features, and make comparisons where relevant.
Write at least 150 words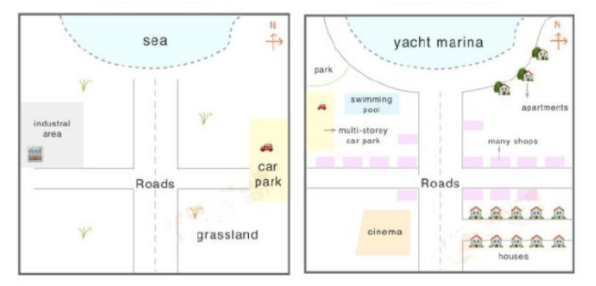 Sample Answer
The given map displays the changes of the past 57years in Coastal Town which is also known as the Pentland.
By comparing the 1950 and 2007 maps of Pentland certain developments are noteworthy. It can be observed that a lot of people moved to Coastal Town by 2007 as the infrastructure and facilities became accessible for them in Pentland. 
Overall the main structure of the town with one main road with two bisecting roads remained similar. Whereas, the industrial area of 1950 located in the northwest region of the map was replaced with a park, swimming pool, multi-storey car parking and some shops in 2007. The car park on the east side of the road was removed and towards the right side of the eastern road, many new apartments and shops were constructed. Towards the southeast side of the Pentland was mainly the grassland in 1950, but with time many houses were built in that corner. Rest of the grassland area of the southwest corner of Pentland was converted into a cinema. Also the sea was developed into Yacht Marina covered by a half-circled road.
Get evaluated for FREE!
Got a quick report in your mind for this question. Don't hesitate to post the same in our comment section. We will evaluate the report/letter and email you the band score & our trainer's comments. And, this service is entirely free.
Also check: