Two possible sites for the supermarket Sample Answers
Ruben Smith,
Updated On
In this article, you will find Two possible sites for the supermarket sample answers.
IELTS Writing Task 1 requires you to produce a summary of at least 150 words regarding some visual information, typically provided in the form of a graph or chart. You must identify the key characteristics, describe them, and make comparisons in the provided data.
To learn how to approach this task, check out IELTS Academic Writing Task 1 Tips, Strategies and Criteria.
Check out the video guide on how to write Map Writing Task 1 answer!
Maps or diagrams are a description task that will come across in the IELTS. For this question type, you must describe in brief a presented map or diagram. To do so, begin by analyzing the question and identifying the main features of the diagram. Draft and introduction, followed by an overview of the main characteristics of the image. Then you may finally add the essential details.
IELTS Map Diagram questions like Two possible sites for the supermarket are designed to assess the candidate's ability to comprehend the diagram and express information in a logical format in 150 words. You must adhere to the minimum word count. Otherwise, you risk losing points.
The map below is of the town of Garlsdon. A new supermarket (S) is planned for the town. The map shows two possible sites for the supermarket.
Summarise the information by selecting and reporting the main features, and make comparisons where relevant.
You should write at least 150 words.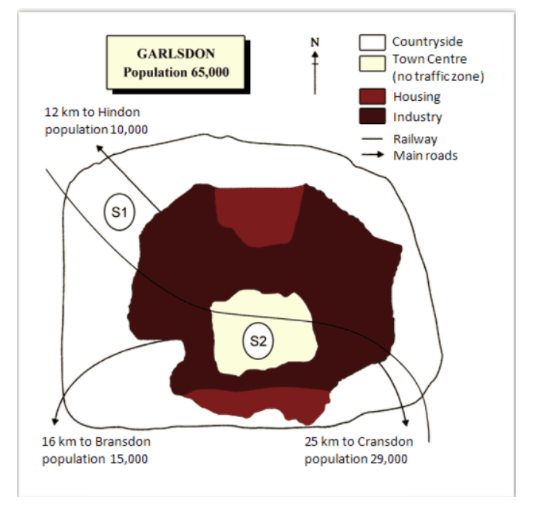 Sample Answer
The map displays two locations for the construction of a supermarket in Garlsdon. As indicated in the map, the city has a population of 65,000. From an overall perspective, we find that the locations identified for the supermarket are in the countryside near Hindon and the town centre near to Bransdon and Cransdon. 
From a closer inspection of the map, it is evident that the first site in the north-west, located near Hindon which has a population of 10,000 would be away from the industrial and housing areas. However, it is well-connected to these areas by road and rail. But we have to consider the fact that though it is in close proximity to Hindon, it is quite far away from Bransdon and Cransdon which are densely populated.
The second site is located at the heart of the city and is surrounded by industrial areas. It is 16km from Bransdon and 25 km from Cransdon. It is connected to Hindon and Cransdon by road and rail whereas people of Bransdon can only use the road.
Get evaluated for FREE!
Got a quick report in your mind for this question. Don't hesitate to post the same in our comment section. We will evaluate the report/letter and email you the band score & our trainer's comments. And, this service is entirely free.
Also check: