IELTS Academic Writing Task 1 Example 10 : Process of Making Pulp and Paper – Diagram
Zuhana,
Updated On
In Process diagrams, there are 2 types of processes which include Manufacturing Process (MP) and Natural Process (NP). Given below is a manufacturing process for which you have to always use passive voice. So, practice this Writing Task 1 and achieve a good score!
Process of Making Pulp and Paper
The diagram gives information about the process of making pulp and paper.
Summarise the information by selecting and reporting the main features, and make comparisons where relevant.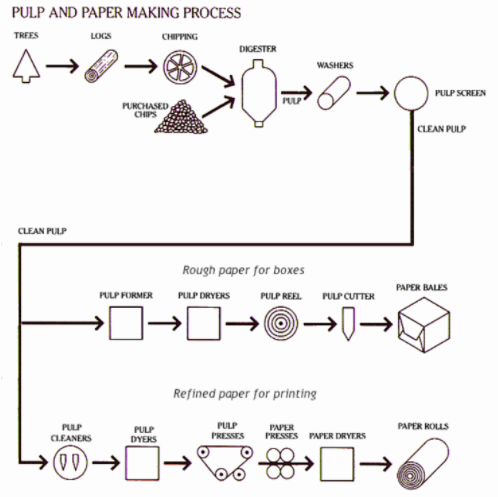 The diagram illustrates how rough paper and refined paper are manufactured from raw materials.
Overall, it is clear that the manufacturing of pulp from raw materials involves a four-stage process. Then it is processed further to make paper.
As a first step, trees are felled into logs. Then they are chipped and mixed with other purchased chips and fed into a digester. The resultant pulp undergoes a two-stage cleaning process of washing and screening. 
The cleaned pulp is used to make rough paper and refined paper. For producing rough paper, the pulp is formed using a  pulp former, dried in a drier,  and fed into a pulp reel. Then, they are cut using a pulp cutter, and paper bales are obtained which can be used for making boxes. For producing refined paper, the pulp undergoes additional cleaning. The doubly cleaned pulp is dried in driers. Then it is pressed using pulp presses and paper presses. Finally, it is dried and rolled into papers. The refined paper thus obtained is used for printing.
Get evaluated for FREE!
Got a quick report in your mind for this question. Don't hesitate to post the same in our comment section. We will evaluate the report/letter and email you the band score & our trainer's comments. And, this service is entirely free.
Also check: