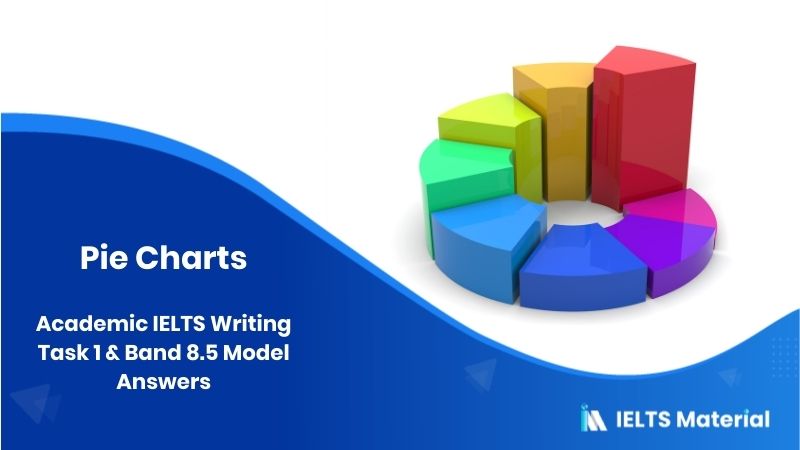 Academic IELTS Writing Task 1 – Pie Charts & Band 8.5 Model Answers
We have provided an informative chart which you can analyse and write a paragraph on. It will help you get a good band score in IELTS Writing Task 1. It is important for you to study the chart and understand as quickly as possible which will help you to write a descriptive answer.
In Writing task 1 (academic paper) you will have 20 min to write a full report:
Bar chart
Diagram or process
Line graph
Pie chart
Table
Map
Combination of above-mentioned topics
Use the sample practice material to develop your IELTS Writing Task 1.
IELTS Writing Task 1

The chart shows the main methods of transportation for people travelling to a university for work or study in 2004 and 2009.
Summarise the information by selecting and reporting the main features and make comparisons wherever relevant.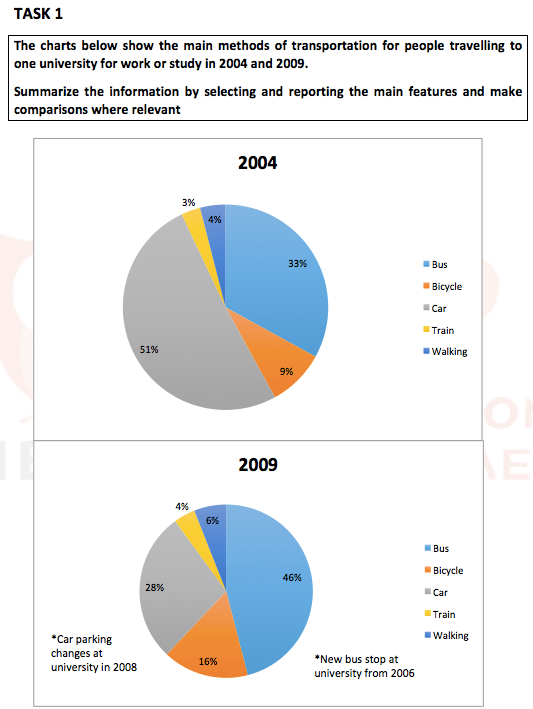 Model Answer
The two pie charts compare the percentages of travellers using five traffic methods to commute to a university for work and study in 2004 and 2009. In general, after five years, buses overtook cars to be commuters' top preference as transport mediums. It is also obvious to see that while the proportion of people travelling by cars decreased significantly from 2004 to 2009, the popularity of other methods marked an upward trend.
In 2004, over half of those (51%) travelling to the university used cars as their main mode of transport, making automobiles the most preferred one, followed by bus with 33%. However, the figure for car users experienced a nearly twofold decrease to only 28% in 2009.  Witnessing a reverse trend, after a 5-year period, the percentage of bus-based travellers rose by 11%. The trend of preferring buses to cars could be attributed to installing a new bus stop in 2006 and alterations to the car park at the university in 2008.
An upward pattern was observed in the proportions of pedestrians, train passengers, and bicycle riders. Marginally more people chose to travel by train or walked to the university from 2004 to 2009, accounting for insignificant percentages of less than 6% between 2004 and 2009. These means are the least favoured by travellers. However, a more substantial rise, from 9% to 16%, was seen in bicycles. 
228 words

See also: