IELTS Academic Writing Task 1 Topic 10: How apple is canned – Diagram
Zuhana,
Updated On
Maps or diagrams are a description task that will come across in the IELTS. For this question type, you must describe in brief a presented map or diagram. To do so, begin by analyzing the question and identifying the main features of the diagram. Draft and introduction, followed by an overview of the main characteristics of the image. Then you may finally add the essential details.
The diagram shows how apple is canned.
Summarise the information by selecting and reporting the main features, and make comparisons where relevant.
Write at least 150 words.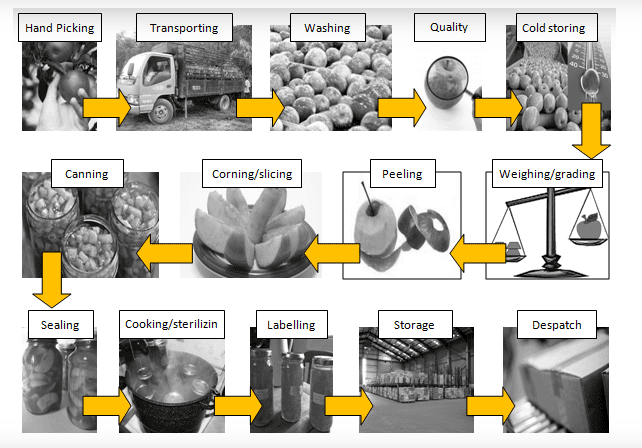 Report Plan
Paraphrase: how apple is canned>the process of canning fresh apples; Overview: Show the process of canning fresh apples. Paragraph 2: (1) Talk about the canning process. Give explanation. Paragraph 3: (1) Talk about the remaining process of the canning process. Give explanation. </p<
Sample Answer
The diagram shows the process of canning fresh apples. The first step is to handpick apples from trees. And then, they are transported to the cannery using large trucks. At the cannery, the apples get thoroughly washed and undergo a quality test where the poor-quality lot is taken out.
The selected apples are put into cold storage. When ready for canning, the apples are weighed and graded. After this step, the apples are peeled, and the cores are removed. They are then sliced into the required sizes and put into cans. Juice or syrup may also get added to the cans.
Once the cans have been filled, they are sealed and cooked overheat to ensure adequate sterilization. When the cans are cool, a label is attached, and they are placed into storage. Post this, the canned apples get ready to be despatched to supermarkets for the purpose of selling.
Get evaluated for FREE!
Got a quick report in your mind for this question. Don't hesitate to post the same in our comment section. We will evaluate the report/letter and email you the band score & our trainer's comments. And, this service is entirely free.
Also check: