The pie charts show the average consumption of food in the world in 2008 compared to two countries; China and India. Write a report to a university lecturer describing the data.
Write at least 150 words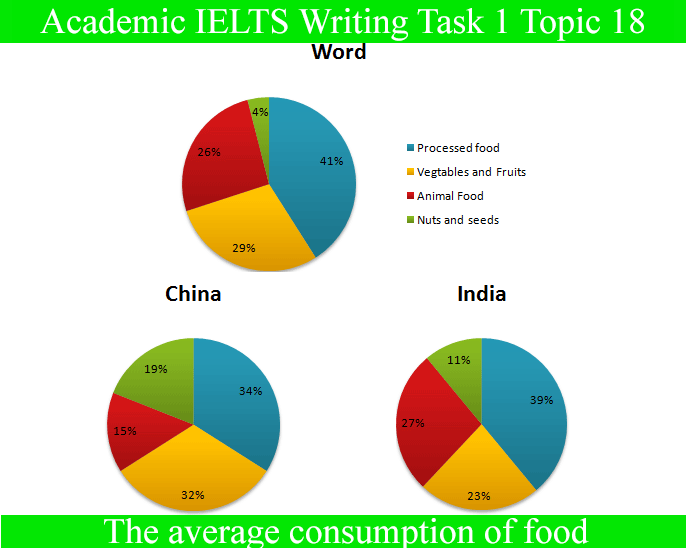 The graphs illustrate the consumption of 4 types of food used in the word in 2008. The figures are compared to the amounts of food used in china and India in the same year.
As an overall trend, the two countries showed different food consumption from the world average, while processed food consumption still had the largest percentages in all the three charts.
In particular, processed food consumption was the highest in the in the world, accounting for 41%, which was followed by vegetables and fruits at 29% and animal food at a quarter. Only 4% consisted of nut and seeds consumption.
Likewise, China used processed food in the largest proportion of 39%. Animal food showed the same figure as the world's average, 25%. Vegetable and fruits was used at 23% while nuts and seeds showed less than a half figure.
In India, both vegetable and processed food were used the most in the year 2008 with percentages of 34% and 32% respectively, nuts and seeds used in this country showed the largest proportion among the three charts given, making up 19% at this time.
(185 words)
The following two tabs change content below.
Improve your IELTS skills with tips, model answers, lessons, free books, and more ------------ "The more you share, the more you get."
Latest posts by IELTS Material (see all)
Main IELTS Pages:
This website is to develop your IELTS skills with tips, model answers, lessons, free books, and more. Each section (Listening, Speaking, Writing, Reading) has a complete collection of lessons to help you improve your IELTS skills.
Get all the latest updates/lessons via email:
Subscribe for free IELTS lessons/Books/Tips/Sample Answers/Advice from our IELTS experts. We help millions of IELTS learners maximize their IELTS scores!
Subscribe to IELTS Material to receive the latest lessons