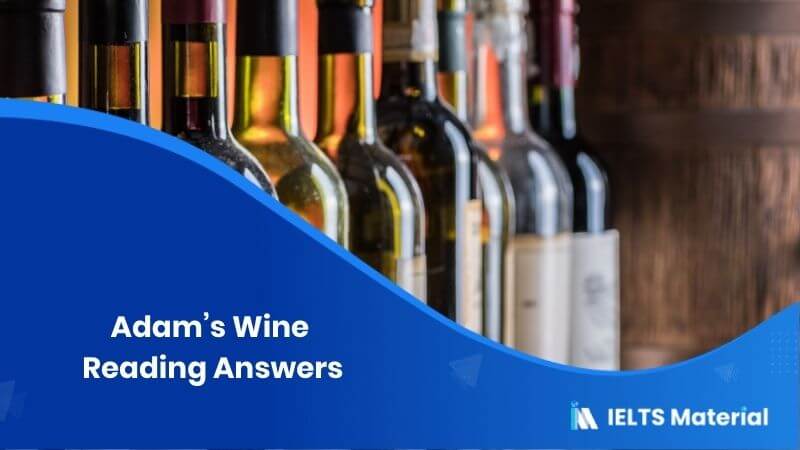 Adam's Wine Reading Answers
The Academic passage 'Adam's wine' is a reading passage that appeared in an IELTS Test. Read the passage below and answer questions 1-15. Beyond the questions, you will find the answers along with the location of the answers in the passage and the keywords that help you find out the answers.
Adam's Wine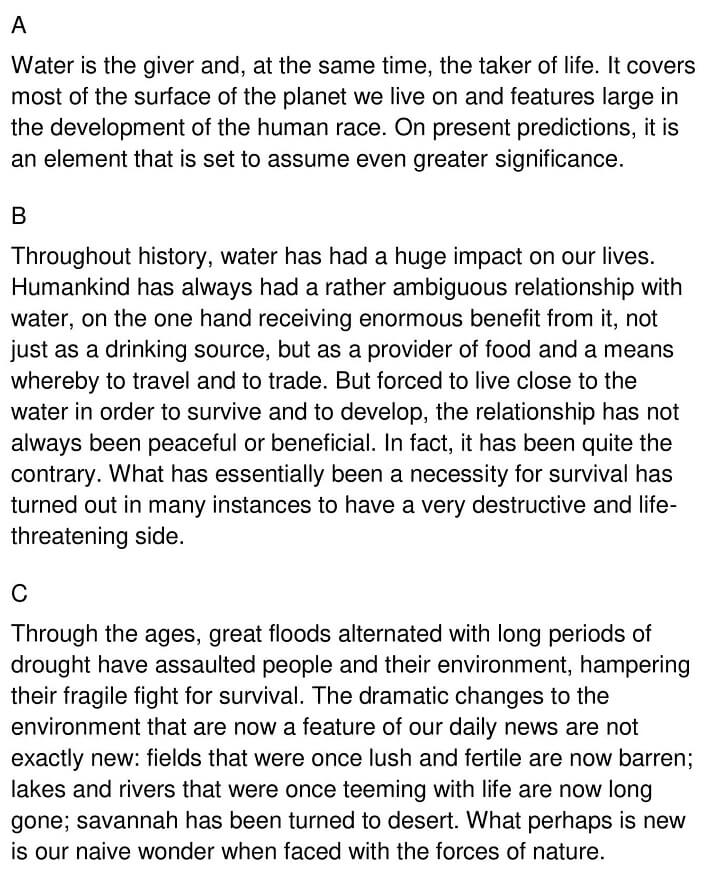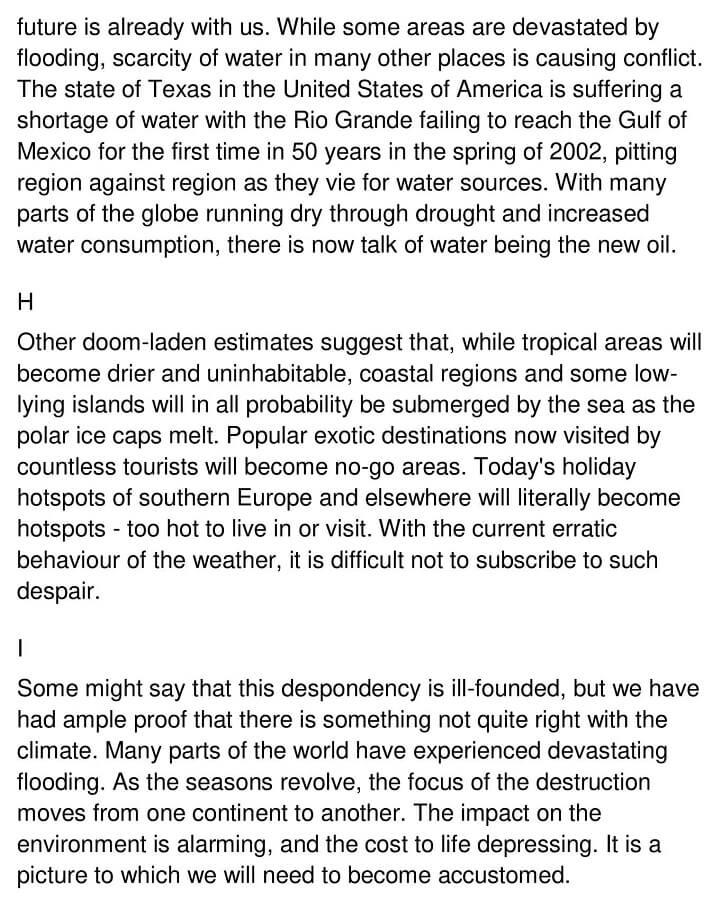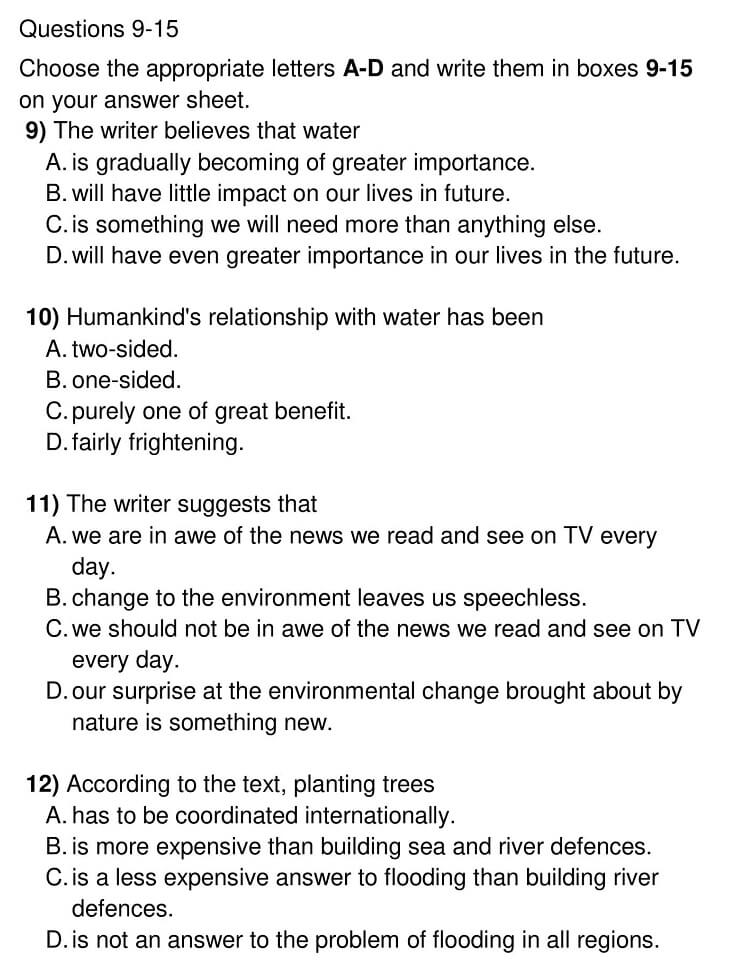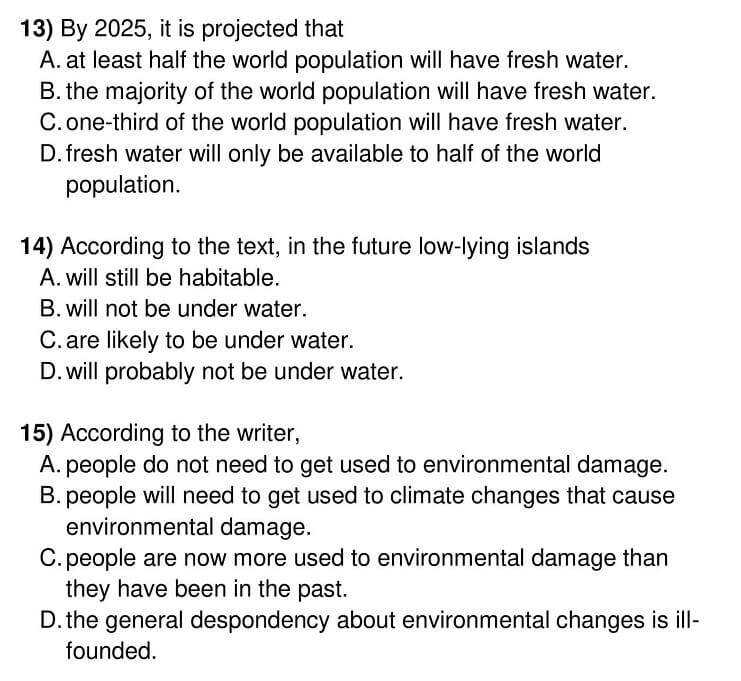 Answers
The answers for questions 1-15 are given below with their explanations.
| | | | |
| --- | --- | --- | --- |
| Question Number | Answers | Keywords | Location of Keywords |
| 1 | x | History, ambiguous relationship, benefit, drinking source, trade | Paragraph B; lines 2-4 |
| 2 | i | dramatic changes, environment, feature, daily news, not exactly new | Paragraph C; lines 2-3 |
| 3 | v | these events, feel better, destruction of our own property | Paragraph D; lines 2-3 |
| 4 | iii | Properties, collapsed into the sea, waves pounded the coastline | Paragraph E; lines 2-3 |
| 5 | viii | River defences, trees, highland, emission, greenhouse, environment | Paragraph F; entire |
| 6 | ii | two-thirds of the world population, without fresh water, 2025 | Paragraph G; lines 1-2 |
| 7 | xiii | estimates, tropical areas, drier, uninhabitable, coastal, submerged, polar ice caps, exotic destinations, tourists, no-go areas, hotspots, despair | Paragraph H; entire |
| 8 | iv | despondency is ill-founded, ample proof, something not quite right, climate. | Paragraph I; lines 1-2 |
| 9 | D | element, assume, greater significance. | Paragraph A; line 3 |
| 10 | A | ambiguous relationship, enormous benefit, destructive, life-threatening | Paragraph B; entire |
| 11 | D | perhaps, new, naive wonder, forces of nature. | Paragraph C; lines 5-6 |
| 12 | C | simpler ways, planting trees, highland areas | Paragraph F; line 2 |
| 13 | C | predicted, two-thirds, world population, without fresh water, 2025 | Paragraph G; lines 1-2 |
| 14 | C | low-lying islands; probability, submerged | Paragraph H; line 2 |
| 15 | B | picture, will need to become accustomed. | Paragraph I; last line |
Also check :