Affordable Art – IELTS Reading Answers
Justin,
Updated On
The Reading Module of the IELTS can be the top-scoring category, with diligent practice. To achieve the best results in this section, you must understand how to approach and answer the different Question types in the Reading Module. By solving and reviewing Sample Reading Questions from past IELTS papers, you can ensure that your Reading skills are up to the mark.
The Academic passage 'Affordable Art' is a reading passage that appeared in an IELTS Test.
Ideally, you should not spend more than 20 minutes on a passage. Let's see how easy this passage is for you and if you're able to make it in 20 minutes. If not, try more IELTS reading practice tests from IELTSMaterial.com
Affordable Art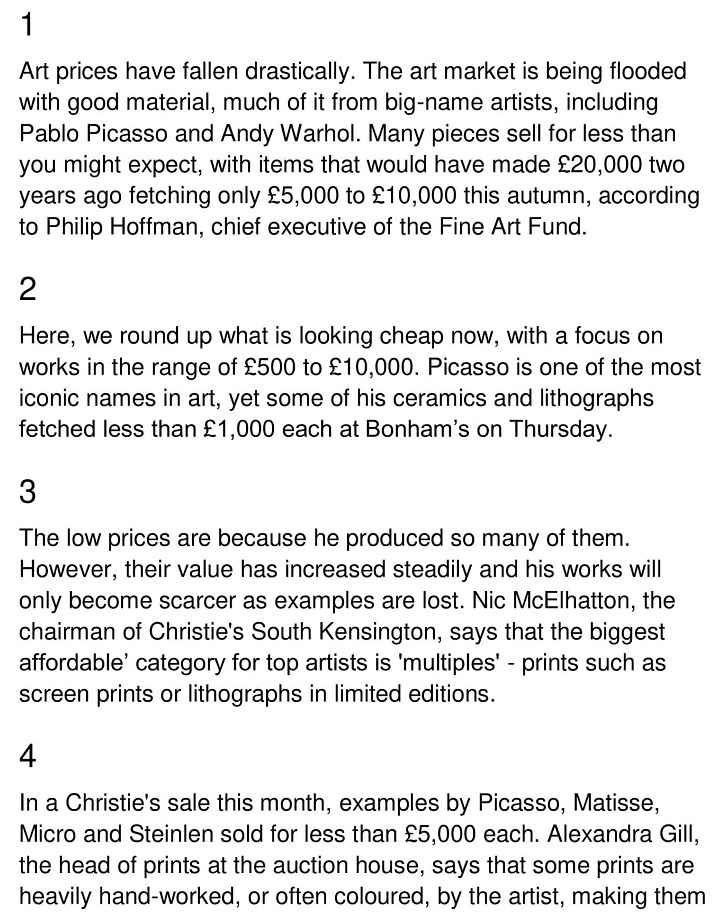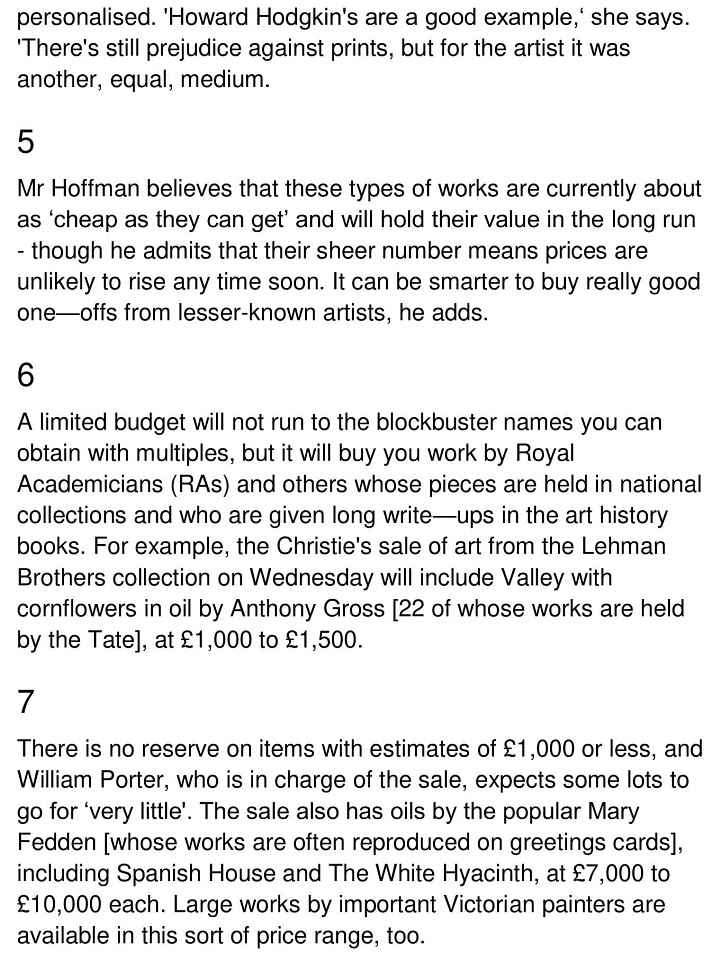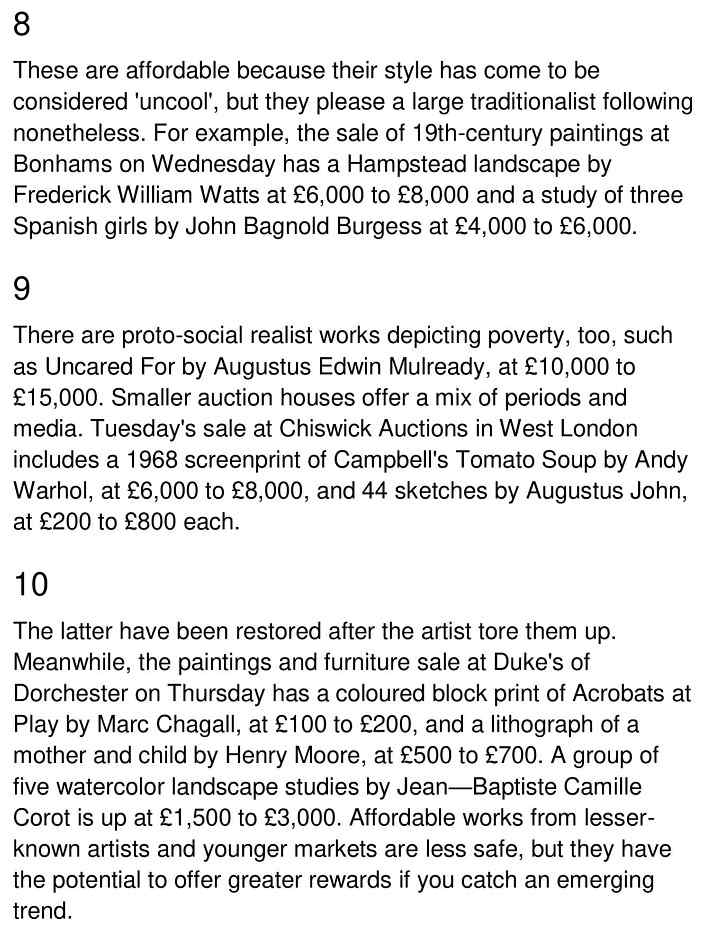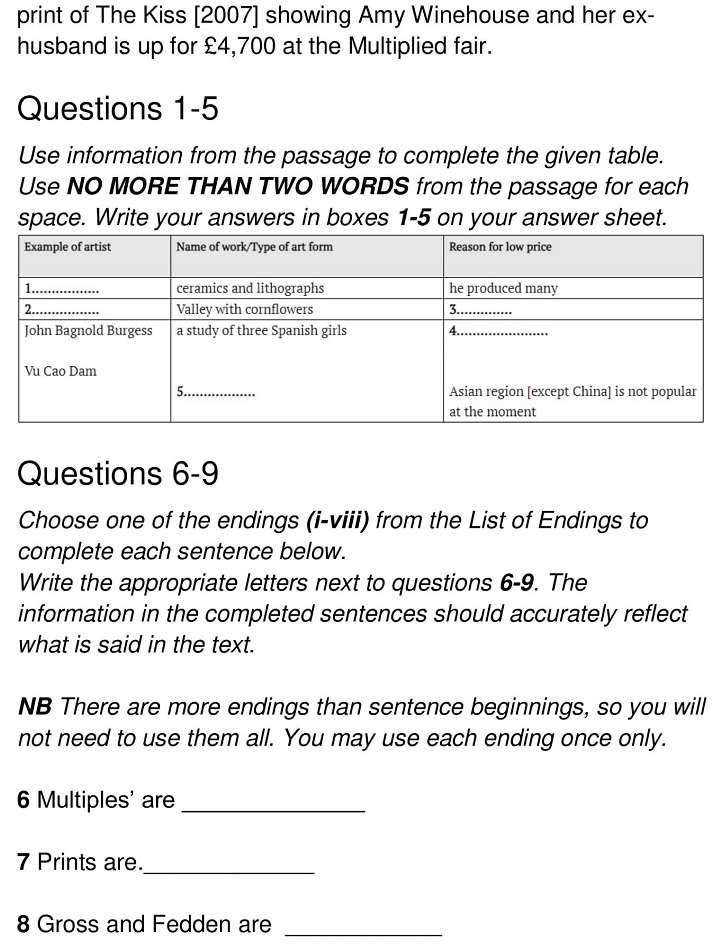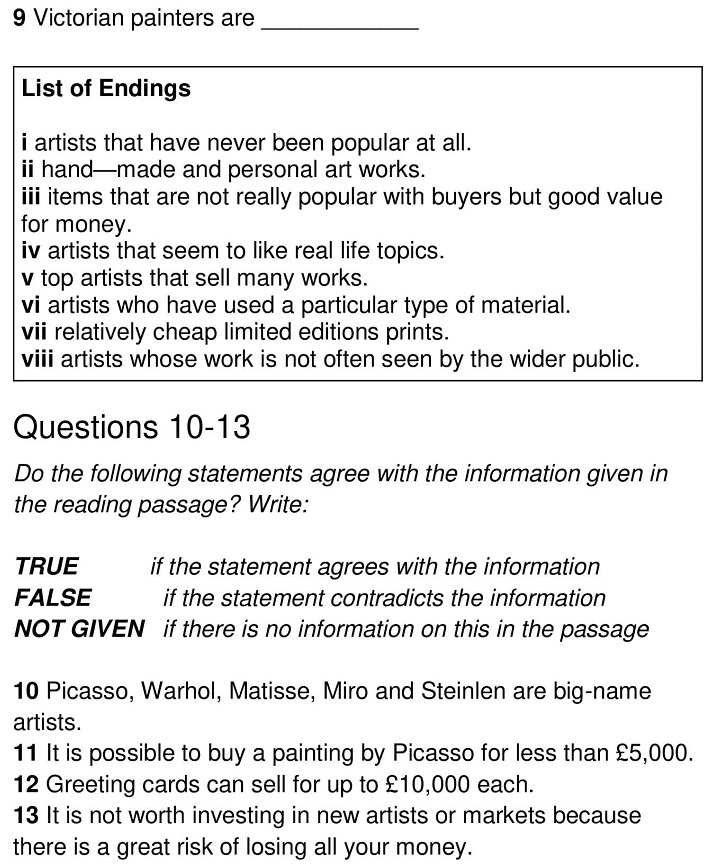 Answers
Unlock Answer
Signup/Login and get access to the answers
The answers to questions 1-13 are given below along with their explanations.
Question Number
Answer
Keywords
Locations of Keywords

1

Picasso

Picasso, iconic names in art, ceramics, lithographs

Para 2, lines 2-3

2

Anthony Gross

Valley with cornflowers, Anthony Gross

Para 6, lines 4-5

3

Lesser-known artist

smarter, buy, good one—offs, lesser-known artists

Para 5, last 2 lines

4

Uncool style

affordable, style, considered 'uncool'

Para 8, line 1

5

Oil painting

1962 oil, Vu Cao Dam

Para 12, lines 3-4

6

vii

multiples, prints, screen prints, lithographs, limited editions.

Para 3, line 4

7

iii

There's still prejudice against prints

Para 4, line 4

8

vi

oil by Anthony Gross

oils by the popular Mary Fedden

Para 6, line 5;

Para 7, lines 2-3

9

iv

Hampstead landscape, Frederick William Watts, a study of three Spanish girls, John Bagnold Burgess

Para 8, last 2 lines

10

TRUE

big-name artists, including Pablo Picasso and Andy Warhol

Christie's sale, Picasso, Matisse, Micro and Steinlen

Para 1, line 2

Para 4, line 1

11

NOT GIVEN

12

NOT GIVEN

13

FALSE

It can be smarter, buy, good one—offs, lesser-known artists

Para 5, last 2 lines
Check More IELTS Reading Answers
Also check :