Communicating Styles And Conflict IELTS Reading Answers
Janice Thompson,
Updated On
The Reading Module of the IELTS can be the top scoring category, with diligent practice. To achieve the best results in this section, you must understand how to approach and answer the different Question types in the Reading Module. By solving and reviewing Sample Reading Questions from past IELTS papers, you can ensure that your Reading skills are up to the mark.
The Academic passage 'Communicating Styles And Conflict' is a reading passage that appeared in an IELTS Test.
Since questions get repeated in the IELTS exam, these passages are ideal for practice. If you want more practice, try taking an IELTS reading practice test.
Communicating Styles And Conflict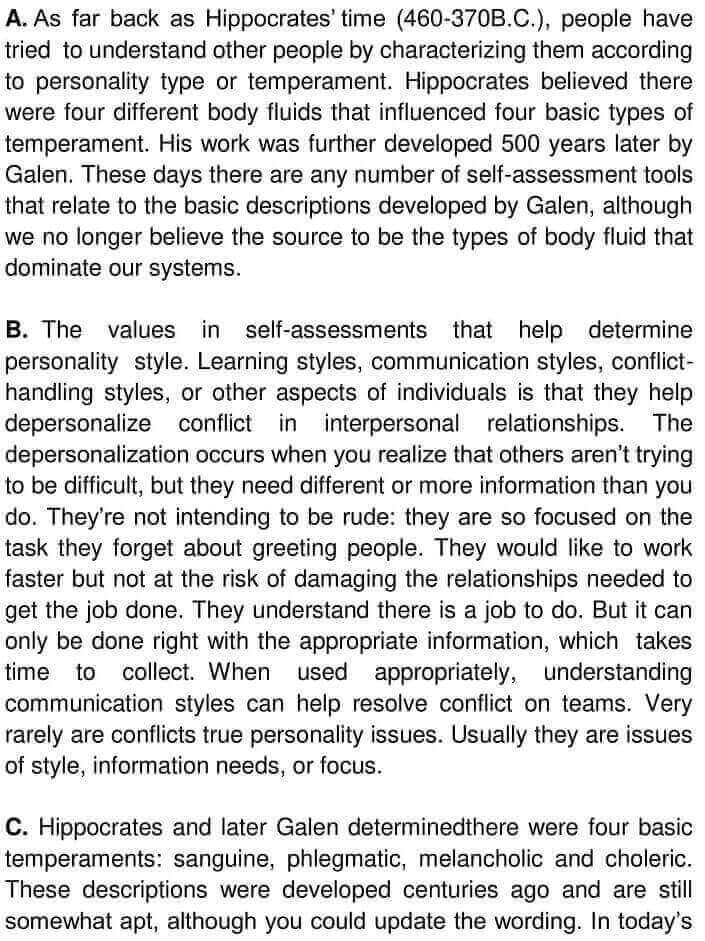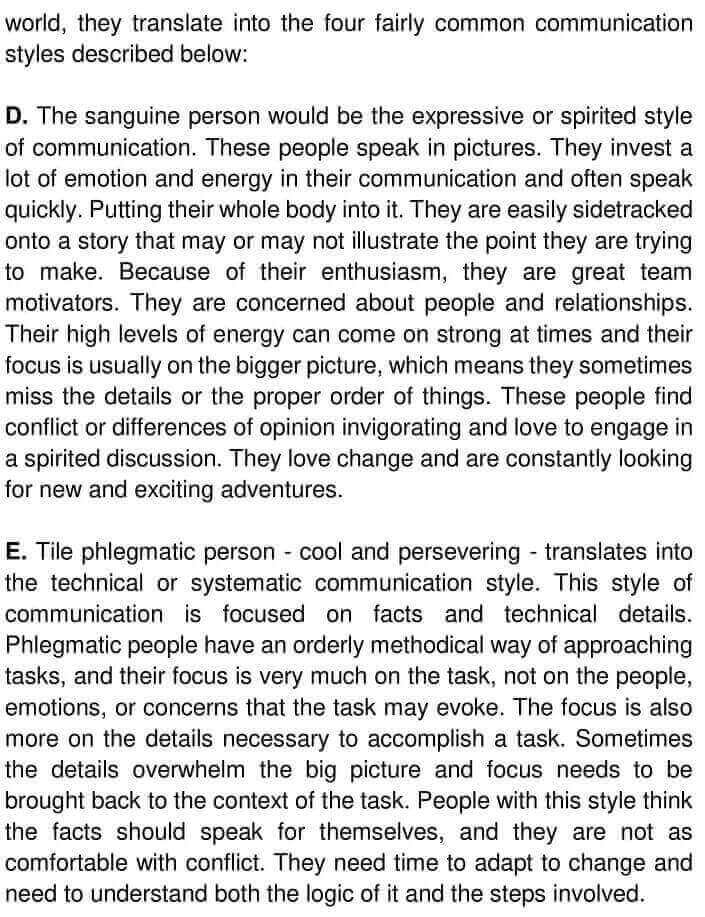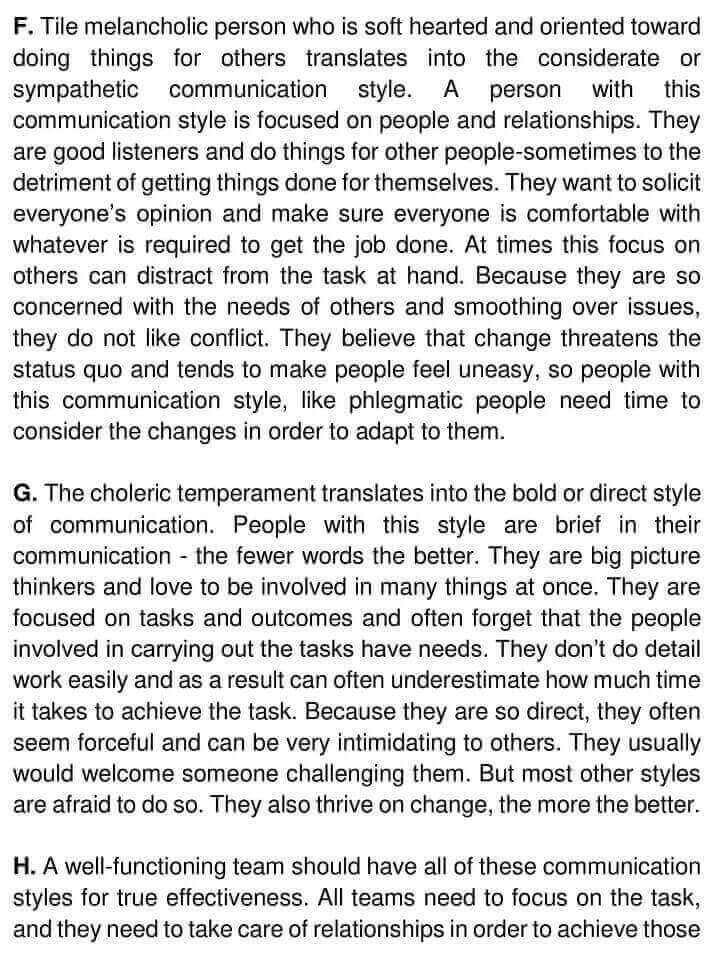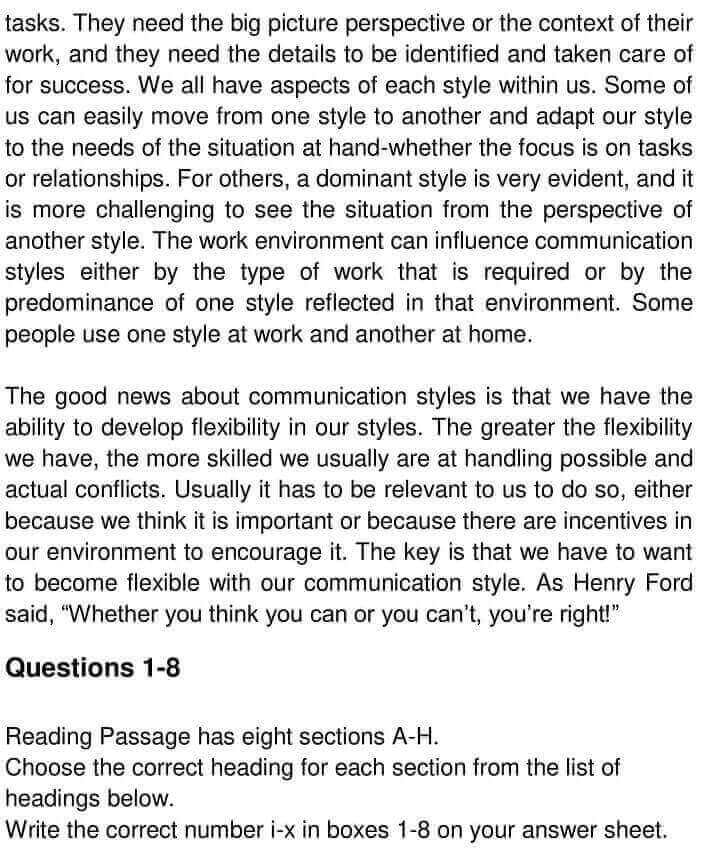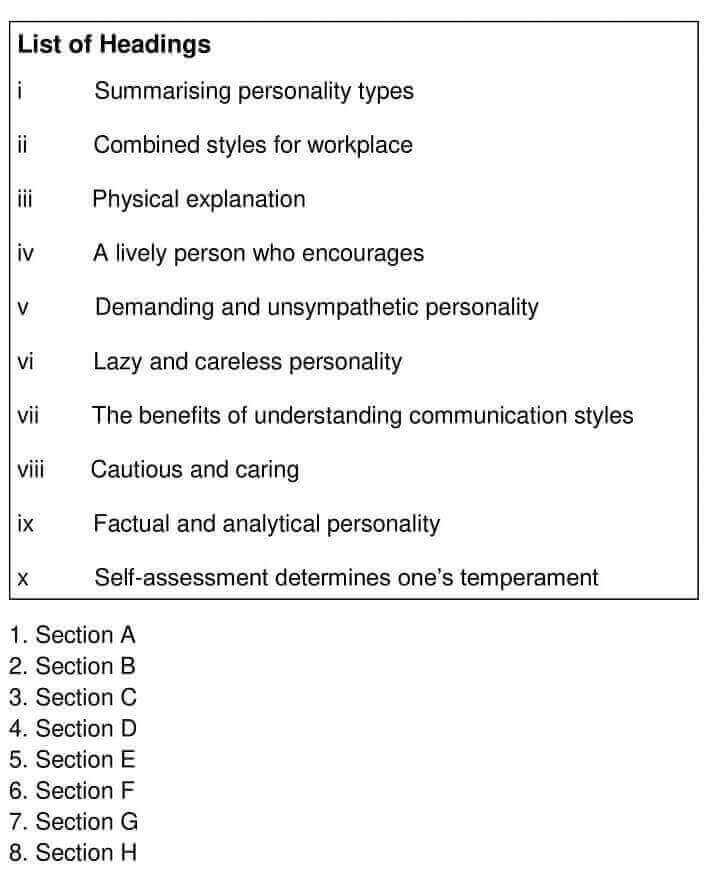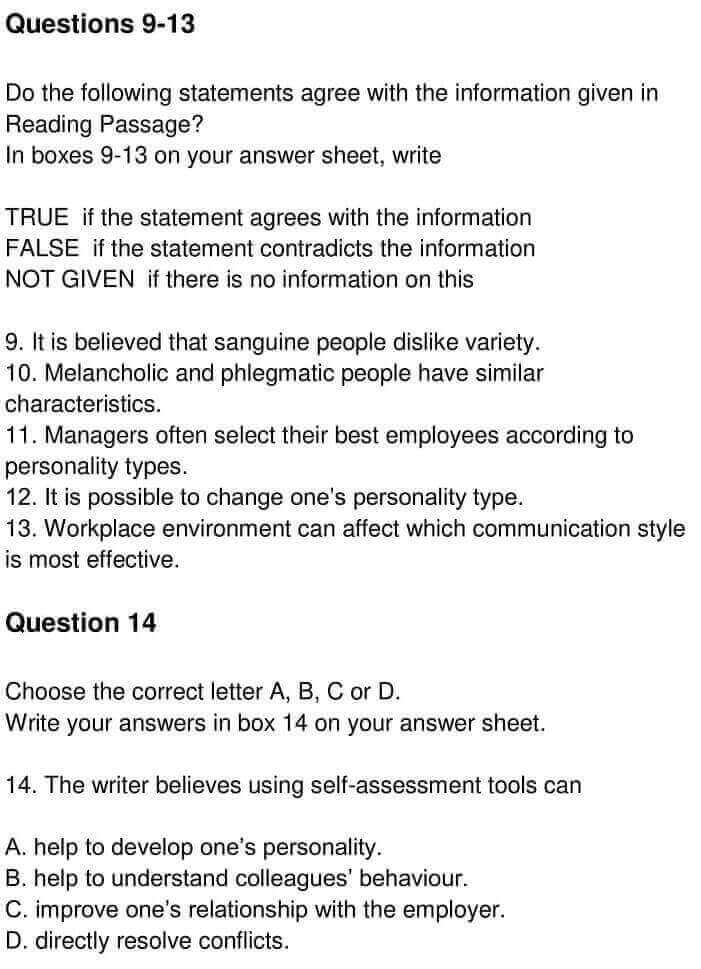 Answers
Question number 
Answer 
Keywords 
Location of keywords

1

iii

Hippocrates believed there were four different body fluids that influenced four basic types of temperament.

Paragraph A;

Line 2

2

vii

The  values  in  self-assessments  that  help  determine  personality  style.

Paragraph B;

Line 1

3

i

there were four basic temperaments: sanguine, phlegmatic, melancholic and choleric

Paragraph C;

Line 1

4

iv

Because of their enthusiasm, they are great team motivators.

Paragraph D;

Line 5

5

ix

Tile phlegmatic person – cool and persevering – translates into the technical or systematic communication style

Paragraph E;

Line 1

6

viii

Tile melancholic person who is soft hearted and oriented toward doing things for others translates into the considerate or sympathetic communication style

Paragraph F;

Line 1

7

v

They are focused on tasks and outcomes and often forget that the people involved in carrying out the tasks have needs

Paragraph G;

Line 4

8

ii

A well-functioning team should have all of these communication styles for true effectiveness

Paragraph H;

Line 1

9

FALSE

They love change and are constantly looking for new and exciting adventures.

Paragraph D;

Last line

10

TRUE

so people with this communication style, like phlegmatic people need time to consider the changes in order to adapt to them.

Paragraph F;

Last line

11

NOT GIVEN 

–

–

12

TRUE

Some of us can easily move from one style to another and adapt our style to the needs of the situation at hand-whether the focus is on tasks or relationships.

Paragraph H;

Line 4

13

TRUE

The work environment can influence communication styles either by the type of work that is required or by the predominance of one style reflected in that environment

Paragraph H;

Line 6

14

B

people  have  tried  to understand other people by characterizing them according to personality type or temperament

Paragraph A;

Line 1
Check More IELTS Reading Answers
Also check :