Crop Circles IELTS Reading Answers
Janice Thompson,
Updated On
The Academic passage 'Crop Circles' is a reading passage that appeared in an IELTS Test.
Since questions get repeated in the IELTS exam, these passages for ideal for practice. If you want more practice, try taking an IELTS reading practice test. 
Crop Circles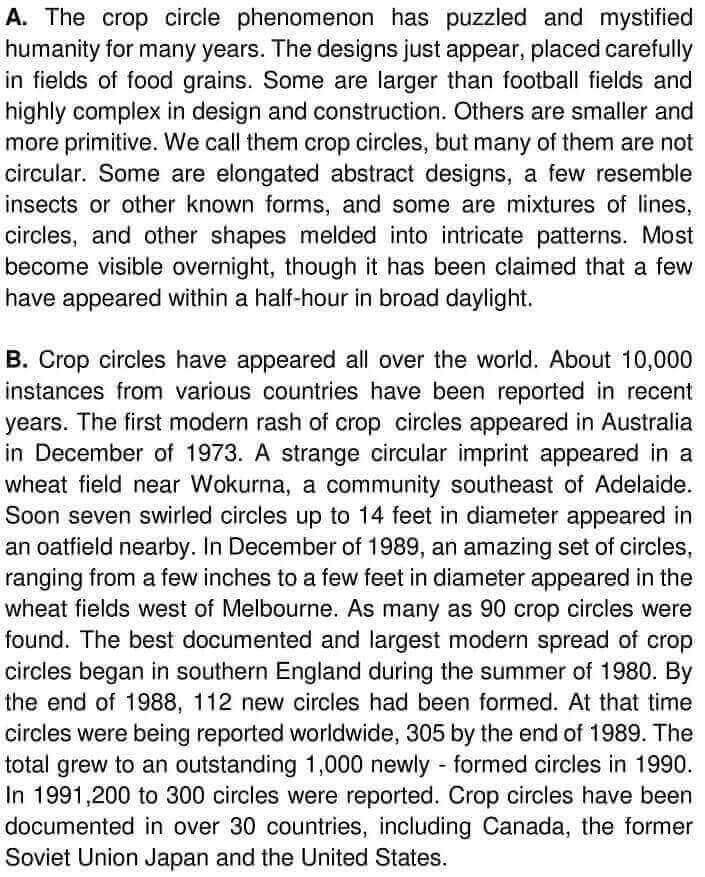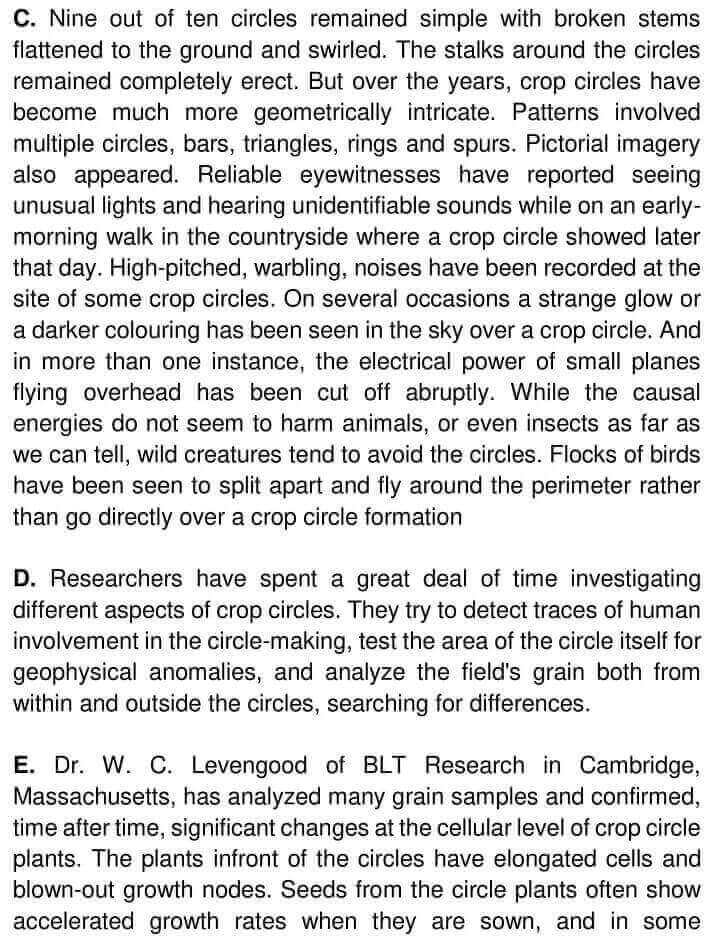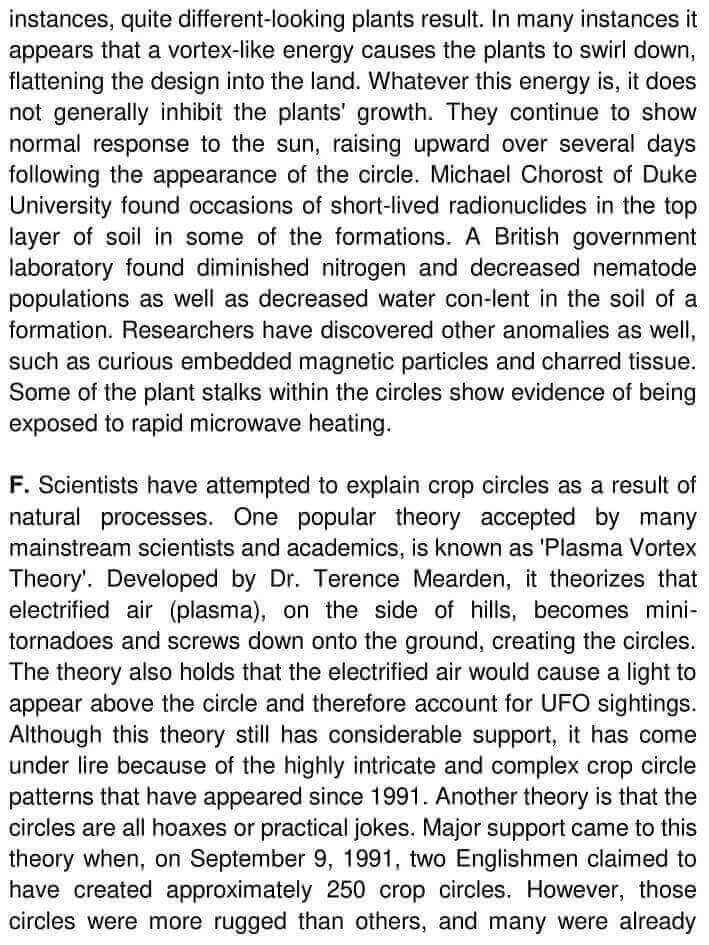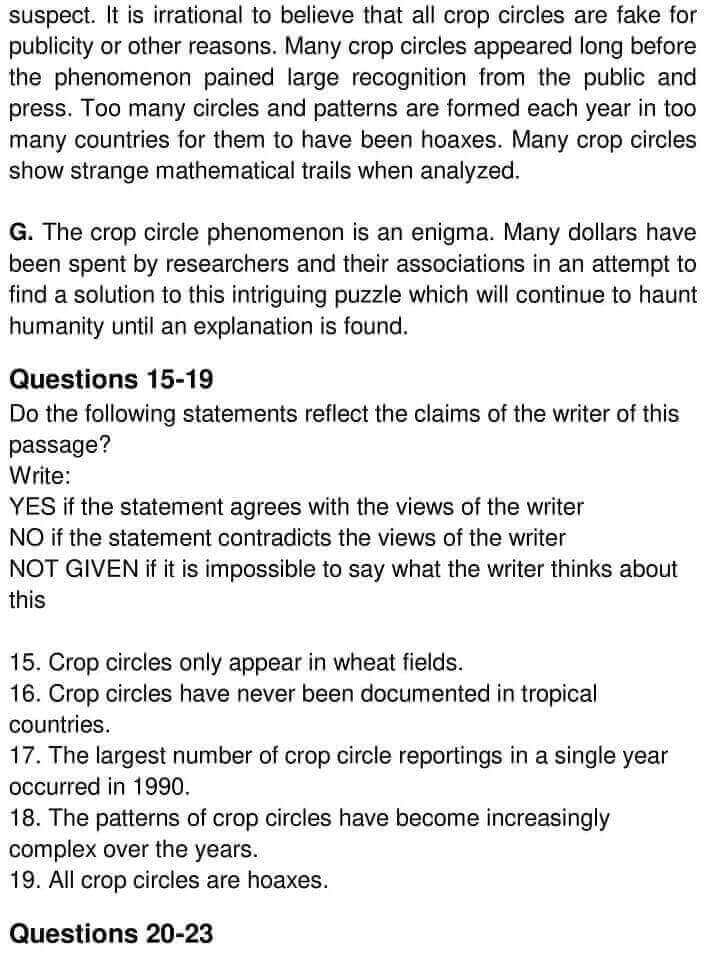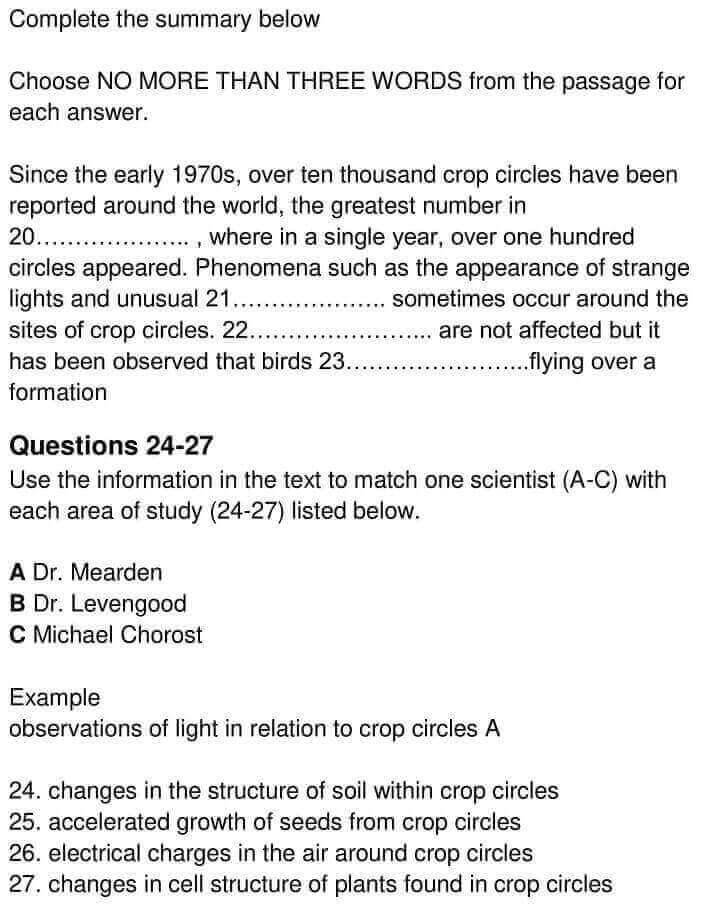 Answers
Unlock Answer
Signup/Login and get access to the answers
Question number 
Answer 
Keywords 
Location of keywords

15

NO

Crop circles have appeared all over the world.

Paragraph B;

Line 1

16

NOT GIVEN 

–

–

17

YES

The total grew to an outstanding 1,000 newly – formed circles in 1990.

Paragraph B;

Line 10

18

YES

But over the years, crop circles have become much more geometrically intricate.

Paragraph C;

Line 3

19

NO

It is irrational to believe that all crop circles are fake for publicity or other reasons.

Paragraph F;

Line 9

20

(Southern) England

The best documented and largest modern spread of crop circles

began in southern England during the summer of 1980.

Paragraph B;

Line 7

21

(high-pitched, warbling)

noises/sound

High-pitched, warbling, noises have been recorded at the site of some crop circles.

Paragraph C;

Line 6

22

animals/insects/wild creatures

While the causal energies do not seem to harm animals, or even insects as far as we can tell,

Paragraph C;

Line 9

23

avoid

wild creatures tend to avoid the circles. Flocks of birds have been seen to split apart and fly around the perimeter rather than go directly over a crop circle formation

Paragraph C;

Line 9 – end

24

C

Michael Chorost of Duke University found occasions of short-lived radionuclides in the top layer of soil in some of the formations.

Paragraph E;

Line 7

25

B

Seeds front the circle plants often show accelerated growth rates when they are sown, and in some instances, quite different-looking plants result.

Paragraph E;

Line 3

26

A

Developed by Dr. Terence Mearden it theorizes that electrified air (plasma), on the side of hills, becomes mini-tornadoes and screws down onto the ground, creating the circles.

Paragraph F;

Line 3

27

B

Dr. W. C. Levengood of BLT Research in Cambridge, Massachusetts, has analyzed many grain samples and confirmed, time after time, significant changes at the cellular level of crop circle plants. 

Paragraph E;

Line 1 
Check More IELTS Reading Answers
Also check :