IELTS Academic Reading 'Saving The Soil' Answers
Courtney Miller,
Updated On
The Academic passage 'Saving The Soil' is a reading passage that appeared in an IELTS Test.
Since questions get repeated in the IELTS exam, these passages are ideal for practice. If you want more practice, try taking an IELTS reading practice test.
Saving The Soil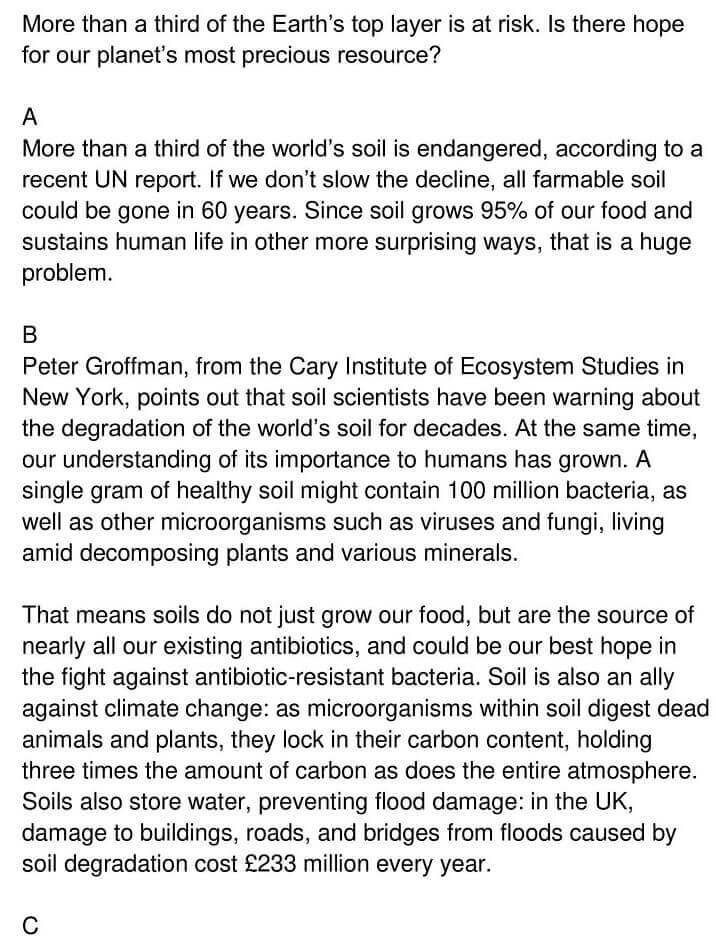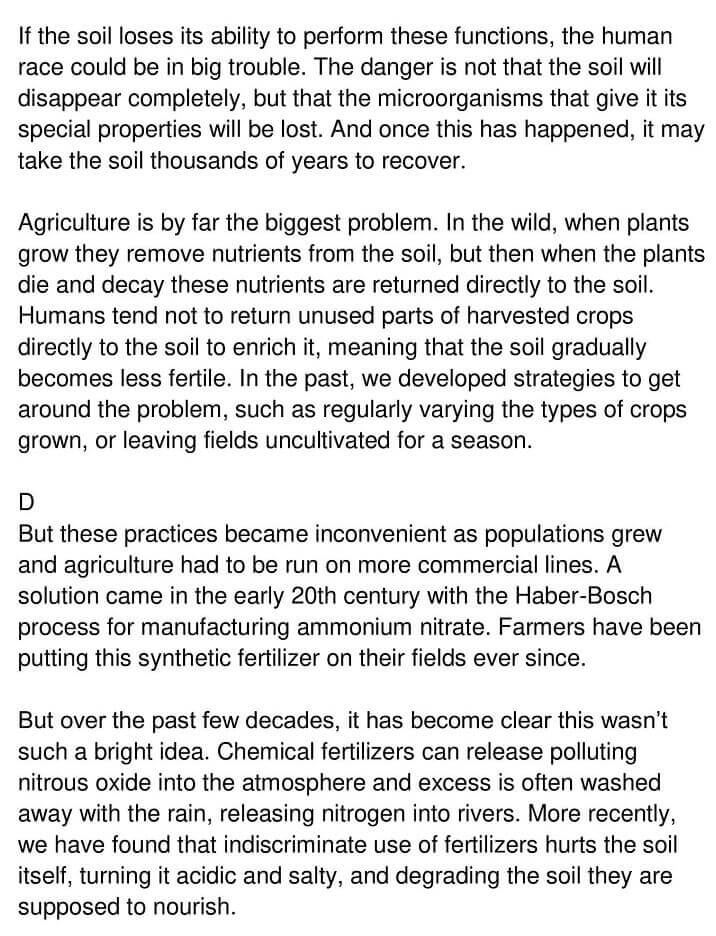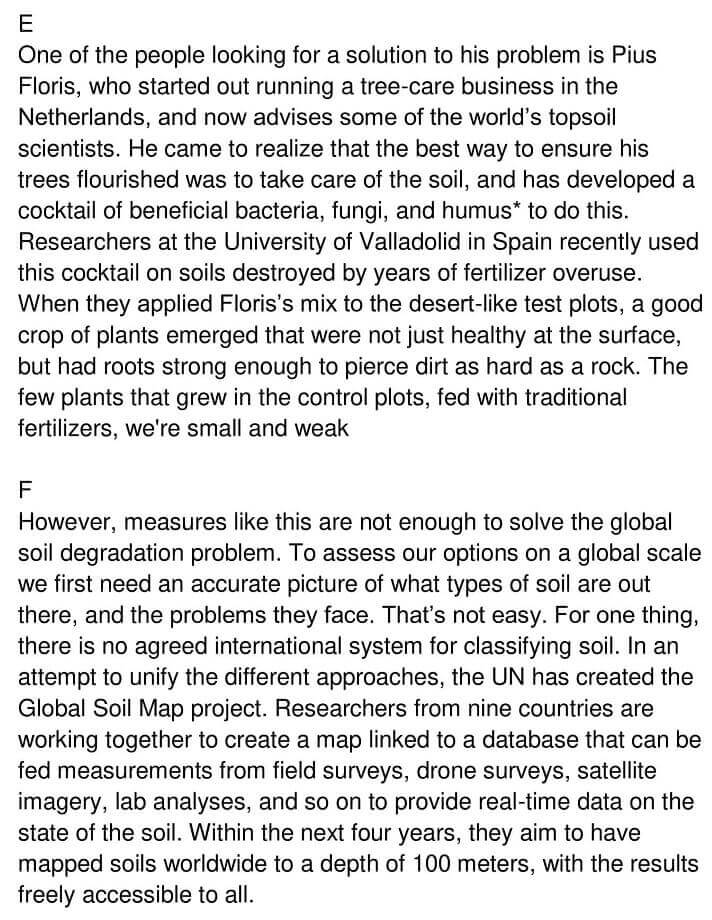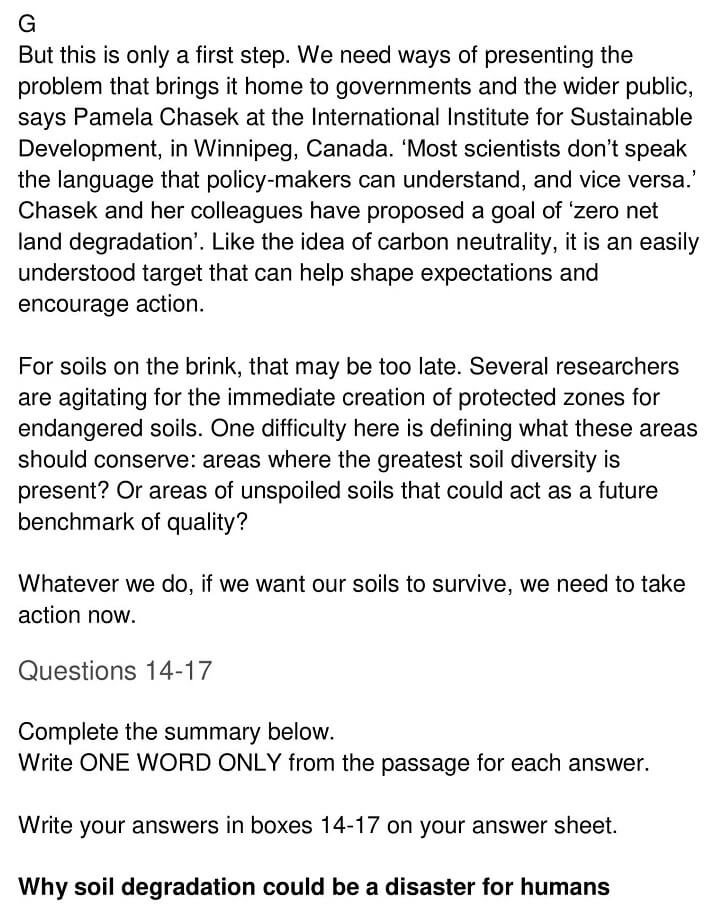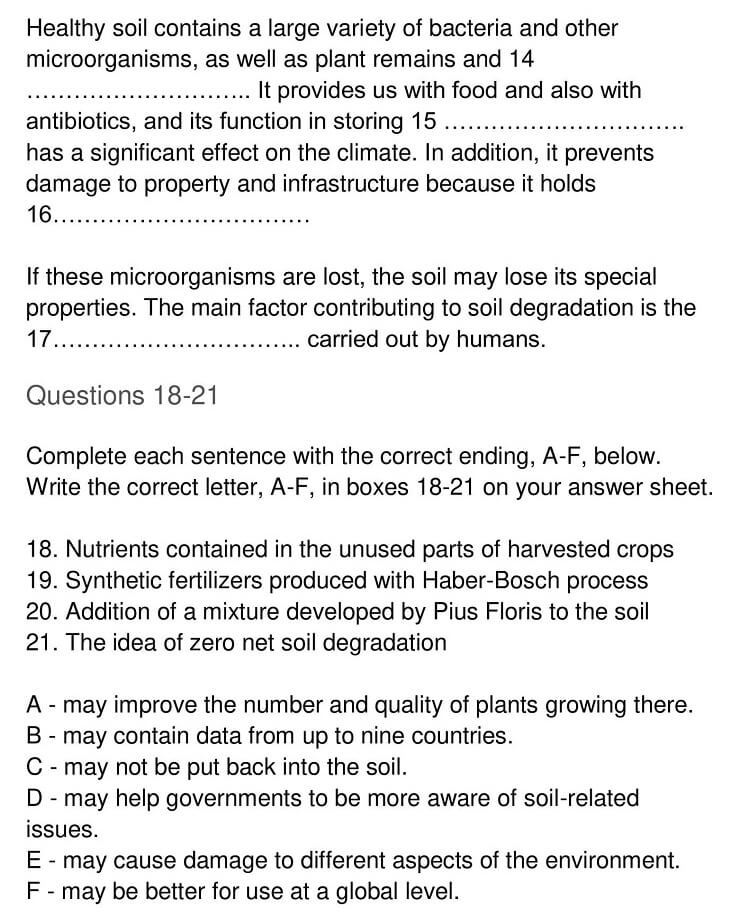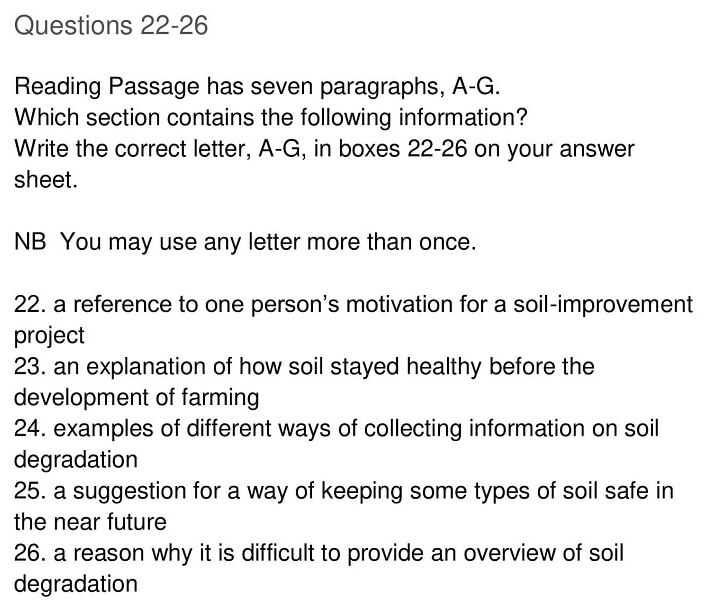 Answers
The answers with explanations are given below
| Question Number | Answers | Keywords | Location of Keywords |
| --- | --- | --- | --- |
| 14. | minerals | microorganisms, viruses and fungi, living amid decomposing plants | Paragraph B, Lines 6-7 |
| 15. | carbon | Digest dead animals and plants, they lock in their carbon content, holding three times the amount  | Paragraph B, Lines 10-13 |
| 16. | water | Preventing flood damage, damage to buildings, roads, and bridges  | Paragraph B, Last 3 lines |
| 17. | agriculture | Agriculture, the biggest problem, the soil gradually becomes less fertile. | Paragraph C, Lines 6-11 |
| 18. | C | Not to return unused parts of harvested crops, the soil gradually becomes less fertile. | Paragraph C, Lines 9-11 |
| 19. | E | Chemical fertilizers can release polluting nitrous oxide into the atmosphere, indiscriminate use of fertilizers hurts the soil itself, and degrading the soil | Paragraph D |
| 20. | A | When they applied Floris's mix to the desert-like test plots, a good crop of plants emerged  | Paragraph E, Lines 9-11 |
| 21. | D | We need ways of presenting the problem that brings it home to governments and the wider public, have proposed a goal of 'zero net land degradation | Paragraph G, First 7 lines |
| 22. | E | One of the people, is Pius Floris, who started out running a tree-care business | Paragraph E |
| 23. | C | In the wild, plants grow, remove nutrients from the soil, when the plants die, these nutrients are returned directly to the soil.  | Paragraph C |
| 24. | F | Create a map linked to a database, be fed measurements from field surveys, drone surveys, satellite imagery, lab analyses | Paragraph F |
| 25. | G | Proposed a goal, 'zero net land degradation'. | Paragraph G |
| 26. | F | An accurate picture of, types of soil, and the problems they face. That's not easy.  | Paragraph F |
Check More IELTS Reading Answers
Also check :