Fair Games? IELTS Reading Answers
Janice Thompson,
Updated On
The Academic passage 'Fair Games?' is a reading passage that appeared in an IELTS Test.
Ideally, you should not spend more than 20 minutes on a passage. Let's see how easy this passage is for you and if you're able to make it in 20 minutes. If not, try more IELTS reading practice tests from IELTSMaterial.com
Fair Games?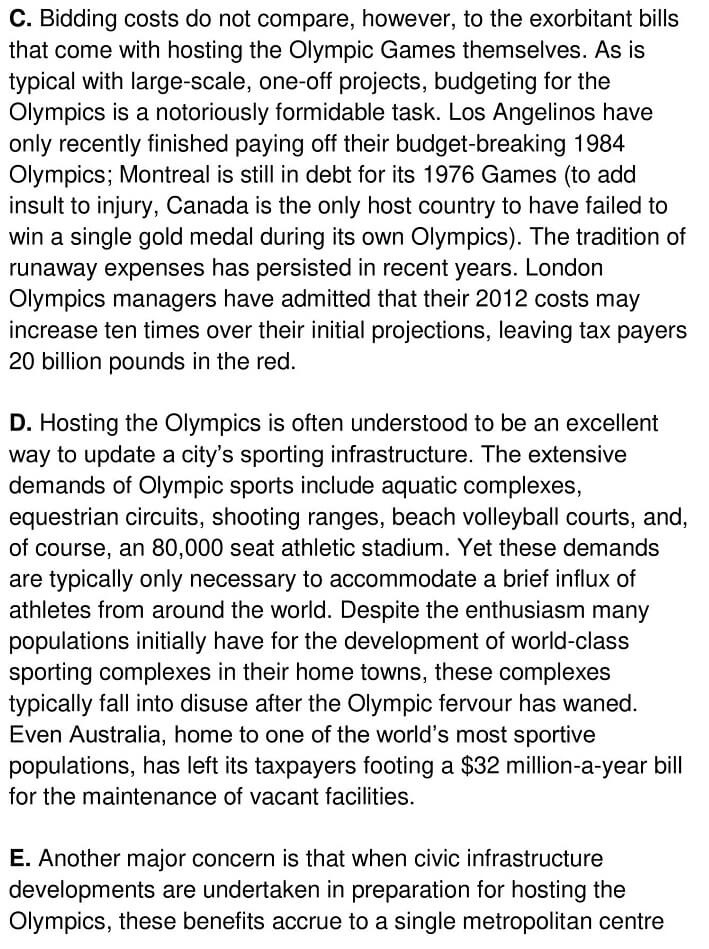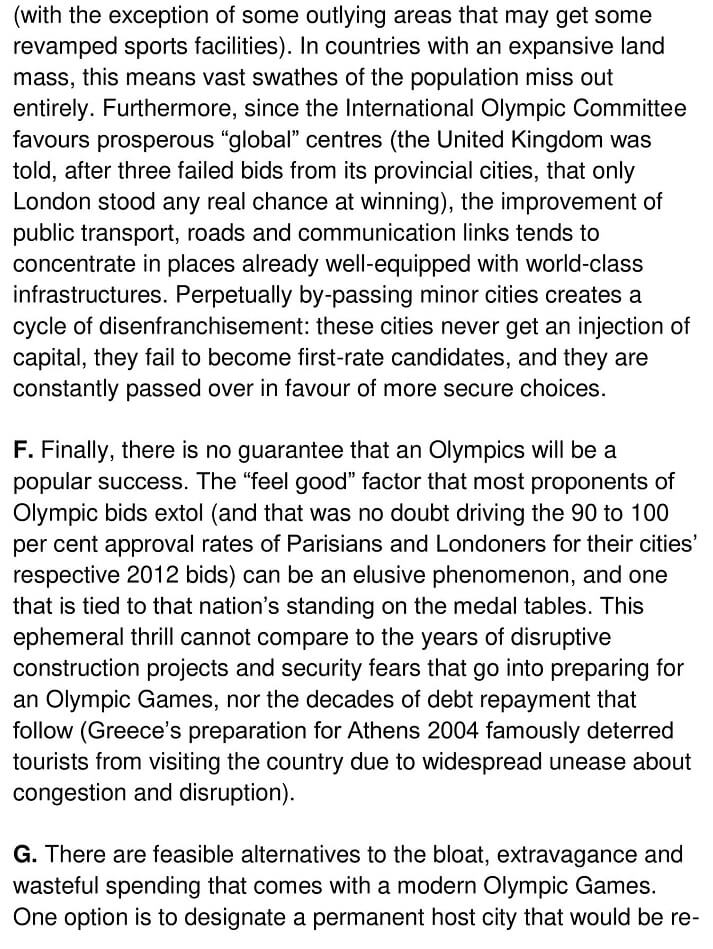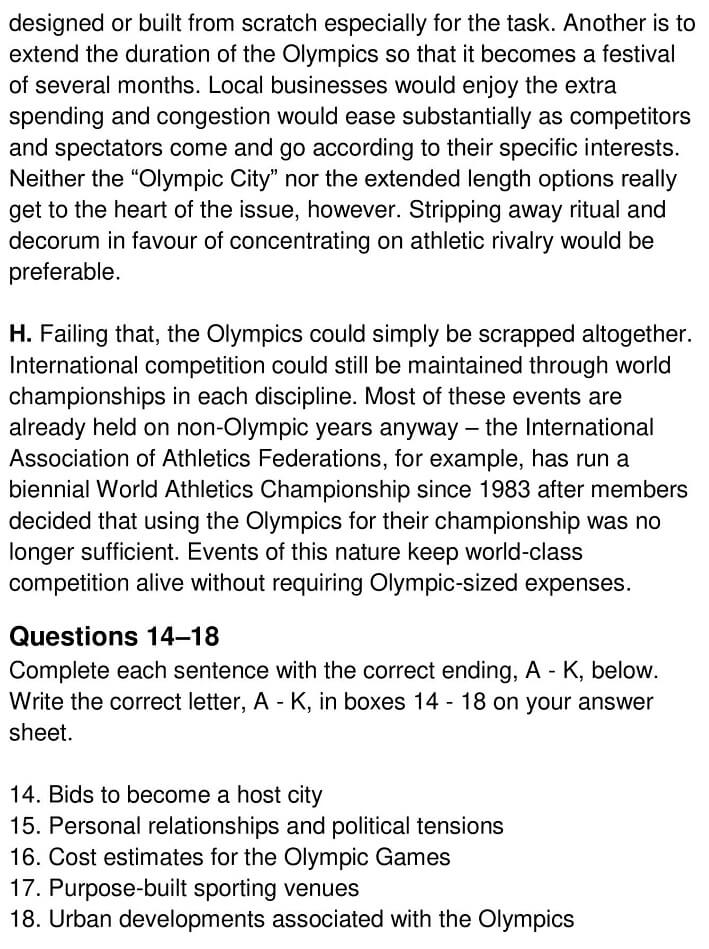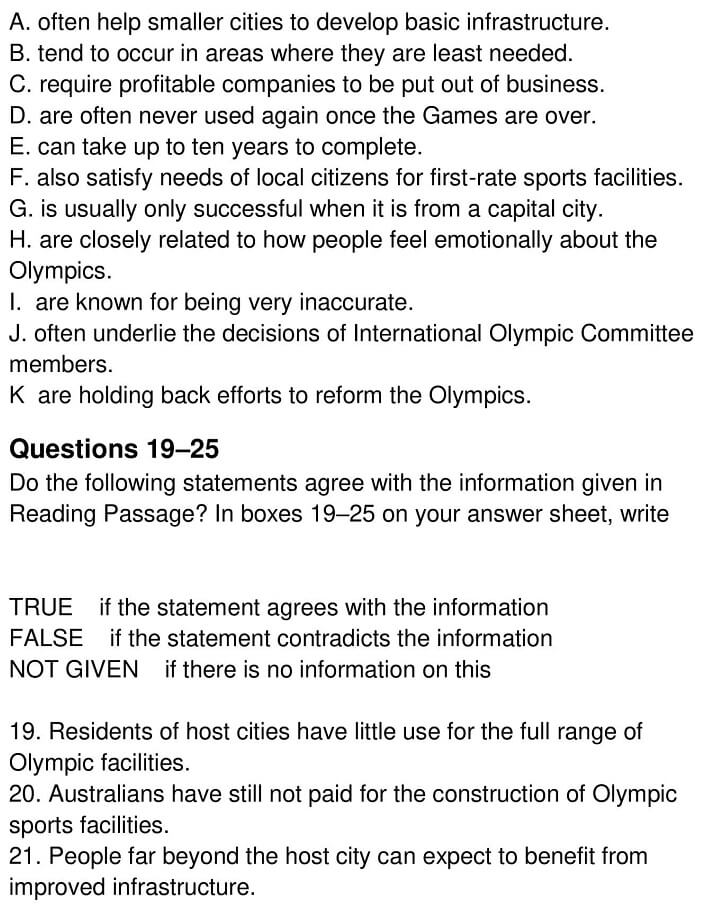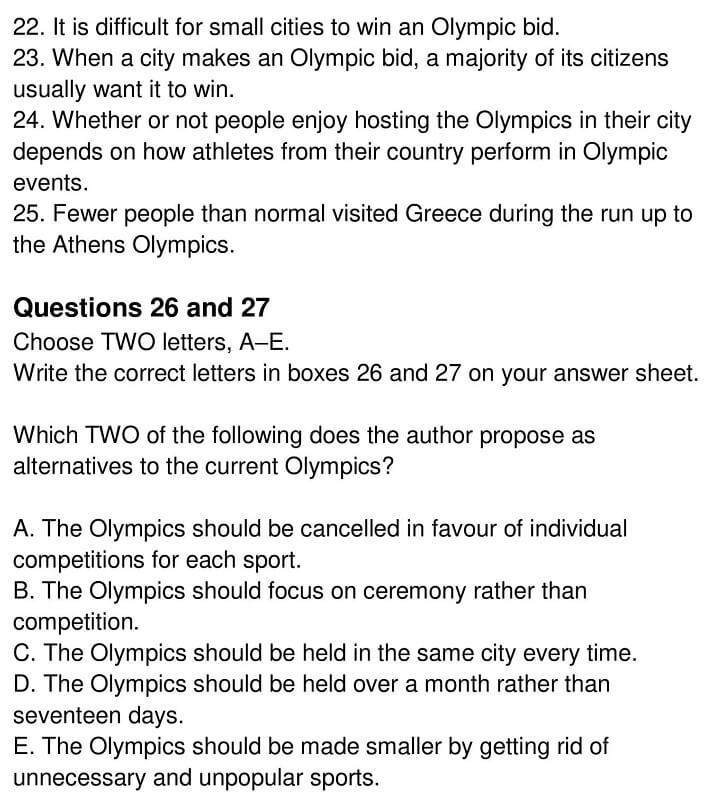 Answers
Unlock Answer
Signup/Login and get access to the answers
Question number 
Answer 
Keywords 
Location of keywords

14

E

while officially bidding only takes two years (for cities that make the shortlist), most cities can expect to exhaust a decade working on their bid from the moment it is initiated to the announcement of voting results from International Olympic Committee members.

Paragraph B;

Line 2

15

J

All of this can be for nothing if a bidding city does not appease the whims of IOC members – private connections and opinions on government conduct often hold sway (Chicago's 2012 bid is thought to have been undercut by tensions over U.S. foreign policy).

Paragraph B;

Last line 

16

I

budgeting for the Olympics is a notoriously formidable task. Los Angelinos have only recently finished paying off their budget-breaking 1984 Olympics; Montreal is still in debt for its 1976 Games. The tradition of runaway expenses, London Olympics managers have admitted that their 2012 costs may increase ten times over their initial projections, leaving tax payers 20 billion pounds in the red.

Paragraph C;

Line 2 – end

17

D

Despite the enthusiasm many populations initially have for the development of world-class sporting complexes in their home towns, these complexes typically fall into disuse after the Olympic fervour has waned.

Paragraph D;

Line 4

18

B

Furthermore, since the International Olympic Committee favours prosperous "global" centres (the United Kingdom was told, after three failed bids from its provincial cities, that only London stood any real chance at winning), the improvement of public transport, roads and communication links tends to concentrate in places already well-equipped with world-class infrastructures.

Paragraph E;

Line 3

19

TRUE

Despite the enthusiasm many populations initially have for the development of world-class sporting complexes in their home towns, these complexes typically fall into disuse after the Olympic fervour has waned.

Paragraph D;

Line 4

20

NOT GIVEN

–

–

21

FALSE

Another major concern is that when civic infrastructure developments are undertaken in preparation for hosting the Olympics, these benefits accrue to a single metropolitan centre (with the exception of some outlying areas that may get some revamped sports facilities).

Paragraph E;

Line 1

22

TRUE

Perpetually by-passing minor cities creates a cycle of disenfranchisement: these cities never get an injection of capital, they fail to become first-rate candidates, and they are constantly passed over in favour of more secure choices.

Paragraph E;

Last line

23

NOT GIVEN

–

–

24

TRUE

The "feel good" factor that most proponents of Olympic bids extol (and that was no doubt driving the 90 to 100 per cent approval rates of Parisians and Londoners for their cities' respective 2012 bids) can be an elusive phenomenon, and one that is tied to that nation's standing on the medal tables.

Paragraph F;

Line 2

25

TRUE

Greece's preparation for Athens 2004 famously deterred tourists from visiting the country due to widespread unease about congestion and disruption

Paragraph F;

Last line

26

C

One option is to designate a permanent host city that would be re-designed or built from scratch especially for the task.

Paragraph G;

Line 2

27

A

Failing that, the Olympics could simply be scrapped altogether. International competition could still be maintained through world championships in each discipline.

Paragraph H;

Lines 1 -2
Check More IELTS Reading Answers
Also check :