Dawn Of The Robots IELTS Reading Answers
Janice Thompson,
Updated On
The Academic passage 'Dawn Of The Robots' is a reading passage that appeared in an IELTS Test.
Since questions get repeated in the IELTS exam, these passages are ideal for practice. If you want more practice, try taking an IELTS reading practice test.
Dawn Of The Robots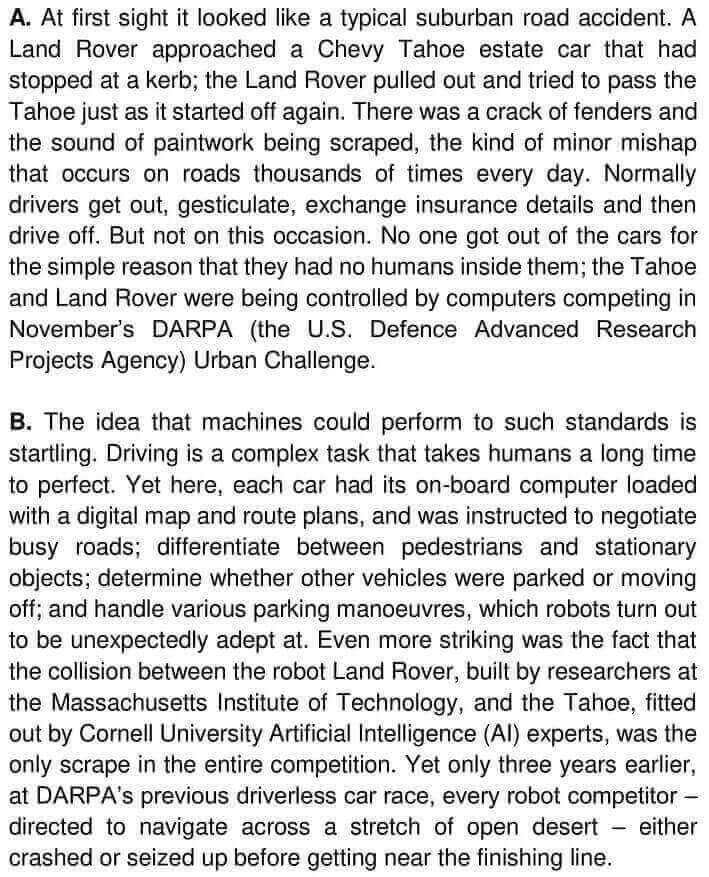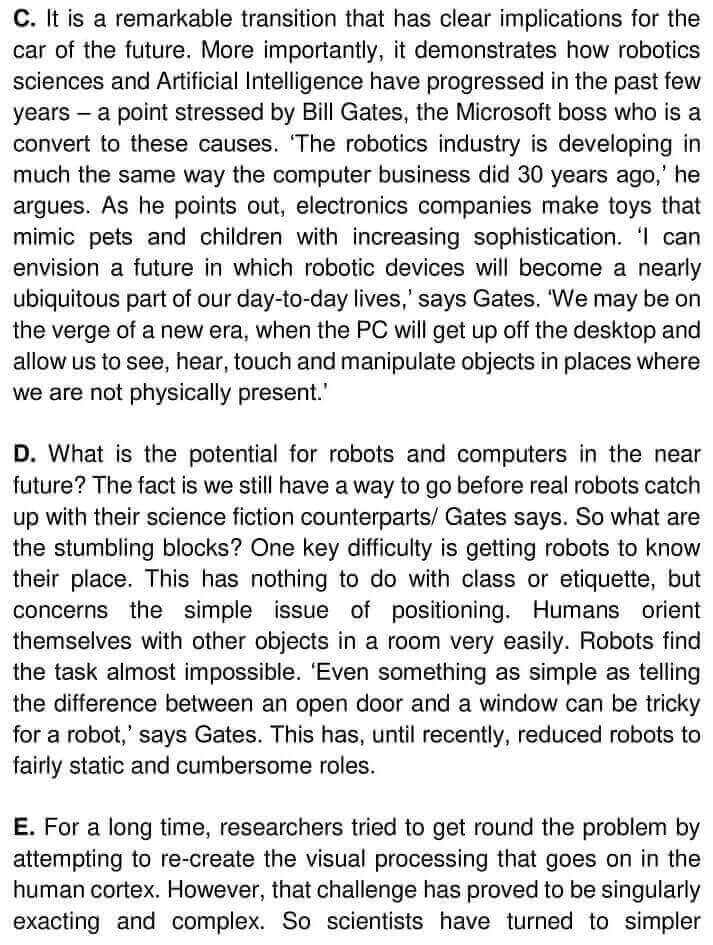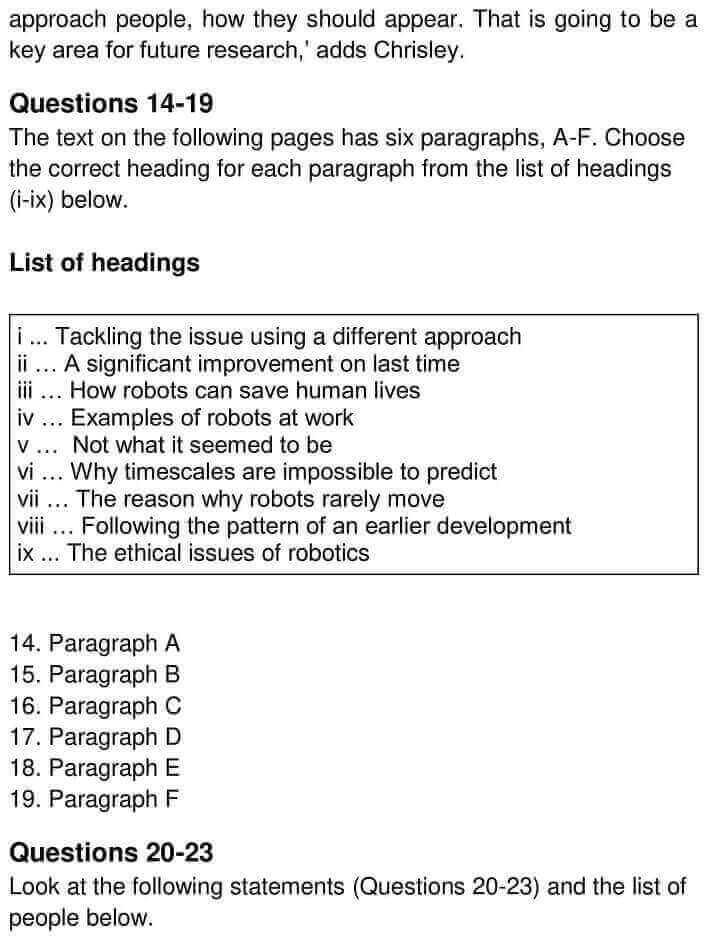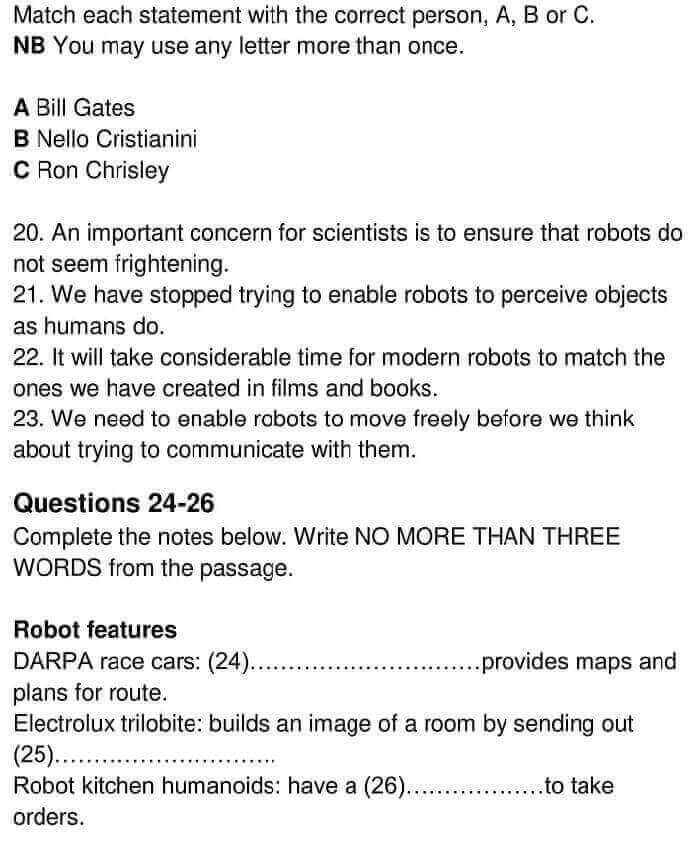 Answers
Question number 
Answer 
Keywords 
Location of keywords

14

v

At first sight it looked like a typical suburban road accident.

Paragraph A;

Line 1

15

ii

Yet here, each car had its on-board computer loaded with a digital map and route plans, and was instructed to negotiate busy roads; differentiate between pedestrians and stationary objects;

&

 Yet only three years earlier, at DARPA's previous driverless car race, every robot competitor – directed to navigate across a stretch of open desert – either crashed or seized up before getting near the finishing line.

Paragraph B;

Line 3

&

Last line 

16

viii

The robotics industry is developing in much the same way the computer business did 30 years ago,'

Paragraph C;

Line 3

17

vii

Humans orient themselves with other objects in a room very easily. Robots find the task almost impossible.

Paragraph D;

Lines 6 -7

18

i

'We are no longer trying to re-create human functions. Instead, we are looking for simpler solutions with basic electronic sensors, for example.'

Paragraph E;

Lines 4 – 5

19

iv

a new Hong Kong restaurant, Robot Kitchen, opened with a couple of sensor-laden humanoid machines

&

In Japan, University of Tokyo researchers recently unveiled a kitchen 'android' that could wash dishes, pour tea and make a few limited meals.

Paragraph F;

Line 1

&

Line 4

20

C

Machines such as these take researchers into the field of socialised robotics: how to make robots act in a way that does not scare or offend individuals.

Paragraph F;

Line 9

21

B

'We are no longer trying to re-create human functions.

Paragraph E;

Line 4

22

A

The fact is we still have a way to go before real robots catch up with their science fiction counterparts/ Gates says.

Paragraph D;

Line 2

23

C

'Robots first learn basic competence – how to move around a house without bumping into things.

Paragraph F;

Line 7

24

onboard computer

Yet here, each car had its on-board computer loaded with a digital map and route plans, and was instructed to negotiate busy roads; differentiate between pedestrians and stationary objects;

Paragraph B;

Line 3

25

ultrasound signals

The Trilobite scuttles around homes emitting ultrasound signals to create maps of rooms, which are remembered for future cleaning.

Paragraph E;

Line 7

26

touchscreen

Each possesses a touch-screen on which orders can be keyed in.

Paragraph F;

Line 2
Check More IELTS Reading Answers
Also check :