Employment in Japan – IELTS Reading Answers
Justin,
Updated On
The Academic passage 'Employment in Japan' is a reading passage that appeared in an IELTS Test.
Since questions get repeated in the IELTS exam, these passages are ideal for practice. If you want more practice, try taking an IELTS reading practice test.
Employment in Japan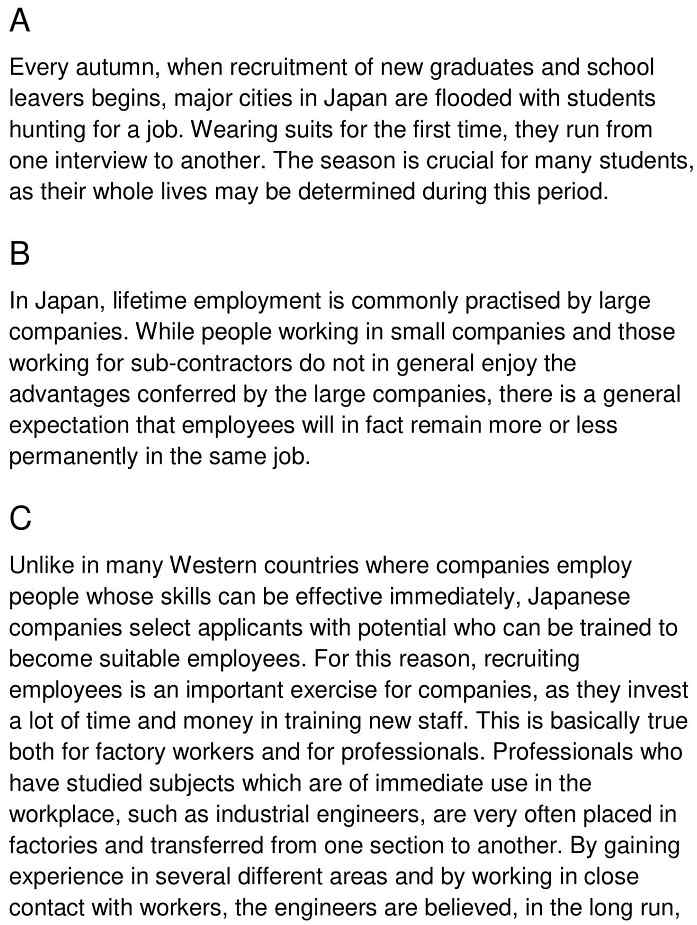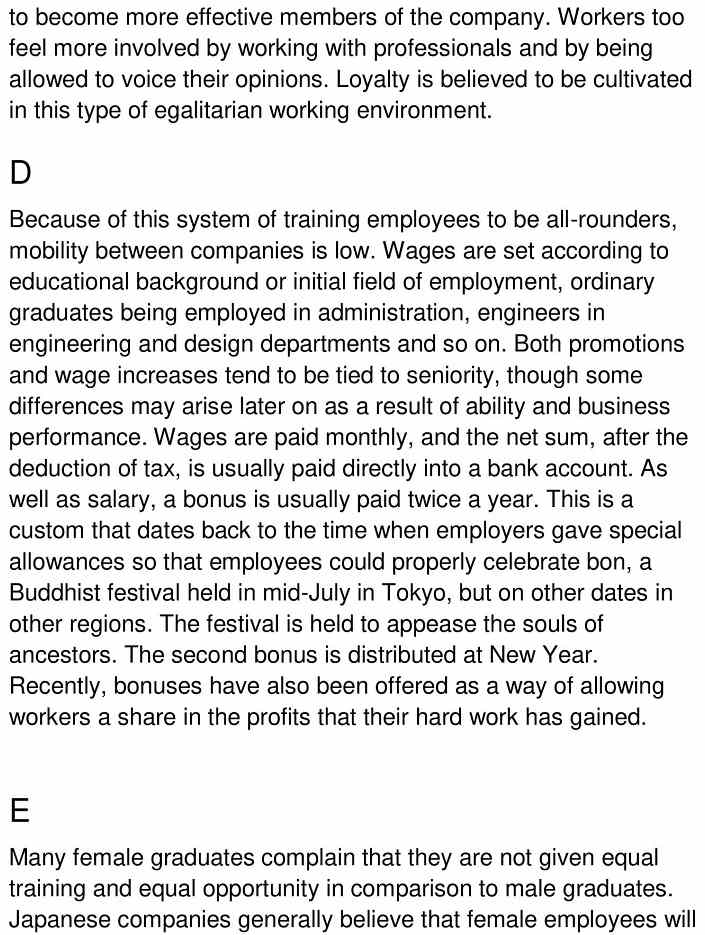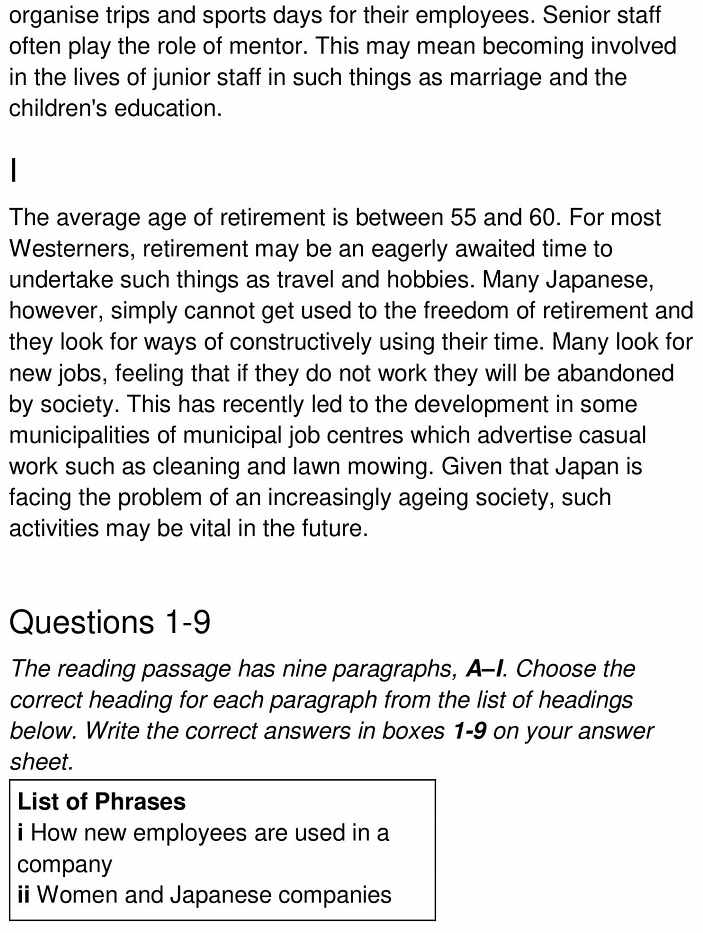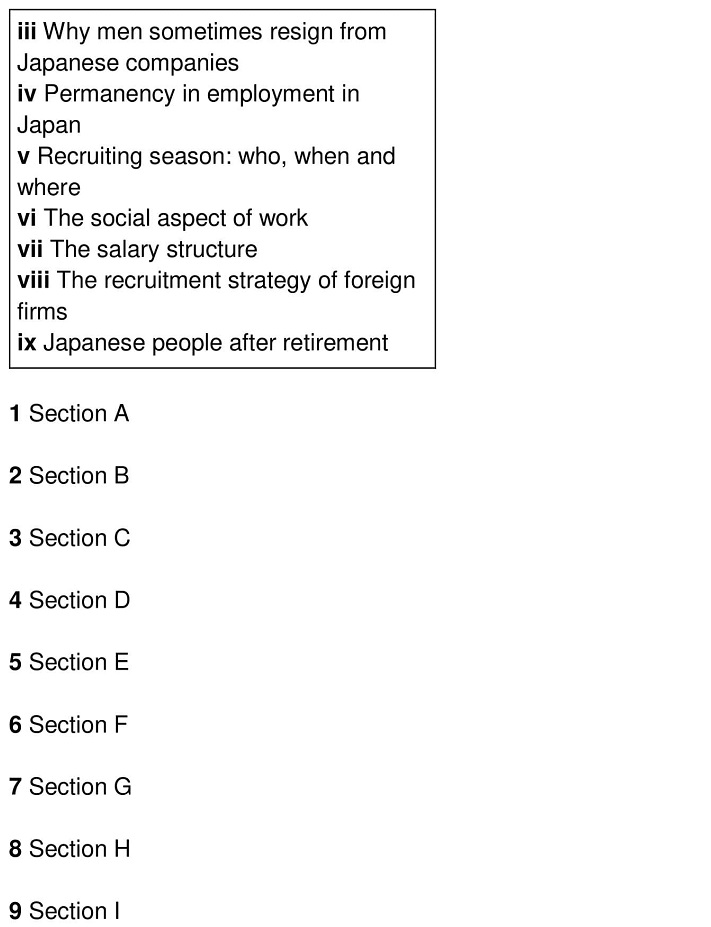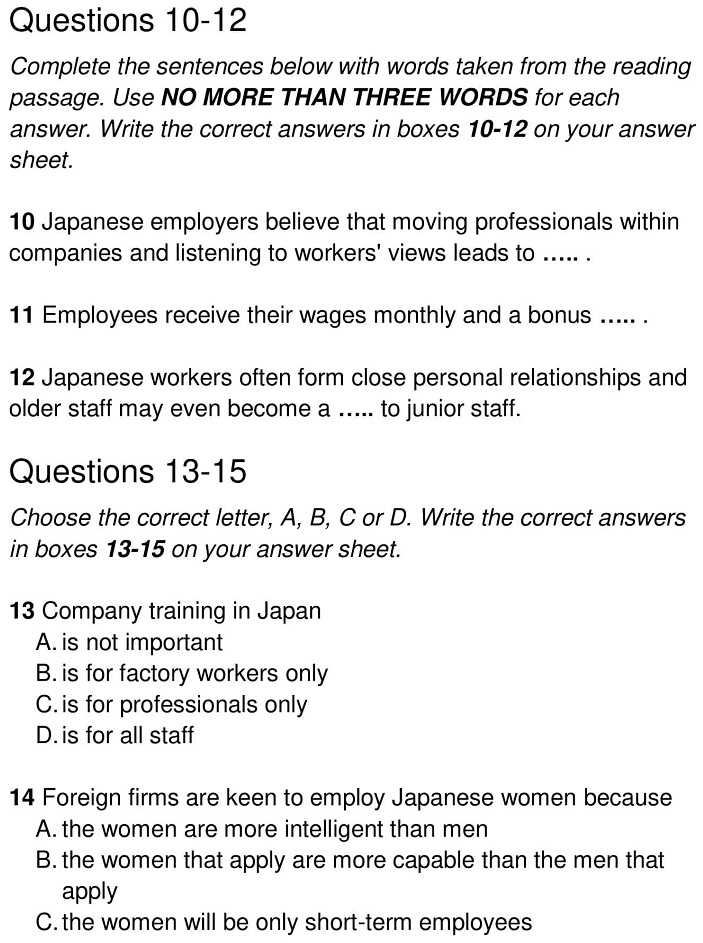 Answers
Question number 
Answer
Explanation

1

v

In paragraph A, there's a line that mentions,

"when recruitment of new graduates and school leavers begins, major cities in Japan are flooded with students hunting for a job."

Since this paragraph discusses recruitments, it implies that the appropriate heading would be recruiting season: who, when, and where. Also, the recruitment happens in autumn, which is the reason why it is called recruiting season. Hence, the correct answer is "v."

2

iv

Paragraph B discusses employment in Japan in more detail, where it states that

"lifetime employment is commonly practised by large companies."

Also,

"there is a general expectation that employees will, in fact, remain more or less permanently in the same job."

Therefore, we can deduce that this paragraph discusses permanent employment in Japan. Hence, the correct answer is "iv."

3

i

According to paragraph C lines

"Japanese companies select applicants with potential who can be trained to become suitable employees."

From this line, we can deduce that this paragraph talks about how new employees are used in a company. Hence, the correct answer is "i."
4

vii

Paragraph D puts forward the information that

"wages are set according to educational background or initial field of employment."

From the term 'wages', we can infer that this paragraph discusses the salary structure of employees. Hence, the correct answer is "vii."

5

ii

Paragraph E states that

"many female graduates complain that they are not given equal training and equal opportunity in comparison to male graduates."

Therefore, this paragraph covers the information about women employees of Japanese companies. Hence, the correct answer is "ii."

6

viii

In paragraph F, there's a line that mentions,

"disappointed career-minded female graduates often opt to work for foreign firms."

Moreover,

"foreign firms are often keen to employ female graduates"

This denotes the recruitment strategy of foreign firms. Hence, the correct answer is "viii."

7

iii

Paragraph G conveys that

"some men, however, do leave their companies in spite of future prospects, one reason being to take over the family business."

Therefore, this paragraph states the reasons why men sometimes resign from Japanese companies. Hence, the correct answer is "iii."

8

vi

The initial lines of paragraph H state that

"social life in fact is frequently based on the workplace."

From this line, we can deduce that this paragraph is referring to the social aspects of work. Hence, the correct answer is "vi."

9

ix

The beginning of the paragraph I mention that

"many Japanese, however, simply cannot get used to the freedom of retirement and they look for ways of constructively using their time."

Thus, this paragraph refers to the plans of Japanese people after retirement. Hence, the correct answer is "ix."

10

loyalty

Paragraph C mentions that

"workers too feel more involved by working with professionals and by being allowed to voice their opinions. Loyalty is believed to be cultivated in this type of egalitarian working environment."

From this line, we can deduce that, by allowing professionals to voice their opinions, loyalty is promoted within the employees towards the company. Hence, the correct answer is "loyalty."

11

Twice a year 

Paragraph D provides the information that

"as well as salary, a bonus is usually paid twice a year."

This line confirms that employees received bonuses twice a year. Hence, the correct answer is "twice a year."

12

mentor 

According to paragraph H,

"senior staff often play the role of mentor."

Therefore, this line confirms that old staff play the role of mentor to junior staff. Hence, the correct answer is "mentor."

13

D

As per paragraph C,

"they invest a lot of time and money in training new staff. This is basically true both for factory workers and for professionals."

As the company invests a lot of time in training all new staff, the correct answer is "D."

14

B

The last two lines of paragraph F states that

"Japanese firms with their guaranteed security, foreign firms are often keen to employ female graduates as their potential tends to be greater than that of male applicants."

Therefore, we can deduce that foreign companies are keen to hire female employees because they believe women who apply are more capable than men. Hence, the correct answer is "B."

15

B

Paragraph I conveys that

"Many Japanese, however, simply cannot get used to the freedom of retirement."

Japanese people cannot get used to retirement because they miss work. Hence, the correct answer is "B."
Check More IELTS Reading Answers
Also check :