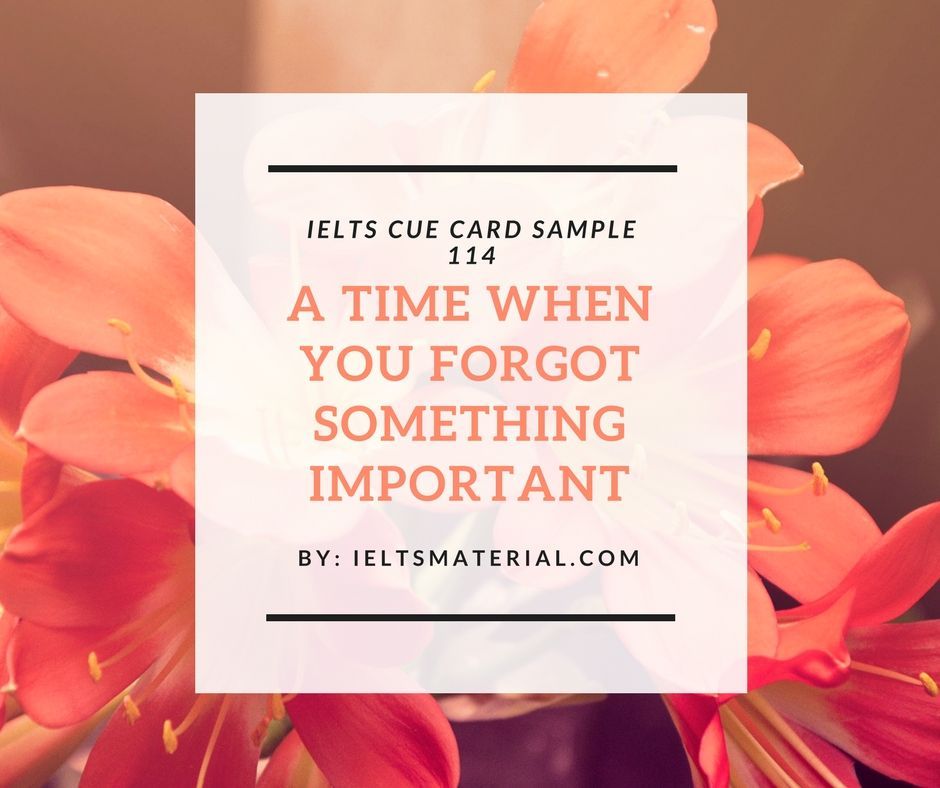 IELTS Cue Card Sample 114 Topic: Describe a time when you forgot something important.
IELTS Speaking Part 2 Topic:
Describe a time when you forgot something important.
You should say:
When it happened

What you forgot

What was the result of your forgetting and explain why it was important
Answer
To be honest, I am quite absent minded. 
I'm a Marketing Staff in a FMCG company. I am the newest member in the department because I was a fresh graduate when I applied for the job. Thus, I have almost no experience about company procedures. Once, when I was a bit tired and distracted from the tasks, my line manager called me and asked me to make a proposal and submit it to Marketing Manager for approval. The information and the plan were carefully prepared, I was only responsible for paper works as my line manager wanted to make me accustomed to internal procedures.
I needed to attach the proposal with the plan, but I forgot. Thus, when my Marketing Manager came to her table, the only thing she saw was a proposal paper with estimated budget and brief information of plan. When I realized my mistake, it was too late to correct it. I thought she would get angry and criticize me for my mistake. However, I was quite lucky to have a kind and generous boss. 
Well, everyone makes mistakes, but it would be good if we have chance to correct it. This situation was quite an embarrassment but it also helped me to know more about my boss.
VOCABULARY:
absent minded: often forget something
Ex: Laura is quite absent minded. She seems to forget everything.
procedure: a set of actions that is the official or accepted way of doing something:
Ex: The company has new procedures for dealing with complaints.
Also check :