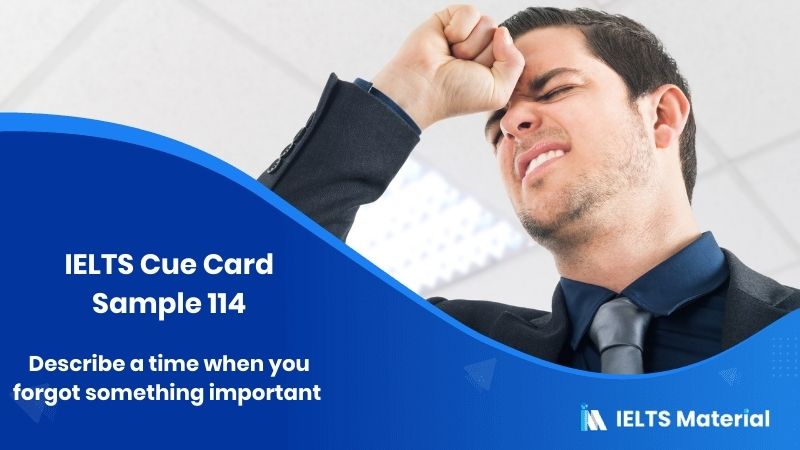 Describe a time when you forgot something important – IELTS Cue Card Sample 114
IELTS Speaking Part 2 Topic:
Describe a time when you forgot something important.
You should say:
When it happened

What you forgot

What was the result of your forgetting and explain why it was important
Answer
My memory is like a sieve and has let me down many times. But there is one incident that happened when I was in school, which made me go crazy. 
I always travelled on the school bus. It was exam time then. I was tense and nervous, even though I was thorough. I reached the bus stop was waiting for the bus to arrive. Since it was the Maths exam, I carried my geometry case and checked it over a hundred times. The bus arrived on time, and I found a seat near the window and rechecked if I had the geometry box with me. Soon, my friend came, and we were discussing questions. On reaching school, we got down and headed towards the exam hall.
I had totally forgotten about the geometry case. Only upon receiving the question paper, did I realise the need for it. I searched frantically, but in vain. I had left it on the bus. 
I informed the teacher. She was annoyed but let me share the stationery with another student. I had to wait for the student to complete the questions that involved protractors and compasses and then take it from her. I lost quite a lot of time and in my hurry to finish, did not care for the correctness of the answer. 
After this incident, I realised that forgetfulness is not a joke. Henceforth, I decided to be more careful.
Also check :