IELTS Academic Reading 'Play Is a Serious Business' Answers
Courtney Miller,
Updated On


Limited-Time Offer : Access a FREE 10-Day IELTS Study Plan!
The Academic passage 'Play Is a Serious Business' is a reading passage that appeared in an IELTS Test.
It contains some of the IELTS reading question types. If you are interested in familiarising yourself with all the question types, don't hesitate to take an IELTS reading practice test.
Play is a Serious Business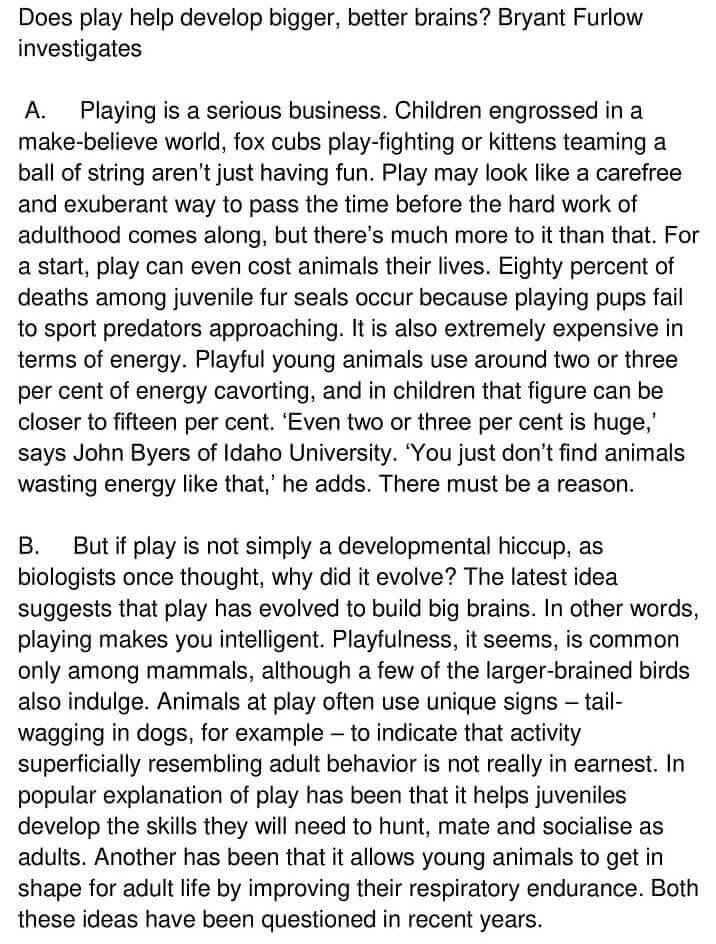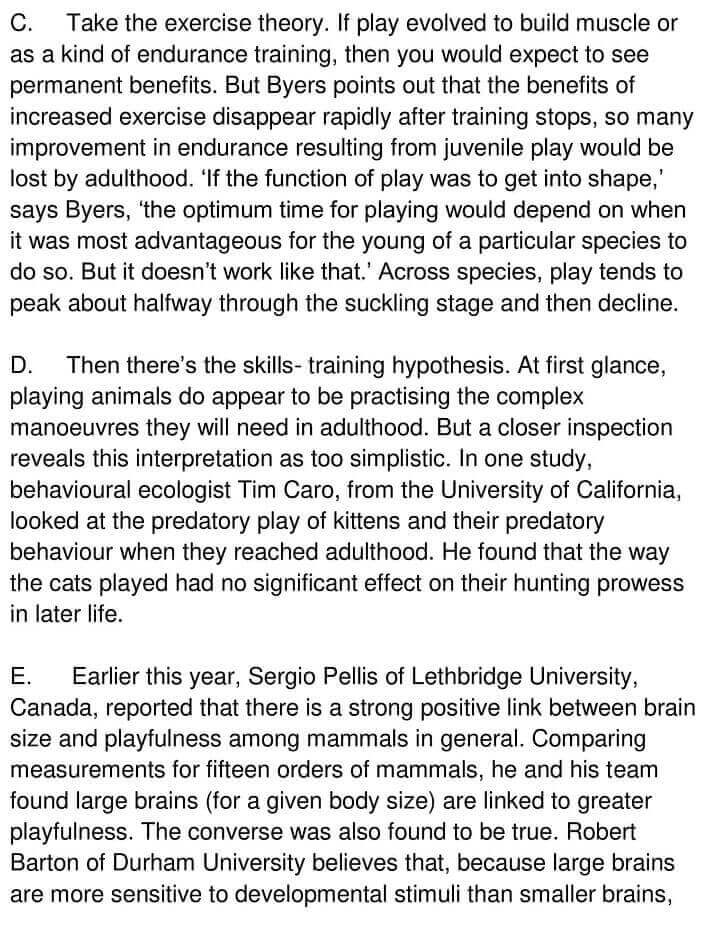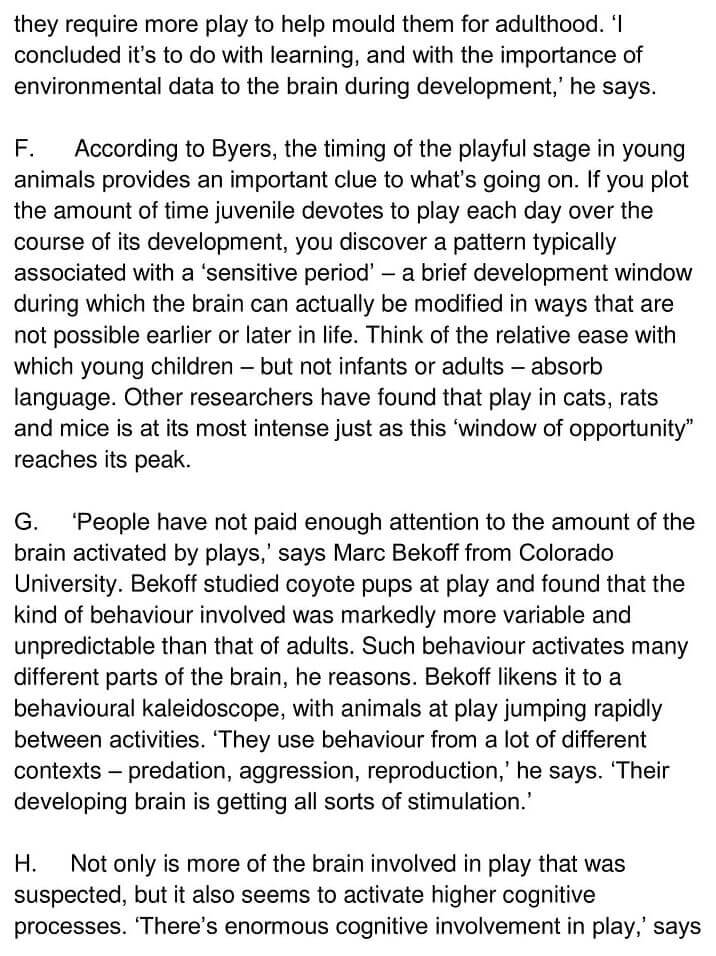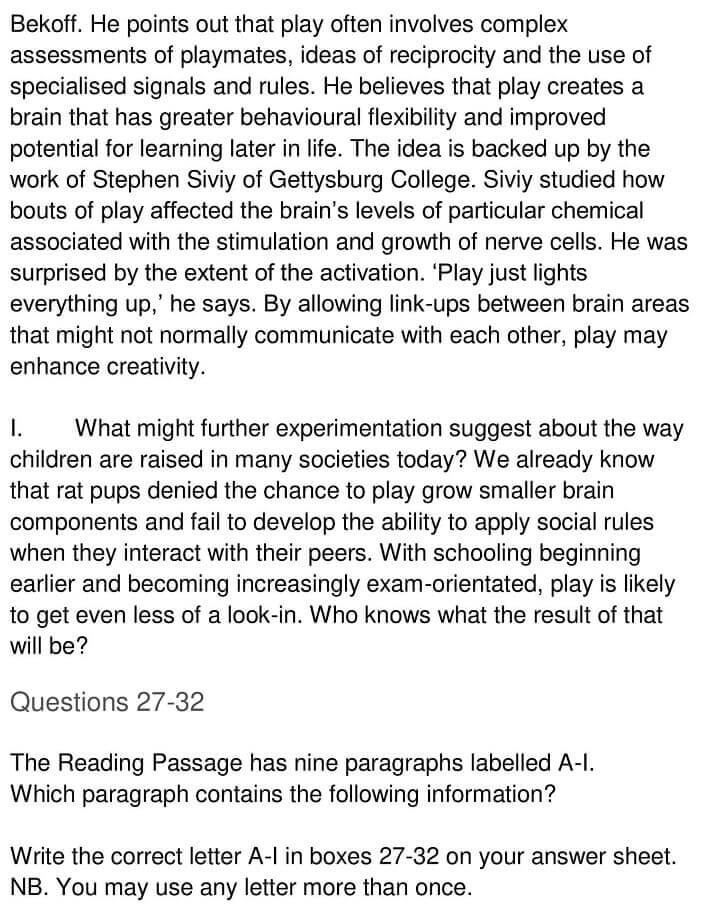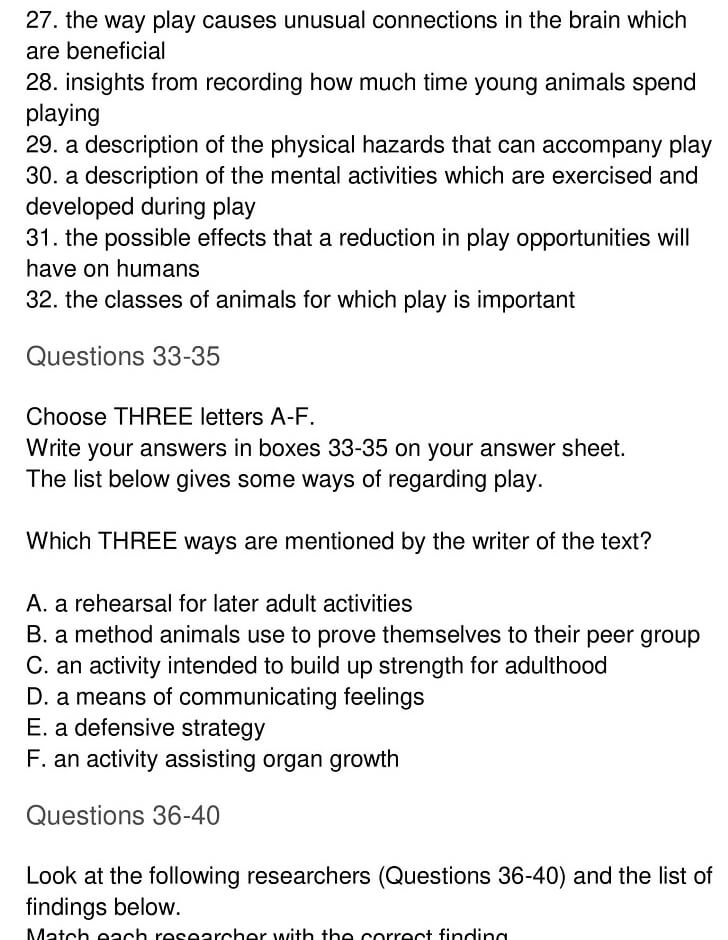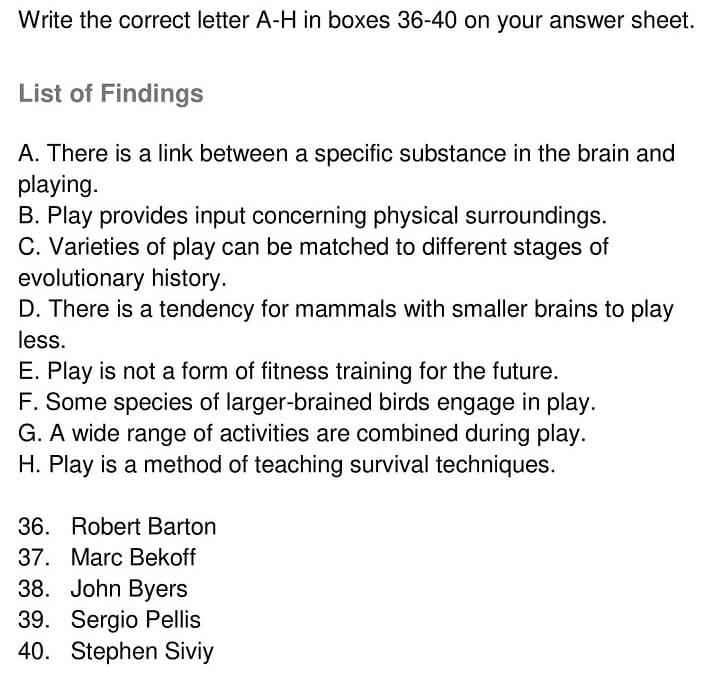 Answers
The answers with explanations are given below
| Question Number | Answers | Keywords | Location of Keywords |
| --- | --- | --- | --- |
| 27. | H | Activate higher cognitive processes,  improved potential for learning | Paragraph H |
| 28. | F | Young animals,  devotes to play, its development | Paragraph F |
| 29. | A | Can even cost animals their lives, eighty per cent | Paragraph A |
| 30. | H | Play, activate higher cognitive processes, improved potential for learning  | Paragraph H |
| 31. | I | Denied the chance to play, who knows what the result | Paragraph I |
| 32. | B | Among mammals, helps juveniles develop | Paragraph B |
| 33. | (in any order)  A | Helps juveniles develop the skills, as adults | Paragraph B, Last 4 lines |
| 34. | (in any order) C | there's the skills- training hypothesis. At first glance, playing animals do appear to be practising the complex manoeuvres they will need in adulthood. | Paragraph D |
| 35. | (in any order) F | helps juveniles develop the skills they will need to hunt, mate and socialise. young animals to get in shape for adult life by improving their respiratory endurance. | Paragraph B |
| 36. | B | Learning, environmental data, development | Paragraph E, Last 2 lines |
| 37. | G | Complex assessments, greater behavioural flexibility | Paragraph H, First 6 lines |
| 38. | E | Lost by adulthood, doesn't work like that | Paragraph C |
| 39. | D | Large brains, more play | Paragraph E, Last 4 lines |
| 40. | A | Play, particular chemical | Paragraph H, Last 5 lines |
Check More IELTS Reading Answers
Also check :